A lot of news and notes to get to before I give my thoughts on the season. Once again, not a regular recap, but I will touch on some things we saw during the episode. Well boy am I glad that's finally over. Four months of sitting back and waiting for last night to happen. Obviously I can only say so much when I give spoilers. Pictures, skinny dipping in Puerto Rico, obvious attraction, saying they were still engaged, the ATFR taping, all sorts of inside information I relayed – none of that can really ever vindicate me like the finale actually can. It's a tough four months to sit and have people question stuff that you know to be 1000% right, but hey, last night was worth it. It's one thing if I took a guess on Dec. 14th saying it was Courtney, crossed my fingers, and HOPED all season I was right. I don't guess or predict. People asked if I was nervous last night watching the show. Not at all. I knew the whole time, so what was there to worry about? It's just funny how all season how ABC tries with promos to throw people off or to make it seem like the ending is something wacky and crazy and totally over-the-top, when in reality, it was basically the same as it is EVERY season (outside of Brad 1.0) – one person gets dumped, one person gets chosen. All the bells and whistles that the show threw at you, tabloids reported, websites reporting I was wrong blah blah blah…once again, NONE of it ended up being true. Not one. Glad I could be of service this season, and have been at work on Emily's season since the end of January.
With that said however, I have to retract a couple things I reported yesterday. If you missed yesterday's post, I released names, pics, and bios for five of the 10 guys I know about who are confirmed for Emily's season. Uhhh, might want to subtract two of them. Joel Gilson and Tony DeSarro are NOT on Emily's season. I was given information on Joel had made final casting, then info that led me to believe he had made the final cut. I was wrong. Simple as that. Oops. As for Tony, apparently the guy had a lot of time on his hands and played a joke on people on his facebook page. Oh well. What's funny is that I guarantee you Joel got a bunch of friend requests on Facebook yesterday from hot chicks, so, it couldn't have been all that bad for him, right? You're welcome, Joel. Tony certainly did as evidenced by what he wrote on his FB wall today. So, if you don't want to scroll down to the next post and read, no worries, I'm going to repost her guys on the next page and add two more that I have since, well, figured I'd give you another two to make up for the Joel and Tony mistakes. Jumped the gun on those. Sorry. I will be much more careful about releasing names going forward so as I don't make any more mistakes. Probably going to be a bit slower in releasing the names.
Speaking of Emily's dates, if you saw yesterday's tweet, you'll see that I posted a link to how people of Charlotte could be part of her date this Friday. Here it is in case you missed it:
NC Music Factory – Friday Night, March 16th
I've already been told that trying to secure a table is next to impossible once I tweeted that out yesterday. Emily and whoever her date is will be having dinner at Osso Restaurant and Lounge starting at 9:00. The restaurant will be closed while Emily and her date are there. Once they're done, they are going out on the patio to see a concert put on by one her favorite country bands, Gloriana, performing their single "(Kissed You) Good Night." That's where the crowd will be hanging out and joining in, so I'm guessing there will be pictures and info being tweeted that night. If I'm remotely sober, I will try and tweet out any info I hear about that night, or maybe Saturday morning. Yes, even though I'm on vacation, this is the part of the year where it's almost like I'm on call, so I'll fill people in once I can. Here are pictures of the venue: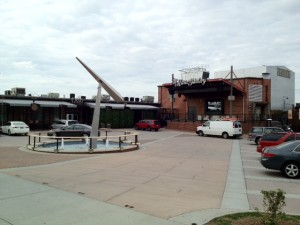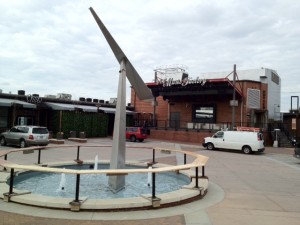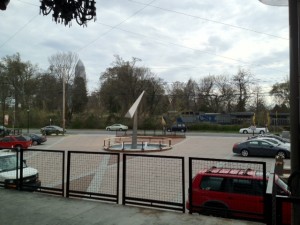 __________________________________________________________
Yes, the travels of Reality Steve will have me out of town this weekend. I figured I'd give myself a little vacation this weekend now that the season is over (see, I told you I was gonna do more traveling), and I am headed to New York. Looking forward to seeing family and friends, watching some March Madness, and drinking – quite a bit. It's been a while since I had a good weekend of drinking. Time to let loose. Not really into parades so don't think I'll be in streets cheering on some green floats in Midtown, but, I will have green beer somewhere. Might as well. I have a feeling this weekend could end up being a blur. Got a lot of stuff to do, people to see, and basketball to watch. Very excited.