Lets start off with the whole Arie Luyendyk/racing angle. Look, I know the racing that Arie was involved in (Indy Car) is different than the racing world Emily was involved in (NASCAR) but don't think for a second Emily isn't well aware of the Luyendyk name. Please. Her in-laws are the Hendricks of Hendricks Motorsports. You bet your ass the Hendricks are very well aware of the Luyendyk family. Am I saying Emily knew Arie before the show? No. Am I saying she had met/spoken to/texted Arie before the show? No. What I am here to tell you is that when Arie shows up the first night on this show, and whenever Emily realizes he is Arie Luyendyk Jr., she is well aware of the family name. That is all. I will leave it up to the tabloids to start their digging to see if they can ever place Emily and Arie at the same place at the same time somewhere in the past. I have no idea. She probably didn't ever meet the guy previously, but my point is, you know damn well she knows who the Luyendyk family is.
Another interesting twist to Arie being on the show. When you google him, on the very first page, you will find a picture of him with someone very familiar in the "Bachelor" franchise.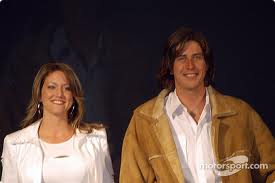 __________________________________________________
That woman is Cassie Lambert, and she is the main producer for the lead of this show. She's the one that is the leads right-hand woman and travels with them everywhere and is at every media appearance they make. According to the website the picture came from (where it specifically calls Cassie Arie's girlfriend), Cassie and Arie dated back in 2003. So it's nothing recent, and I'm not insinuating something is going between them because Cassie is engaged to one of the other producers on the show, but that's not the point. Cassie is very much involved in the casting process of this show, and I'm assuming she remained friends with Arie through the years. It's not like Arie shows up in a limo the first night and Cassie was like, "Oh crap, my ex-boyfriend is on the show." Please. Cassie was very well aware of who Arie was obviously and his inclusion on the show. My point being, why is someone who is friends with a main producer on the show being cast in the first place, let alone someone who was an ex-boyfriend? Even if Cassie thought to herself, "Hey, I think Arie would be great for Emily. Maybe I should call and see if he's interested," is that something the show really needs to do? I thought they prided themselves on how good they were at casting people for their lead. Now they're asking members of production if they know anyone? Or even if Arie called Cassie and said, "Hey, I've always liked that Emily girl. Get me on the show." Just seems to me that Arie had somewhat of an unfair advantage. Then again, there's nothing fair whatsoever about this show, so maybe I'm the idiot here.
I'm just saying, doesn't this all seem a little fishy to you? You can't cast a single eligible African-American candidate for the last 8 seasons, but you can cast a main producer's ex-boyfriend, who's now in the final four? Uh huh. Ok. This show is becoming a mockery of itself. I mean, I know they're supposed to trick their whole audience into believing this show is real, but I'd say this looks awfully suspicious. Emily has a background in the racing world, they cast a guy who also has a background in the racing world, he's in the final four, we see pictures of them very cozy in Prague on their 1-on-1 date, and we know Emily's dating history of guys that have some sort of "name" value. Athletes, musicians, restauranteurs, etc. Hey, just sayin. If I had to lay money down right now, I'd say there's not a chance in hell Jef, Sean, and Chris stand a chance and Emily will pick Arie. Still a couple weeks left in filming, and anything can happen, but I'm telling you, I think she's gonna pick this guy. If I'm wrong, I'm wrong. We will see.
So at this point, I've been able to identify 14 of the 25 guys. Still don't know Michael's last name, or Charlie's, but I know what they look like. I'm sure I'll get them at some point, but since neither of them even made it to Czech Republic, it's not like they're all that important to the show. ABC has said they will release all the bios and photos of the guys on May 4th and promos will begin airing this Monday during "DWTS." As with every season, the more promos they run, the more they spoil their own show.
A couple other things that I'll tease you with and answer for you tonight during the live video blog:
-Which one of Emily's guys had never even seen the show before and had no clue who Emily was when he applied?
-Which one of Emily's guys is the "emotional crier" this season?
See you tonight for the live video blog at 9PM EST/6PM PST. If you still want to send in a "Reader Email," or have a question for "Dr. Reality Steve," send your emails to: steve@realitysteve.com. To follow me on Twitter, it's: www.twitter.com/RealitySteve. Or join my Reality Steve Facebook Fan Page. Talk to you tonight.