Ok, on to the spoilers. If you don't follow me on Twitter, and really I suggest you should, you missed a couple updates from Friday. Twitter is such an easy tool for me to give people updates on filming without having to come in and write a whole new column. I like to write columns when I have a lot of info, pictures, links to do, but when I was getting information sent to me on Friday, it's just so much easier for me to tweet it out immediately, then get to a column later. So if you missed Friday's tweets, you missed the picture I had of Emily on her hometown date with Chris Bukowski in downtown Chicago near the Wrigley building: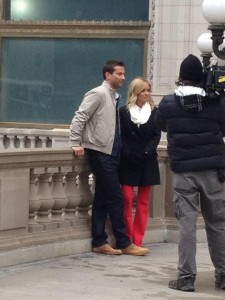 _________________________________________________________
After that, I was able to confirm that the hometown dates would be filmed as follows: Chris (Friday), Jef Holm (yesterday), Arie Luyendyk Jr (tomorrow), and Sean Lowe (Thursday). Meaning the rose ceremony going from 4 down to 3 will be held Friday in North Carolina, then they head out for the overnight dates on Saturday. Until I'm told differently, I'm saying that the overnights and final rose ceremony location have something to do with Madrid. If I hear anything differently, I will report it when I know for sure, but by all accounts of what I was told before the season, Madrid was a place they were going and they obviously haven't been there yet this season, so that leaves it as the overnights/final rose ceremony location.
I'm sure a lot of you saw the first promo of Emily's season, that was released Friday courtesy of ABC.com. DWTS will run another promo tonight, but no word on whether it will be this same promo or a new one. In case you missed it, here it is:
A few things to note from this promo:
-They showed an awful lot of her and Chris' date in Charlotte
-The guy she is kissing with the water in the background is Jef Holm
-And of course, like only ABC can do, they tease you at the end with utter ridiculousness when they show a helicopter landed at the mansion the first night, and had all the guys scurrying outside asking, "Is it Brad? Is it Bentley?" Which is about as stupid as you can get because it's neither of them. They just want you to think it could be which is why voice-over guy is saying, "In a season that'll keep you guessing from the very first night…" Really? Cuz it seems to me that by the time this first episode airs on May 14th, there will be no guessing as to anything that happens this season because I'll have spoiled it all. Regardless, no, that is not Brad or Bentley who arrived via helicopter the first night. It was Kalon McMahon, who no doubt is this season's male version of Erica Rose. Houston socialite, comes from money, and even has an alter ego he goes by which is "Cash McMogulson." No joke. Yeah, I'd say arriving in a helicopter is a rich's man's version of Lindzi showing up on a horse. Cash McMogulson. Really? Can't wait to start writing about this guy. (Correction: Kalon is NOT the Cash McMogulson that gained popularity on the internet writing about the exploits of having money and chasing women and basically trying to be the next Tucker Max. However, I do have a 10 page email written by Kalon three years ago that's in the same mold as those Cash McMogulson entries.
I have two more guys to confirm for you on Emily's season. I've known these two guys first names ever since Charlotte, but I didn't have last names or bios on them until this past weekend, so now I'm finally able to let you in on who they are.
15. Michael Nance: 26 or 27, Austin, Tx. Musician. Here are the pictures of him jogging in front of the mansion back in March, and one of his rather subpar acoustic YouTube videos. I say subpar because, even though I've never heard that song, if I'm gonna play Randy Jackson right now, "That song got away from you, dawg." Sounds like Michael runs out of breath quite a few times trying to keep up with the song. Has a website at MichaelNanceMusic.com that has nothing on it. Also, you can see more of his live performances on his YouTube music channel (Hopps12714).

__________________________________________________________
16. Charles (Charlie) Grogan: Nashville, TN. Graduated Middle Tennessee State University 2007. Volunteer at Monroe Carroll Jr. Children's Hospital. Was the one who gave Emily a lap dance on the Muppets group date. If you google his name, you'll find a tons of articles written about him suffering a head and spinal injuries in October of 2010 at the home of his buddy, Atlanta Braves 2nd baseman Dan Uggla. Dude fell off a balcony 15 feet and sued the construction company who built the balcony. Plenty of links to this story, you can read one of them right here.
LinkedIn Profile – Charlie Grogan