-With the show only being 90 minutes, it was crazy that we got about 10 minutes of the action at the cocktail party before Chris Harrison came in banging away on the wine glass. We literally saw her have quality alone time with 5 people: Chris, Jef, Kalon, Arie, and Doug. It's like we barely know any of them. It's amazing how back on March 14th when this first night was taping, all the producers and Mike Fleiss were tweeting away how unbelievable the night was, how it's going to be the best season ever, blah blah blah, and we literally got 10 minutes of action from the cocktail party and the premiere episode was the same exact thing EVERY premiere episode is. Video package on the lead, video packages from a few of the contestants, lead arrives at the mansion to talk to Chris, 25 limo exits, cocktail party, then rose ceremony. It's the same freaking thing every season and they act like the first night all this craziness is going on. Not quite. I was looking at my watch halfway through. These guys are the masters of hype. Remember how much they were saying the same thing about Ben's first night, yet after the season, Fleiss is doing interviews saying the season was a disappointment and not what they expected. Hilarious.
-So we see a short clip of Brent telling Emily he has spread his seed so much, he now has a low sperm count. 6 kids? Yeah, Emily is very interested in jumping into that family. Hey Brady Bunch, go away. You are not welcome on this show and at this party. As much as Emily might pretend she's interested in seeing pictures of your kids and their children, it's probably not a good idea to bust that out on the first date. Emily may want more of her own as she made perfectly known, but combining them with your Volkswagen full of kids climbing out the roof is probably not what she had in mind. Back in the room, about 6 of the guys toasted to "the hottest mom in the world." Isn't it a given that behind her back these guys were all calling Emily a MILF? I just hope at some point one of these guys got drunk enough and it accidentally slipped out when she was around.
-Emily sits down with Chris who earlier told us mommy and daddy prepared him for this experience. So much so that they provided him with bobble head dolls of him and Emily. And then they acted out a scene where they he talked about liking her. I think my niece Olivia acted out the same scene with her two dolls last time I was there. This was very cheesy, incredibly corny, but was shown for a purpose. That Emily likes him and he lasts a while. They don't focus on people who don't matter, so even if you didn't know Chris makes the final four, you should know he played somewhat of a big enough role that they'd spend time showing him to the audience on the first night.
-Guys are kinda sitting around talking about Kalon and Sk8erboy tells the group that he hopes "she's not really impressed by, like, material things." Uhhhhhhhh Jef, you do know this is Emily Maynard who's the bachelorette, right? Not to mention, she has a vagina. Of course she likes material things. Ok, just checking. Whatever the case, it's time for Zack Morris to make his move so he meets her outside in the gazebo. Unfortunately, he already ditched his $29.99 skateboard into the bushes, although Emily claims she wanted to ride it. Uh huh, sure she did. I just hope Emily cards N' Sync before they go out drinking. This guy can't be of legal age, can he? I'd hate for Color Me Badd to get out on a 1-on-1 date and have the waiter tell him he's unable to drink due to the fact he hasn't attended his high school prom yet. Emily: "Jef makes me feel kind of like a nerd. He just has a cool vibe about him. I hope he thinks I'm cool." Emily, that little twerp is lucky you're even giving him a second glance with his awful 'do. I just don't get it. Well, he is a trust fund baby, so I guess he's got that going for him.
-Doug pulls Emily aside and immediately goes right to the "I forced my kid to write you a letter in hopes to get the first impression rose" card. It worked. Now, I'm sure a lot of you hopeless romantics reached for your box of Kleenex when Emily was reading Austin's letter, however, if there's any truth to this story that ran in "Star" magazine last week, it's probably a good thing that Doug isn't Emily's new fiance. We might've had to put out an APB on him. Easy with the firearms, Yosemite Sam.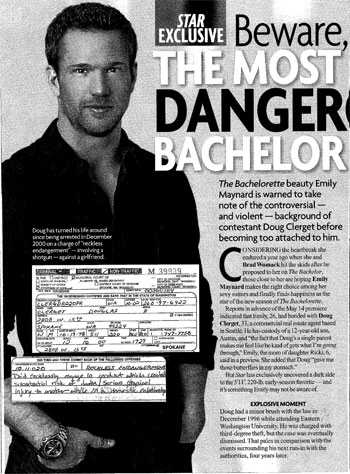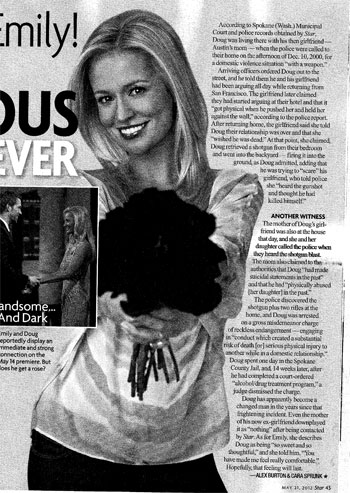 ____________________________________________________________
-Kalon's turn to make a fool of himself even more. He really wants to make a good first impression cuz him mom once told him a first impression is the best impression. I wonder what his mom thinks of this memoir in my possession that he wrote 3 years ago talking about what kind of women he likes to have sex with. This guy is a beauty. I can honestly say that this season, I have heard more backstory dirt on these contestants than in any previous season. However, figuring out what is legit and what isn't is the hard part. I'll weed through it eventually and share what I know. And oh yeah, Kalon calls himself a hopeless romantic. That's right buddy. Juuuuust keep sticking that foot in your mouth a liiiitle bit deeper.
-Stevie the DJ has a problem with Kalon not immediately giving up his seat when Sean walked outside wanting to talk to Emily. THIS was all the drama they could stir up on night one? Really? That's all? Stevie the DJ (and Fraggle Rock look-a-like) called Kalon "helicopter boy." Ooooooohhhhh buuuuuuuuuuuurn. Man, what makes this show go every season is the drama in the house. If that's the extent of what we'll get, and future clips having someone call Ricki "baggage" (which I believe is Kalon), then there's not a whole hell of a lot of drama this season, is there? I do know that Doug almost has it out with Kalon in the house, but it seems like no one in that house likes that tampon, so, that's not surprising people want to beat his little punk ass to a pulp. Erick Tulip is going to have to endure quite a bit of hate for the 5 episodes he's on. He leaves in London.
-Arie tells Emily about his racing background, and although he's nervous for his reaction, she calms his nerves by telling him she's fine with it, she loves the racing world, and any guy that Cassie Lambert has sex with is ok in her book. Look, the two of them dated back in 2003. I'm guessing they had sex at some point. And the fact that Cassie remained friends with him and got Arie to come on the show is flat out laughable. Cassie is the main producer that follows around the lead and spends the most time with them. Essentially, Cassie is the last person Emily will talk to every night while filming is happening. If this show never addresses that fact, either through a media question or on their own, something is quite sketchy about all of it. Not that I believe a single thing on this show is real, but the fact of the matter is, a lot of their audience does. And the façade they put on is that these men are chosen at random in hopes of finding Emily a husband. But if your lead producer who is Emily's right hand woman all during filming, has formerly dated and remained friends with one of the contestants that just happens to get to the at least the final 3, then something smells fishy in Denmark. Is that the expression? Hell if I know.