-Time for Joe's date. Emily is excited. I think. "I like Joe's energy." Hmmmmm, now that sentence could've been the beginning of a long sentence like, "I like Joe's energy…to a point. But all the clapping and cheerleading he does around me gets annoying after a while." Or it could've been something she said at the end of an answer like, "I'm kinda creeped out by Joey. He seems a little off to me. I like Joe's energy…don't get me wrong…I just think he should save it for someone who actually likes him in return." I'm just really curious to know what the producer question was that prompted the "I like Joe's energy" answer from Emily. I don't ask much. Really, I don't. But I think if they actually did a season where the audience actually got to hear the questions the producers ask during the ITM's, I think your mind would be blown away and you'd finally see where these ridiculous answers come from. But that will never happen, because that'd be like pulling the curtain back and finding out the Wizard of Oz is just some dude with a microphone and puffy cheeks. Emily gives Joe a tour of the Greenbriar Resort in West Virginia that she visited many times as a kid, and they jump in the pool. Two episodes in and Emily is already in a bikini. Nice. Of course, she's in there with a guy who didn't have a chance in hell of copping a feel on her, but nonetheless, I appreciate the gratuitous bikini shot so early in the season. Thank you, ABC. You're the best.
-Back at the mansion, Kalon is now getting into it with Doug about his parenting skills. He basically accuses Doug of putting his fatherly duties on hold to do this show, but in the same breath, says that Emily isn't putting her mommy skills on hold. Basically this was shown to later set up Kalon's departure from the show which has everything to do with him not wanting to be a father to Ricki. Hell, the guy even said it last night. "My idea is that my first child would be my actual child. The idea of embracing someone else's child is a big deal." This set Doug off. Not to the point where he was firing off guns poolside, but, nonetheless got him riled up enough to the point where he was telling Kalon to "check it" about 57 times. Considering Doug could probably choke out Kalon with his index finger and thumb, I don't know what Zoolander was thinking at this point. Apparently you wouldn't like Doug when he's angry. And guns are in close vicinity to him. Hide yo' wife, hide yo' kids when Doug Clerget's blood starts to boil.
-Back to Joe's date that is basically like watching the last hour of the "Titanic," since you pretty much know how this story is going to end. Joe tells Emily "There's nowhere else I'd rather be tonight." Woops. Sorry bud. Ryan already used that line on her two days ago. Kinda loses its appeal when you say the exact same thing. Hey, maybe Ryan told you to say that knowing he'd already beaten you to the punch. Whatever the case, I'm sure it went in one of Emily's ears and out the other. And really, does he even dare say anything else? I mean, was he supposed to be like, "Wow. What an amazing day. This is great. But you know what I could go for right now? I'd rather be at Bojanles to be honest." Of course he's gonna tell her there's nowhere he'd rather be. I think telling her anything else gets him a one way ticket back home, which ended up happening anyway, so sh**, maybe Joe should've told her he would've rather been at Bojangles. Would've made for much more interesting TV. And maybe he could've gotten a year supply of Bo-rounds from it.
-Emily and Joe's dinner conversation was awkward to say the least. Emily: "I feel like there's so much about you that I don't know." Of course there is. You know why? Because you don't know ANYTHING about a guy you've seen for three days. Imagine that? So Emily decides to dive in with the hard questions to see if Joe is a keeper.
Emily: "Where do you see yourself in 5 years?"
Joe: "I see myself happy."
Great answer Joe. I think it was at this point that the dude showed back up at the mansion to take Joe's suitcases away. Really? That's the answer you gave her? I think the only reason Joe even got this date in the first place was because Emily said he reminded her of Matthew McConaughey. Yeah, no joke. And his answer sounded like something McConaughey would say as Wooderson in "Dazed and Confused." Maybe Joe was nervous. Maybe Joe was trying too hard. Or maybe Joe didn't give a sh*t since he had Kathleen Gardiner back home tweeting right after filming started that her boyfriend was on the show and was begging him to return home. She has since deleted all these tweets but this girl was claiming ever since about March 16th that Joe was her boyfriend and he was on the show. She was even tweeting directly to some of the producers twitter accounts telling them there was a guy on the show that was her boyfriend. Kinda funny that Joe is the first guy ever to get a first episode 1-on-1 date and get let go, which goes to show this was all planned. The bottom line is, no matter what Emily said on the date about Joe and how nice he was and how funny he was, the second that 1-on-1 date was planned with Joe, everyone in production and even Emily knew that he was going home. He was given the date for the sole purpose of being sent home. I hope he and Kathleen are happy now.
-Now it's time for Emily and Joe to write down their timeless memories and put them into Greenbriar Resorts most famous "Love Clock," where people write their wishes down in hopes that they "stand the test of time." Or something like that. Uhhhhh, not quite. Since the episode aired last night, I've had three people email me that are familiar with the Greenbriar Resort. All of them have visited there on numerous occasions, one of them even worked there for a summer, and some even attended parties and proms there. All three emails I received told me that in the years they've been going to be the Greenbriar Resort, they'd never even heard of this time honored tradition known as the "Love Clock," so yeah, it was basically made up for the sake of the show. Good thing considering Joe was sent packing about 14 seconds after they put their wishes in the clock. Maybe it had a trap door at the bottom of the clock kinda like in Scooby Doo, and right when Joe was sent home, it opened up and just dumped their wishes into the fireplace. Ahhhhhh, more make believe stuff by production. The "Love Clock." Nice try.
-That was quite an interesting ending conversation between these two.
Emily: "I don't know where I fit in your life and Ricki fits in your life."
Joe: "I get it. We can part ways now."
Uhhhh, ok. If only every breakup were that easy. What the hell was Emily crying for? Joe didn't seem like he gave a sh*t he was leaving. Probably had Kathleen at the airport waiting to pick him up. These two are so cute together, don't you think?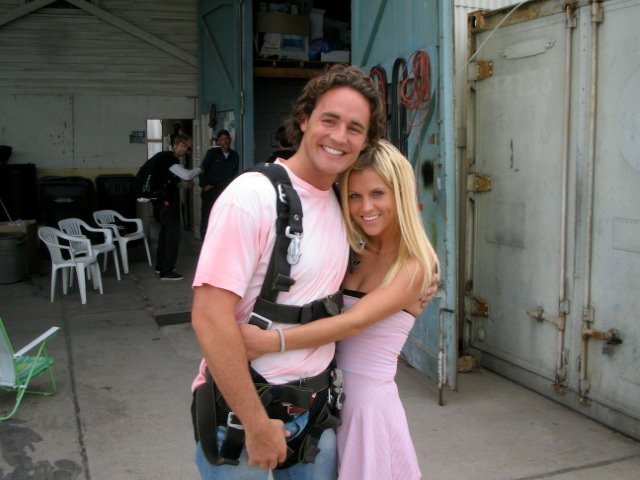 So Emily, don't feel bad. I'm sure Joe just went on there for some camera time and to play grab ass with the guys. Hey, maybe this was one of the guys that Emily told Jimmy Kimmel last night she could tell wasn't there for her? Guess we'll never know, but it's probably a safe bet. Lets all raise our glasses to Joe and Kathleen. I hope his two episodes on TV strengthened their relationship. Or whatever it is they have together. And oh yeah, nice touch with the fireworks going off at the Greenbriar Resort after she sh**canned Joe. That's a first. Maybe after Kalong gets booted, you can have streamers fall down from the ceiling and a bunch of party hats for the rest of the guys.