It's taken me three episodes, but finally here are your episode-by-episode spoilers. There were a couple last minute things I was waiting on, and outside of exactly how the Croatia rose ceremony goes down, everything is accurate. I'm still working on the ending in light of some new information I received last Friday. Could be something, could be nothing. But until I know with 100% certainty how the ending shakes out, I'm gonna hold off on reporting it, because right now I don't know. Seems that there's a new piece of information I get every day that either could be a big deal, or turn out to be nothing. This season has been really weird with them sequestering all three guys from the overnight dates on. A lot of misinformation floating out there.
I could easily run with what I think or what I'm hearing, but I don't like to go off hunches. That got me in trouble during Brad's season when I said he was with Chantal. Which ended up being funny in the end because Chantal did have Thanksgiving dinner with her family in Palm Springs that year – it's just Brad wasn't there. With that said, I just want to be 100% certain when I post the ending, whenever that may be. Here are your spoilers up to the overnight dates.
Episode 4: Bermuda (13 down to 10)
1-on-1: Doug Clerget. They go on a tour of the town St. George and visit King Square where a group of Bermuda Gombeys are dancing. Doug gets a rose.
Group Date: Boat racing date. Two teams of four. The Yellow team is Arie, Jef, Ryan, and Kalon. Red team is Sean, Travis, Chris, and Charlie. The Yellow team won the race.
2-on-1: John Wolfner and Nate Bakke. As reported back on back on March 29th, the date took place aboard a yacht named the "Venetian" and it ended up docking at the Fairmont Hamilton Princess Resort. At some point, the three of them go cliff diving, which was shown in the season promo. Nate Bakke is eliminated on the date.
Rose Ceremony Eliminations: Michael Nance and Charlie Grogan. Nate Bakke already eliminated earlier on the 2-on-1.
Episode 5: England (10 to 8 )
1-on-1: Sean Lowe. They go on a bus tour of London then dinner at the Tower of London. Sean gets a rose.
Group date: Eight guys rehearse a scene from "Romeo & Juliet." The picture was posted back on April 4th courtesy of this blogger who was in attendance:
http://sconadance.wordpress.com/2012/04/02/bachelorette-set-2/
The eight guys on the date are Ryan, John, Doug, Kalon, Chris, Alejandro, Travis, and Arie. At the after party from the group date is where Emily blows up on Kalon and tells him to "Get the f*** out!" and he's eliminated.
1-on-1: Jef Holm. There's a picture of them making out in the promos with a water background behind them. That was from this date. He gets a rose.
Rose Ceremony Eliminations: Alejandro Velez. Kalon McMahon sent home during the after party of the Romeo & Juliet date.
Episode 6: Croatia (8 to 6)
1-on-1: Travis Pope. Tour of Old Town Dubrovnik. A lot of pictures from this date made the tabloids. Also a blogger, Kaitlin's Big Adventures, had this posted a while back after it happened.
Group Date: Six guys and Emily get to watch an advanced screening of "Brave," a new Pixar movie (is this "Survivor" now?), they compete against each other in a round of Highland games. Emily is Katniss and whoever wins is Peta and they get to make out while someone from District 1 tries to kill them. Or something like that. The six guys on this date are: Jef, John, Sean, Doug, Chris, and Arie.
1-on-1: Ryan Bowers.
Rose Ceremony Eliminations: Here's what's interesting. Only 6 guys made it to the next city of Prague, and those are the six guys that were on Highland games date. Sean, Doug, Chris, Arie, John, and Jef. So the 2 guys who got 1-on-1 dates in Croatia, Travis and Ryan, don't advance. Yet we know that on 1-on-1 dates, you either get a rose and you're safe, or you're sent home. Well, neither of these guys make it to Prague, so if they're both sent home on their date, that means there would've been no rose ceremony in Croatia.
However, on April 8th (when they were in Croatia), Mike Fleiss tweeted "@Emily Maynard just delivered another Bachelorette first!" Then 5 minutes later tweeted, "Turns out a rose in not always a rose." (Nice spelling Mike). Anyway, I think in Croatia, Ryan or Travis got roses on their 1-on-1 date, then when it came time for the rose ceremony, Emily took it back. That's my guess.
In summary, Ryan Bowers and Travis Pope did not advance past Croatia. But expect something different to go down with their eliminations.
UPDATE (11:00am 6/18): Ryan and Travis BOTH get sent home on the their 1-on- dates. When the rose ceremony starts, 6 guys are competing for 5 roses. Emily excuses herself during the rose ceremony and asks Chris if she can add a 6th rose, thus keeping all six guys who were on the group date there.
Episode 7: Prague, Czech Republic (6 to 4)
The ABC press release back on ABC press release lists a lot of the things that were visited while in Prague, without specifying who was on which date. From the press release…
"…The magnificent city of Prague plays host to Emily and her remaining men as they variously have a private dinner cruise down the Vltava River, explore a medieval castle and even have a date to marionette shop and visit the Lennon Wall of Love and a spooky dungeon…"
1-on-1: Arie Luyendyk Jr. First reported by WetPaint back on April 13th as these two were seen kissing on the Charles Bridge in Prague.
1-on-1: John Wolfner. Painted at the Lennon Wall. A blogger, ilanalerman, posted this picture back when it happened, but she since removed it.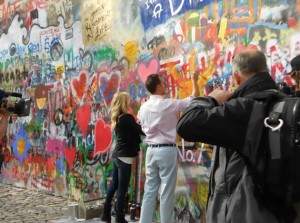 3-on-1: Doug Clerget, Sean Lowe, Chris Bukowski were the ones who were involved with the medieval castle. Doug is eliminated during this date after becoming upset one of the other guys got a rose and not him. Sean Lowe gets the rose on this date. Update: Correction, Doug is eliminated BEFORE Sean gets the group date rose.
1-on-1: Jef Holm. They visit the Stratov Library where they make out rolling around on the floor. Jef's hair gets messed up and he berates Emily for daring to mess with his Bruno Mars do'. They eventually get over it after Jef has a visit from his personal stylist to make sure every hair is back in place. Whew. Close one.
Rose Ceremony Eliminations: John Wolfner. Doug was already eliminated on his 3-on-1 date.