-The group date is a boat race between two 4-man teams, the Red team being Charlie, Sean, Chris, and Travis and the Yellow Team being Jef, Arie, Ryan, and Kalon. It's pretty much made known at the beginning that none of these guys have ever been on a boat before, let alone race one. Well, except for Kalon who attends a bunch of boat parties dressed like a sailor and gets served caviar hors d'oeuvres every other weekend. Can someone explain something to me real quick about this boat race competition they had: Ummmm, what hell happened? I'd really like to talk more about the race bu I was clueless to what was going on. Half the time, the guys weren't even doing any work on the boat, and every time one team was ahead, it seemed like that's when they stopped working. And at one point, the Red teams boat and the Yellow teams boat were perpendicular to each other. What the hell was going on? And if Jef, who is probably 110 pounds soaking wet, was given the main job on the Yellow teams boat, and they WON, ummmmm, how hard could it have been? So many questions, so little answers. That was just a bizarre race to say the least. I had no idea what the hell was happening, who was ever ahead, how they were ever ahead, what direction they were headed in, where the finish point was, and how either team ever got a lead. Other than that, the race made perfect sense.
-The best part of the race? When it was over and the red team is driving back home all dejected, kinda like the losing team in Puerto Rico last season during Ben's baseball group date. Well this season, Charlie played the role of Jennifer and cried like a little sissy. Really? He was crying over losing a boat racing date? I don't know about you Charlie, but basically that loss probably did you a favor. You were going home regardless of if you won or not. Why? Because we haven't seen you speak in three episodes, that's why. Oh wait, you did tell us on the Muppets date you didn't like big crowds. And that if someone bashed your face with a baseball bat repeatedly, after the all the skin and bones were ripped off, you'd look like this: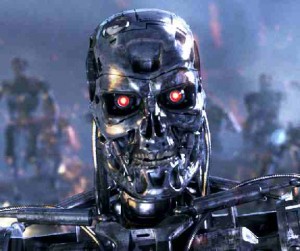 So you're a T-850, right? Or are you one of the other models that Skynet made? I need to know. Last time I checked, Terminators don't have feelings. Quit crying.
-At the after party, that's where the ridiculousness started. Ryan figured he'd start everything off with a nice little toast. "To a fun day of racing, and a beautiful trophy, possibly, wife…" Good one. I'm sure you definitely scored points with that line. I don't know who Ryan pissed off in production to get the edit he did this episode, but make no mistake, either none of these guys were interesting enough this season and they had to find someone to give a bad edit too, or Ryan really is that dumb with some of the stuff that came out of his mouth. I think Ryan got duped by production to start talking about things not related to Emily, and they just ran with it. But hey, you signed up for this, so we can make fun of it you egotistical neanderthal. Since Arie already doesn't like Ryan, and basically calls him, well, an egotistical neanderthal in his ITM, he whisks Emily away first to have some tongue time…errrrr…private time with her. He tells her he's been getting a bit of a hard time in the house for making out with her in the hallway after vampire boy left last week, but also tells us, "I'm not threatened by anyone in the house." And why would he be? When his friend, ex-girlfriend, and Emily's main producer Cassie Lambert casts him on the show, of course he wouldn't think he feels threatened by anyone. It's a given he was gonna last long. What a coincidence. We have now had four episodes air and numerous interviews done, and not one media outlet has asked anyone associated with this show how a producer's ex-boyfriend got cast on the show and made it to at least the final three. Let me know when anyone has the balls to ask it. Thanks.
-Jef's turn to try and woo Emily and he's a bit concerned that he hasn't had a 1-on-1 date yet. "I've only been on group dates. I want it to matter to her." I have a question: Why does Jef always seem like he's whispering? Is he allowed to talk louder than he does? Does he know he has a microphone on him at all times? This is one cool cat. Maybe not in the same stratosphere as someone like Ryan who is oh-so-clever with his choice of words and who thinks much too highly of himself and the game he's running but, uhhhhhh, you judge for yourself. Jef: "When I think about you, I like you." Hmmmm, straight and to the point. If Ryan were to have said that to Emily, it probably would've sounded something more like, "We both like each other. I know you like me. I can see the way you look at me and I just know you and I could make cute babies." Jef takes the more subtle approach and this makes Emily giddy. She wanted him to kiss her on the beach, but instead all she got was fingered. He had a boo-boo on his finger from the boat race and he thought making her kiss an open wound on it would be the best way for her to get sick heading to London. So I guess we can all blame Jef for Emily losing her voice next week. Thanks bud.
-It's time for Ryan the womanizer to show his true colors to Emily. He sits her down and immediately begins having diarrhea of the mouth. Here are some of the gems to come flying out of his trap in a matter of seconds:
"My coaches used to tell me the enemy of great is good."
"I have a mature approach to relationships. I'm not here to impress you, but to make an impression on you."
"God designed you to be a beautiful woman, so be a beautiful woman."
Honestly, I had no idea what Ryan was getting at during this talk other than completely turning Emily off. Then when discussing how it kinda bothered him she was making out with Arie in the hallway last week, he said this:
"You've been given an amazing opportunity…I'm praying not only for myself, but for you…you can use this opportunity to impact tons and tons of people."
Translation: Since you didn't make out with me, and you did with Arie, I'm going to lay a guilt trip on you the size of my ego. I hope you enjoy it. Ryan is a beauty. And since he took a lot of heat in the Twitter world last night, I wanted to check and see what his response was, if any. Would he go the way of Blake during "Bachelor Pad" last season and try and defend his edit, all while trashing people who didn't like him, or take a different approach. Needless to say, Ryan took the, uhhhh, "Ryan" approach and spouted off pretty much exactly what you'd expect him to. Here were three of his tweets,
@RyanBowers22:
"Thank u friend and foe. Friend for knowing who I really am & Foe 4 makin me more aware of my desire to serve the Lord not man. Bless u both!"
"Football taught me this:ppl lv u one moment and hate you the next. But ur the only one there pouring sweat in the offseason! pure intentions."
"b4 i go to bed:"let ur yes b yes & no b no" confident in Christ not arrogant! genuine & true and very non manipulative. sleep well as i will."
Basically a shot at everyone who's taking shots at him for what they saw last night. If I've said it once, I've said it a 1,000 times. The minute you sign up to go on this silly show, you are fair game to what anyone wants to say or think about you. And trying to defend yourself on Twitter is a losing cause. You know what "villain" in the history of this show handled their edit the best? Bentley. Why? Because the guy hasn't said a word publicly since his season aired. Never took to Twitter, never talked to the media, never blamed his edit. Basically just realized, "I got made to look like an ass, so be it. I'm moving on." In a way, I respect it, because every other person that tries to defend themselves publicly seems to put their foot in their mouth and make things even worse. Does Ryan just keep a book of these sayings by his bedside and just whip them out for the hell of it? Does he think these make him sound intelligent or grounded, because actually, they're making him seem the opposite. Socrates he is not. He should just stop talking for a while.