-Before the cocktail party, and because they have a storyline to build up to next week (which I'll get to shortly), Arie feels the need to go over to Emily's hotel room to comfort her. You know, because she's had a rough week, she sent two guys home on 1-on-1's, and man, she must be all bummed out and tired, and just needs a shoulder to lay on. Who are we kidding? A producer asked Arie, "Hey, you want to get out and go see Emily tonight?" He said yes, and they did. Simple as that. It's all part of storytelling. Did Arie really to go over there and tell her, "Hey, good decision." Of course he didn't. But so that they can trick you the week before to make you think something is there that isn't, that footage gave them exactly what they needed. That talk was completely pointless. He could've told her that at the cocktail party rose ceremony. It was all about jamming his tongue in her esophagus and tickling her tonsils. And him getting the rose she didn't give to Ry Boy so he could put it in his pocket. Why didn't any of the other guys do this? Because they weren't asked to, that's why. I guess when one of the main producers is your ex, and you've been friends with her ever since, and she's the reason you were cast on this show in the first place, you are awarded preferential treatment on the show.
-At the cocktail party, Emily makes it known in her ITM that it's basically between Doug and John for the last rose so she wants a little time with both. John gets her first and decides to open up to her. He admits he's been a little closed off, but if you ask any of the three women he's been in love with in his life, they'll tell you he's a big softie. So in order for John to get Emily to believe he's a big pus…errrr…softie, he lets her in on a secret. He tells her this is something that absolutely, positively no one in his life knows about. Until now, when he just revealed it to 8 million people on national tv. Huh? Anyway, John shows her that he carries his grandparents funeral cards around in his wallet and then starts to break down. Man, producers must've really gone digging to get him to tell that story on air. Geez. So something that's so personal and private to him enough to the point that no one in his life knows about he's now going to reveal to girl he's never even had a 1-on-1 date with that he's known for a month? Makes perfect sense to me, how about you?
-Doug's turn to plead his case. Oh Doug. This was painful. Like, seriously painful to watch. Doug admits he's shy around women. No, really? I couldn't tell. Usually most women like it when you're so petrified of touching them, that they have to take your arm to put it around them. Shows a lot of confidence. Even Travis was probably watching this at home saying, "Man, what a weenie." Emily: "I'm still a girl, I want to be pursued." Doug didn't really understand that one either. That was basically his opening to move in for the kill, or at least present some funeral cards or something – but nope. Doug still sits there twiddling this thumbs, clueless on what to do, all while peeing down his own leg. It's safe to say that not only is Jef scared of Emily, but so is Doug. Like I wouldn't be surprised if he went running off screaming, "AAAAAAAHHHHHHHH Cooooooooties!!!!! Emily touched me!!!!!" Emily: "Be Confident Doug, not Humble Doug." Impossible. How about just "Not a P***y Doug," or "Grow a Pair Doug?"
-Rose ceremony time. Only Chris is safe with a rose. Someone also pointed this out to me last night that I wanted to share. No, I'm not the next Possessionista, but I figured I'd pass it along. The dress that Emily was wearing at the rose ceremony is the same dress Carrie Underwood wore to the Grammy's this year: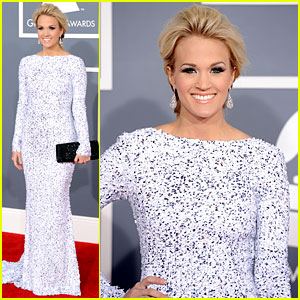 So there you go. My fashion tip for the day. Emily: "Each of you are wonderful…decisions are so hard…all deserving of love…I'm not 100% confident in my decision…taking a huge risk in my decision tonight…but don't worry, this will all play out much more dramatic on TV as the producers already know exactly what I'm about to do…"
Sean: Today I'm doing core and cardio work. Gonna do some planks, burst training, and work on the bosu ball. You know, in case you needed any tips.
Jef: Is it possible to wear a suit with skinny pants?
Arie: I'd say that was a given considering, you know, the fact she couldn't stop making out with the guy all episode.
"Emily, gentleman, this is the final rose tonight. When you're ready. I'll be outside pretending I don't know what the hell is about to happen. That's what they pay me the big bucks for. Well, that and to shill for every single sponsor we have on this show. Did I tell you the kids and I saw 'Brave' last night? Best movie ever!"
We all knew what was going to happen after this. Well, you should've if you read my post from yesterday morning. It definitely is hilarious that in the promo they showed last week, and then the clip US Weekly ran yesterday, it's the same clip of Emily walking outside talking to Chris, yet they threw in the voiceover of her saying, "Who else in there isn't all about me?" when she never even said that at the time. Watching it in real time it's the complete opposite, just her politely asking Chris if she can talk to him, when all she wanted to do was ask for another rose so Doug and John could stay. Which is very nice of her and all, but since Doug and John both get sh*tcanned next week, all it did was prolong the inevitable. Essentially they just got a stay of execution. Congrats boys. Hope you enjoyed an extra trip on the company dime.
Ok, lets talk about the Cassie/Arie situation briefly. Next week, we're finally gonna get to see how it played out. As I told you a month ago, it was definitely brought to Emily's attention during filming and she wasn't happy about it. However, knowing now that it was brought up in Prague, and Arie still lasts through another two rose ceremonies, obviously, it didn't end up being that big of deal. Sounds like Emily was upset in the moment, but not necessarily so much because of Arie and Cassie's physical relationship. Hell, it was nine years ago and Cassie is engaged to another producer on the show and they're getting married this summer after "Bachelor Pad" films. So it's not like anything was going on with Arie and Cassie during filming, or they had just broken up recently, or anything like that. It was a looooong time ago that they were hooking up. The bottom line is I think Emily realized she'd been played. Arie was told not to tell Emily anything about the relationship and that it was taken care of, when in reality, Emily wasn't told anything until it looks like Prague.
I guess we'll see next week exactly how it's brought up to her, but lets face it, she got played. The second that Arie Luyendyk Jr signed his paperwork to be a contestant on this show, the producers knew they had a storyline. And they purposely kept it from Emily, and told Arie not to bring it up to her, until they could use it at a later date when it could be more dramatic. They knew Arie and Cassie's relationship would get out. How could they not? The day after Emily and Ricky's Fan Page on Facebook confirmed him as the contestant on the 1-on-1 date that WetPaint.com had a picture of the day before (but with no name), if you googled "Arie Luyendyk Jr, on the very first page of the search, there's a picture of Arie and Cassie at an event 9 years ago titled "Arie Luyendyk Jr and girlfriend Cassie Lambert." This did not take any investigative or behind-the-scenes gossip to find out. Took about 10 seconds on a Google search. They knew. They all knew. They just decided to hold on to it until Prague because they knew it'd be a bigger story and draw attention and ratings.
Chris Harrison says in his blog today the "truth" will come out. What truth? They dated/hooked up a long time ago. I certainly hope they don't dispute that. I'm sure they'll downplay Arie and Cassie's relationship, but that's not the issue at hand. The issue is you have the main producer of the lead essentially casting one of her friends on the show. I'm sorry, but Arie is not on this show if he's not friends with Cassie. Bottom line. So yeah, if you're Emily, I would think no doubt you would start to have doubts about the guys motives for being there. And considering up to this point she seems to really like Arie, you bet your ass she was pretty upset to hear that. We even see it in the small clip they showed where Emily basically says, "He could've at least said something." However, Arie lasted at least another two rose ceremonies, and since the show, Emily and Cassie have tweeted a bunch of nicey-nice things to each other, so it's pretty much a dead issue now. But at the time, yes, I'm sure it got Emily's blood boiling to know that one her top guys used to date the producer she sees first thing in the morning when she wakes up, and is the last person she probably talks to from the show before bed. And they kept it from her for a month. At least we will get to see it play out next week, even though it's going to be anti-climactic, you can be assured of that.
Here's the episode description released today by ABC of how it will play out:
"Once the men arrive at the beautiful Aria Hotel, a thrilled Arie learns that he will get the first date. Emily and Arie take a romantic excursion through Prague, but all the while, he is trying to gather the courage to tell her he is in love with her. But during this day, Emily, who had learned from her own producer that she had a brief romantic relationship with Arie some years ago, is determined to find out why this bachelor is holding back that secret from her. What else might he be hiding? A disturbed Emily tries to get to the heart of the matter at lunch, but Arie avoids the obvious clues she throws out to entice him to discuss the unusual situation. Will there be an honest heart-to-heart conversation between the three people in this drama? And how will that affect Emily's decision about giving him a hometown date? That night, when the couple dines aboard a riverboat on the Vltava River, the love-struck bachelor opens his heart and lets Emily know how he feels, but does Emily feel the same way toward him now?"
So there. Looks like Emily is told by Cassie about her and Arie's prior relationship, Emily tries to get him to talk about it over lunch, he won't bite, they finally talk about it, and by the night portion of their date, she doesn't seem to care. The End.
Send all regular and "Dr. Reality Steve" emails to: steve@realitysteve.com. To follow me on Twitter, it's: www.twitter.com/RealitySteve. Or join my Reality Steve Facebook Fan Page. Talk to you later.