A couple things before we get started. I was given some information this past weekend concerning the ending of the show that I found very interesting. However, I've been emailing, calling, and texting since then to try and verify how accurate and true it is. I'm hoping to get verification as soon as I can. If I get it, then I will release what I know. It's not solid enough right now, but it could be if I can get to the root of where it originated from. This goes a lot deeper than just "oh, someone told me they think they know who wins and what happens in the end." Up until this point, we know Arie, Jef, and Sean are the final three. Some reports have said Arie wins, some say Jef, some say Sean. But as far as I've heard, none of those reports have revealed any other details regarding the ending other than "so-and-so wins." Well great. Anyone can say that if they have nothing to back it up. This was the first information I'd heard this season that had details about the ending. Now I just need to see how accurate it is and if I feel confident enough to run with. It could end up being something, or it could fall flat. Trust me, I've had plenty of leads this season that have ended up going nowhere, but this seems to be the most legitimate one to date. I will keep you updated as I find out more hopefully.
So maybe some of you saw WetPaint.com's column yesterday about Ryan appearing in Las Vegas this past weekend and judging a Hot 100 Bikini Contest last Friday. Well, in case you didn't, here's a good laugh you can have at the press release that made the rounds just shortly after Ryan's "judging" appearance:
"Good Evening,
Earlier today, Angel Management Group's WET REPUBLIC welcomed surprise guest Ryan Bowers of ABC's hit reality show "The Bachelorette." After the shocking elimination of the fan favorite on Monday night's episode, Bowers made his way to Sin City to judge the hottest weekly bikini contest in town, the Hot 100.
Arriving to the adult-only pool party around 2 p.m. the heartthrob took his seat with the judging panel where he immediately became center of attention. Greeting the sexy contestants one-by-one, Bowers took the time to chat with the ladies before they showed off their sultry figures on the catwalk.
Soon after the contest the professional athlete headed to the water where he was surrounded by hundreds of stunning, bikini clad partygoers. Bowers spent the rest of the day partying and drinking while he mingled with his friends and nearby admirers."
Man, wouldn't it be fun to be a publicist so you can write silly stuff like that? He "immediately became the center of attention?" Really? At a pool in Las Vegas where basically guys like him are a dime a dozen? I found out a little more info about this from someone who was in attendance. Ryan was in Las Vegas with friends for a bachelor party, and all these guys were name dropping him in hopes of getting cabana service at one of the pools. So basically word got around that Ryan was there, they got a hold of him and told him, "Sure, we'll hook you and your friends up, but you gotta judge this bikini contest and take photos in return." So there you go. The good thing is, now we know Ryan is definitely being called on by the Lord to do something bigger in life. Like party with skanks poolside and judge Hot 100 Bikini Contests. Amen.
I wanna also give props to Yahoo! this morning for recapping the "Bachelorette" on their home page and referring to Emily as "Ashley." Congrats. You are now in a tie for last with US Weekly on horrible journalism.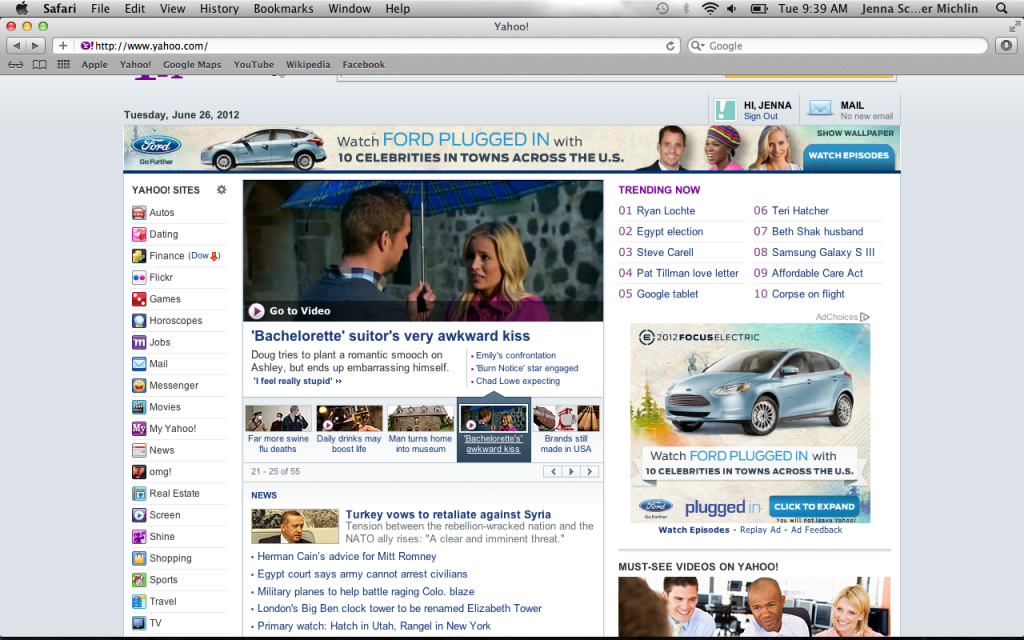 I know I posted part one of Jef's conference call in Thursday's column, but here was the rest of his interview in case you missed it. I'm sure a lot of you will dissect everything he says, but just remember, he's conducting these interviews (just like Arie and Sean did) acting completely oblivious. I didn't notice any answers out of the ordinary or any that completely surprised me. He's toe'ing the company line like he's supposed to.
And finally, what would a Tuesday update be without giving you the latest installment from the "Burning Love" franchise. I think you'll see that this week's episode has a very familiar storyline