-Jef's 1-on-1 date is up next and is there a reason that very few of the dates this season since they left Charlotte seem to have any sort of major destination or purpose. A marionette store? They're in Prague and the best they could do for their daytime activity is visit Gepetto? I mean, even though these aren't the over-the-top, unrealistic dates that no couple would ever be doing on their first or second date (bungee jumping, helicopter rides, scaling buildings), these are at the complete other end of the spectrum. Sorry guys, but none of you would take your woman to a marionette store on your first or second date either. Either way, just a bizarre date all around. They go into the store and each pick out a doll for themselves, with Jef's being a guy in a full mustache. I can see why Jef would pick that one out considering he's always wondered when he will start getting facial hair and get to use the big boy electric shaver like his buddy Arie. As they walk outside, Jef runs back into the store to get a doll for Ricki, which I don't if it says more about Jef that he thought enough to do that (or was told to), or not enough about Emily that she didn't think to get her child a doll? Whatever the case, I'm sure it had more to do with being planned already.
-The two of them head to an ancient library because, you know, libraries are always a rip-roaring fun time to take a date to. Honestly, how many things can you possibly do in a library? And outside of high school and college campuses, do libraries even exist anymore? People really still go to their local library to check out books and stuff? Really? With Kindles and the internet for research, it's amazing that people can't find any other indoor quiet place to maybe study or read. Is the Dewey Decimal system still around? I can't remember the last time I was in a library. Oh wait, yes I can. The last time I needed to be – senior year of college. Apologies to all librarians out there but you people have the easiest job in America, besides Chris Harrison. You tell people to "shhhhh" and sit behind a counter and read books all day. Anyway, where was I? So Jef and Emily put on a mini puppet show highlighting their dates. I was begging to be brought back to Charlotte for the Muppets date while watching this. That was painful. I'm sorry, but it wasn't cute, it wasn't endearing, and it wasn't romantic. It was flat out dumb. Kermit and the gang? Funny. Emily and Jef, professional marionettes? Kinda creepy. And why did Jef use his puppet to tell Emily he loved her but when he's rolling around on the floor with her he told her he liked her a lot?
-They lay on a blanket in the middle of the library on their backs staring up at the wall. I can't contain myself anymore. The excitement of this date is heart pounding! Please, someone step in and stop this adrenaline rush before these two explode. Jef tells Emily if he gets a hometown date that his parents won't be there because they're in South Carolina doing some work that'll keep them away for a couple years. Confirming what I told you months ago that his parents are mission leaders for the Mormon Church and were not on the group date, only married siblings and in-laws. Jef asks Emily if she'd want to live together first and she gave some long convoluted answer that I don't even know if she technically answered. Seems like a pretty simple "yes or no" question to me. Maybe through all the excitement of this date she completely lost her train of thought. I mean, who wouldn't get carried away laying in an empty library half way across the world? I'm not sure if these two are meant to be together or not, but by golly, I need a nap watching this date.
-Once all the talking is over, Jef and Emily roll around on the floor kissing each other. Jef once again utters to her that he "really likes her" and she reciprocates the same. Then Jef, still searching for perfect words and phrases that sound good for television, comes up with this gem, "I wanna date you so hard and marry the f**k out of you." Which is great and all, but too bad it was taken directly from an Ecard: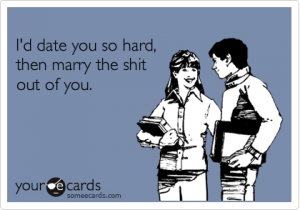 Sooooooooo yeah, sorry dude. Nice try. Zero points for originality. Just because you changed one word in there doesn't mean it's actually your own. I wonder what other Ecard lines he's gonna dole out to Emily before the end of the season? Will he go with the "I will love you until I forget who you are" or maybe the ever-so-popular "I wanna do boring things with you." Or maybe Jef should've gone with the subtle "If our genitals could use the telephone, my penis would be cold calling your vagina every day during winter." And by the way, I found the perfect Ecard that Ryan would give Emily: