-Cocktail party time but Emily has an announcement to make to Chris Harrison. She don't need no stinkin' cocktail party. So once Chris informs the guy, Crissy is beside herself. She never had a chance to apologize to Emily for acting like prissy little bitch during the 2-on-1 date with Sean, this was gonna be her moment to shine and apologize in hopes of getting that last rose and now that opportunity is lost. Chrysanthe is crying uncontrollably thinking the last rose will go to John now. John certainly thinks so. "I just closed the deal. Game over. Rose is mine." Welllll, I wouldn't quite go there. The funniest thing about all of this is the show spent the last 20 minutes planting the seed of doubt into the viewers mind, "Will it be John or will it be Chris who gets the hometown date," yet, all of that was completely ruined back on April 20th when, during their hometown date by the Wrigley building in Chicago, I tweeted out this picture of Chris and Emily: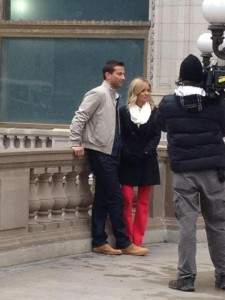 So I thoroughly enjoyed this show trying to build suspense in something that's been known for 5 weeks now. Times like these make me smile.
-Rose ceremony time. Sean is safe with a rose and Emily's coming to Texas to meet the fam. How did I miss them when she was here? Dammit. Emily: "Y'all came here expecting a cocktail party…I'm sure you're disappointed…part of the reason for a cocktail party is to get some unanswered questions…y'all were so open…honestly say I feel real love…makes every second away from Ricki worth it…thank y'all for that…and if I say y'all one more time during a one minute speech, any one of you can feel free to leave right now since it's beyond annoying and overdone. Y'all accept my apologies…"
Jef: He's so excited he's getting more time to spend…with Arie. Their bromance is beginning to rival Ben and Constantine's. Can these two NOT talk about each other?
Arie: Jef should just take a number and get in line behind the rest of the females lining up for Arie since he returned from filming.
"Emily, Gentlemen, this is the final rose tonight. When you're ready. Don't you dare say I don't work for my paycheck. I appeared on camera at least five times this episode. That's, like, four times more than I usually do."
Chris interjects because he's about to swallow his own tongue waiting for that last rose. "Emily, I really need to talk to you. Like, really need to talk to you. My knees are buckling, I have cotton mouth, and if you don't talk to me, I'm going to lose control of my bowels. Please, for the love of everyone else in this room, let me talk to you." Or something like that. It's speech time for Crissy: "I feel like I acted like a baby yesterday…should've been more respectful…took this week for granted…I'm ready to be the man that you deserve…and a man that Ricki deserves…aaaaaannnnd when that doesn't all work out, I'll be chasing tail on 'Bachelor Pad' so no hard feelings."
Chris: Have you ever seen one guy give the other guys all hugs once he got a rose? They must've all been like, "Ok dude, back off. You'll be gone next week anyway."
Send all regular and "Dr. Reality Steve" emails to: steve@realitysteve.com. To follow me on Twitter, it's: www.twitter.com/RealitySteve. Or join my Reality Steve Facebook Fan Page. Talk to you later.