Dear Steve,
I love reading your blog, thanks for all the awesome Bachelorette updates. I was just wondering if Emily has a stylist or if she chooses the horrendous outfits she has been sporting herself? She is a beautiful girl but her fashion sense is awful! I have never seen someone where so many sequins in my life, she is not in a beauty pageant- she is the Bachelorette! It has been bad all season but last night was the worst with the sequin shorts and cowboy boots and then that god awful blue mermaid dress at the rose ceremony. If she has a stylist, she or he should be FIRED!
Comment: Yes, the leads have a stylist. His name is Cary Fetman. This is a little video he made with Ali before her season.

__________________________________________________________
Hi Steve,
Congratulations on the lawsuit being dismissed. It really had no legal merit but they just wanted to mess with you because they can—and that's coming from a lawyer.
Ok, I have a few questions from last night's very special episode of the Bachelorette. So, before we just say no to Arie, does anyone know what really happened during his conversation with Emily. Since it was off camera I can't imagine it was all rainbows and butterflies. They made it seem like she just asked him and that was that. She seemed pretty pissed when talking to Cassie, so I was just wondering what really went on. Do you know? Does anyone? Personally Arie seems a little shifty to me but in his defense was this relationship with Cassie all that significant? It was almost 10 years ago and did not last very long. Honestly, I cannot even remember the last names of some guys that I dated insignificantly ten years ago. But was their relationship like that or did they stay in touch over the years and consider themselves "friends"? I was just curious because they seemed to wrap everything up so neatly. It just didn't compute. Maybe she kept Arie around because she did not like John or Doug. I don't know. Maybe you do.
My other question concerns Sean. Did he just go running outside and started searching for Emily on the streets of Prague? I'm assuming they told him where she was and how to get to her, right? Otherwise that man deserves to win this entire competition just on his inner GPS skills.
Comment: My guess is that in the conversation, Arie told her he was told by producers to never bring up the Cassie thing, and since that basically would make them look like idiots, they were never going to show that conversation taking place. Anyone with half a brain knows this show films EVERYTHING, yet the most important conversation of the year between Arie, Emily, and Cassie wasn't filmed? Oh, ok. Very believable. It wasn't shown for a reason.
It was never about the actual physical relationship between Cassie and Arie, because you're right, it was 10 years ago. Who cares? Emily even said it herself. It's the fact that no one bothered to tell her when there were plenty of chances to.
Yes, I'm guessing Sean was given the general vicinity of where she was.
__________________________________________________________
In Episode 7 during Emily and Arie's date in the evening, he's facing her and the camera is behind him (14:50). All you can see if Emily's face and you hear Arie saying "I know that it's my fault that i didn't say anything. It's not because i wanted to be dishonest, you know? It didn't even cross my mind" but when you look at the video his chin/mouth/face isn't even moving. I think they totally made him say it after the fact and added the audio on during the date.
Comment: Probably. Happens all the time on this show.
__________________________________________________________
Dear Reality Steve,
Just wanted to say that I love the Burning Love episodes. My boyfriend would never in a million years watch The Bachelor with me but we will sit and die laughing at these episodes. So thanks for that!
My question is that I feel like every season the contestants always use the phrase "I am not here to make friends" and so on but I have noticed from Twitter, Instagram, etc. that a lot of them do hang out and become friends after the show. I have seen pictures of Arie and Michael, Ali and Gia, Emily and Michelle Money, and lots others. Do you believe a lot of them do become great friends or is it just for publicity?
Comment: Plenty stay friends after the show. Some of those friendships are real, and some are fake just to keep their names out there. Pretty much all significant cast members from this franchise enjoy it when blogs, TV sites, and tabloids talk about them or quote them. And they know if they date someone else in the franchise, that'll draw attention as well. It's a way to build whatever brand they're trying to build. The more you're talked about, the more your name stays out there, and the more you remain relevant. Some are just better at it than others.
__________________________________________________________
I agree with you…Chris's behavior was downright creepy. He may have borderline personality disorder. For what it's worth, Sean tweeted today that John Wolfner actually told Chris to talk to Emily before the rose ceremony. Maybe he thought that would help him…who knows?
I was reading some of the reader e-mails today, and someone criticized you for saying "toe the line" instead of "tow the line." I'm a teacher, and I believe you were correct. To "toe the line" means to walk a straight line, i.e., follow the rules. It has nothing to do with towing a boat. JMO
Keep up the sleuthing…I want to know which of the two Emily chooses. I'm team Sean…I think Jef is a total twerp…not father material at all. Why wouldn't Emily want Ricki to meet her potential step-father, now that they are this close to the end? Is she just going to say, "Surprise, Ricki! Here's your new daddy!" and expect that she will just go along with her mom's judgment? Wouldn't Emily want to see if the guy is a good fit for Ricki? Jef and Sean are totally different!
Comment: As far as I know, I used "toe the line" correctly. "Towing the line" makes no sense in the way I used the phrase on Tuesday. Shocking that someone criticized me without addressing me personally. Man, that never happens.
Maybe Ricki does meet one, or two, or three of the guys. I don't know. Then again, neither does anyone else. It's funny to hear some people email me about not having the spoilers, yet, no one's emailed me, nor have I even found a single spoiler from anyone else either other than "She picks Sean," or, "She picks Arie," or "She picks Jef." So NO ONE knows. Not a single thing. By all means, if someone wants to share ANY details about what happens once they get to the final three, be my guest. You've had 6 weeks to find out yourself and have come up with nothing like me. So I'd say that even though I don't have it, no one else does either, which is why I get a chuckle out of people who are getting on my case for it. Guess they have nothing better to do.
__________________________________________________________
I hope you are approached to be a part of Burning Love to spoof the spoiling of it. Maybe the host confronts you about your spoiling or if they do a spoof of after the final rose you attend and they confront you. Personally, I think that would be a trip, especially after the mess they have put you through this past year. Just putting it out there….
Comment: That's a great point. Never thought about that. I hope they do a season 2 and incorporate the spoiler guy. I'd do that in a heartbeat. Funny stuff.
__________________________________________________________
Hi Steve!
I thought since you were so into e-cards this week, you might enjoy this one.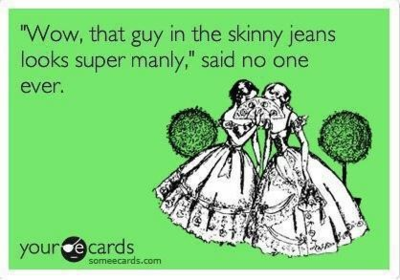 Have a great week!
Comment: Ha ha. Awesome. If there were ever an Ecard tailor-made for Jef Holm, I'd say that one was it.
__________________________________________________________
Surely you've seen this…
Jef's tweet on June 7th:
Jef Holm @jefholm:
"If I ever go missing, I would like my photo put on wine bottles instead of milk cartons. This way my friends will know to look for me."
I knew it sounded familiar… ha ha sure enough. Guess he likes ecards??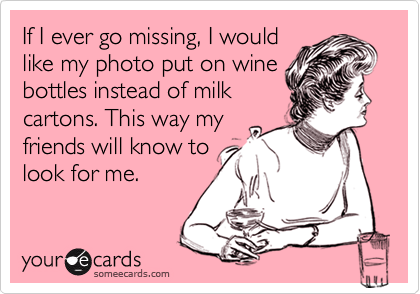 Comment: Does Jef get ALL his lines from Ecards, or just the ones he used on the show?
__________________________________________________________