After the Final Rose Live Show
-Was this really necessary? Didn't think so. I'm still scratching my head as to why they did it and the only thing I can think of is they didn't want whatever happened at a possible ATFR taping to get out before the finale, even though it did anyway. Mike Fleiss specifically said in a tweet back weeks ago: 'The live atfr will shock those who think they know how this season ends. It's not over til it's over." Huh? Anyone who read a spoiler knew exactly what was going to happen last night, and no hype from his tweets, or any other tweets from any other producers over the last 3 weeks since the live finale was announced was going to change the ending. As I was saying, it was all hype. They knew their ending was spoiled so they had to create interest. I guess that was their way of doing it.
-I mean seriously, how many times in the last 3 weeks have we heard the words "shocking," or "bombshell," or "finale you won't believe" said by someone associated with the show? Look, even if you DIDN'T read one spoiler about this season, there was absolutely NOTHING shocking about that ending. Her not giving Arie a last chance date and letting him go early, albeit a surprise, was not what I would call "shocking" or a "bombshell," because we'd seen it before on Ali's season. She got engaged on location back in May, they've been together ever since, and at the ATFR, you see her confront the guy she dumped and you see the first public appearance with the guy she chose. Exactly what was different about that? It played out pretty much like I told you it would, and that was that any surprise they had in store for the live show would, if anything, be something positive.
-I know that people got all excited when the live finale got announced and it immediately made them think, "Oh, they fooled Reality Steve. Emily hasn't made her decision yet. She's gonna do it live!" But for three weeks I stood by and told you what my sources had told me. That Emily and Jef left Curacao an engaged couple and were still engaged today. So all the hoopla surrounding media reports, and tweets, and Twitter chat, it didn't matter. As long as I get the information from what happened on the last day of filming, that's all I need. Once they leave the island, they ain't going back to shoot anything. And if they ever did, then I'd take full credit for it. But it's not gonna happen.
-When I announced Jef and Emily were engaged three weeks ago, I didn't have many details. But in the past couple weeks, I did inform you that Arie didn't propose, which was true, and then there was last week's story about how there was some "lingering feelings" that would be addressed at the live after show, which was also true. I figured it had to do with some contact between Arie and Emily, and since I knew Emily and Jef were still engaged, and I knew that Arie and Jef were boys, it couldn't have been anything major. And it wasn't. And by the looks of things, it happened very close to when they returned from filming, so basically, it's been a moot point for the last two months. Arie wanted Emily to see his journal, he flew to Charlotte to talk to her in person, but then realized when he was there it wasn't a good idea, so he dropped it on her doorstep and just called her.
-Now we can debate all day whether you believe the production team at ABC had no idea this trip by Arie never happened. Of course they did. They have these guys on about as tight a leash as possible once this show ends to make sure nothing gets out. So you're telling me they were gonna risk Arie having a flight to Charlotte and just walking up to Emily's place without them knowing? Please. And if you believe for a second that Emily didn't read Arie's journal, you've gotta be nuts. Of course she read it. She's a woman! Why wouldn't she? It's not like it was gonna change anything anyway. If that was the "bombshell" that the show was promising for the live aftershow, they sorely overdelivered and underperformed. Especially since WetPaint broke the story last week and I was able to confirm it.
-I think the funniest thing about Arie's story of being in Charlotte was, well, I was there too within the last few months. See?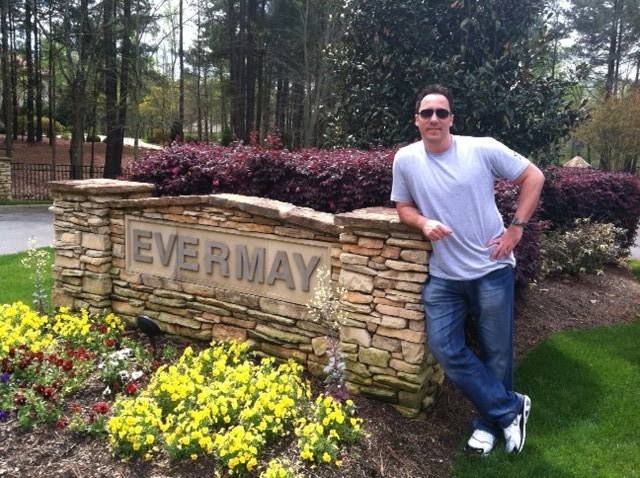 This was taken right outside the gate that led into the private neighborhood of 8 homes where the guys mansion was located. When was I there? What was I doing there? What did I find out? Eh, not important. I just think it's funny to hear now that Arie paid a visit to Emily's house and was in Charlotte after filming ended. Could you imagine if I would've seen that guy at the airport or even around town? Now that would've been funny. I definitely didn't. Probably a good thing too because then it always would've been on my mind "Why was Arie in Charlotte if she chose Jef?" Good thing I found out about Jef and Emily's engagement before finding out that Arie paid a visit there or else my head would've been really screwed up trying to piece things together.
-If they want to do a live ATFR every season from now on, knock yourselves out. I still don't think that's gonna change anything. I don't know if that's the plan moving forward, but since there was nothing major that came out of the live finale, I still don't see what the point was. To make people THINK Emily was making her decision live? I guess. But then when you do that and it doesn't happen, it becomes a letdown. Go check Twitter from last night and look at how many people thought having a live ATFR show was pointless. That thing could've been taped 5 days earlier like it usually is, and nothing would've been any more/less surprising. In fact, by promoting the live finale so heavily, and having Chris Harrison say it's the most "unpredictable ending we've ever had," it actually made the live finale that much more of a dud. They built up this big thing of it being live, and outside of a few planted audience interviews, and getting instant reaction from people watching, what did it really accomplish?
-With all due respect to Ashley Spivey since she looked amazing last night, ummmm, what was the point of her being there? I mean, I understand the Ashley and JP thing obviously. Michael makes sense because of his affiliation with Bachelor Pad that premieres tonight. Yeah, Ashley Spivey was on Brad's season with Emily, but there's really no known long lost friendship with those two that people know publicly. I think most people know that Spivey's best friend from that season was Ashley Hebert. Even DeAnna I kinda questioned being there. What was the point? Maybe it's something behind the scenes that I'm not aware of, but that didn't make much sense to me to JUST bring those five and have them interviewed during the show.