I'm sure there are plenty of you out there saying, "Steve, how could possibly trust someone like Erica Rose?" Here's my answer: She gave me no reason not to. Like I said, it's not like Erica and I started talking a couple weeks ago. We'd been friends for over a year now. And we talked about plenty of stuff non-show related. She never gave me any reason to doubt her sincerity towards me, she was always nice and accommodating to me, and me and her never had any issues before. She's one of the few in this group that I actually considered a close friend, and never in a million years did I think she would be someone to turn on me by handing over my text messages to producers. Let me share a recent story with you:
Remember when I was in LA on March 31st for Michelle Money's charity event? At that event, numerous "Bachelor" guys and girls were being auctioned off for "dates," with the money going to the Chris4Life Colon Cancer Foundation charity. In the weeks leading up to the event, Erica and I were talking and I even told her that I'd bid on her for the date, just to drive the price up. I told Natalie the same thing. I'd never thought I'd actually "win" either of them, but I'd do it nonetheless because it was for charity. Within 10 minutes of me arriving at the event, Erica had come up to me and was making sure I was going to bid on her because she was nervous no one would. And of course I kept my word. Six girls from Ben's season were there, Natalie was there, Roberto was there, and a couple other reality people from others shows were all being auctioned off for "dates." Well, Erica gets up there, and no one is bidding. I ended up "winning" Erica with a bid of $300.
Every other person at that event that was bid on went for over $1000. Some even went for between $3k-5k. Erica was mortified. She kept telling me after the fact how embarrassed she was, she was so much prettier and more popular than some of the other girls that were bid on, and she couldn't believe she went for the lowest amount of anyone there. When we met for our "date" the next morning (April 1st) over breakfast (which wasn't even a date at all because we were friends and we'd already talked about it beforehand), she BEGGED me not to write in my blog how she only went for $300 because she felt so embarrassed. And I obliged. Then two days later (April 3rd), she sent me a text reminding me, yet again, not to say how much she went for because, well, she felt she was better than the other girls. So if she's all about sharing text messages, might as well do it myself and join in the fun. Read for yourself: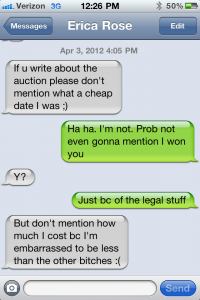 Nice, huh? There's plenty more where those came from. And the only reason I mentioned the "legal stuff" in the text was because I'm very well aware how paranoid some of these contestants get by associating with me. Producers eye them like hawks. They basically don't want any of them talking to me, so, although I did attend the event, people didn't need to know exactly everything that went on and who I spoke with, etc. I've said many times I'm friends/acquaintances with quite a few of these contestants, but very rarely have I ever gone into detail about it, nor will I. It's just not for public consumption of who I know, what we talk about, and so on and so forth. In that aspect, I like to think I'm protecting quite a few of them because they know they'll get sh** if producers hear that they talk to me. That's just the way they've become. I did end up mentioning in a video blog that I won a date with Erica, but never said anything about the price, because she asked me not to, and I respected our friendship enough to not let that out. Well, cat's out of the bag now. After what she did to me, I don't give a sh** about sharing that story now. That's the thanks I get for helping out a friend? Really? Just goes to show you what kind of person she really is.
Worse than that, our last text conversation was on July 11th. It was nothing "Bachelor Pad" related. Just a conversation back and forth about a date that she was currently on that she was hating, yet, texting me during and giving me updates. That's the kind of friendship we had. She was giving me a play-by-play of her date while she was on it because she wanted out of it so bad. It was actually kinda funny. However, looking back on it now, she was having that conversation with me AFTER she had already turned over my texts and ratted me out. So she never once gave me a heads up, and never once mentioned to me, "Hey, they're asking me about you." Nothing. Just acted like our friendship was going to continue, even after I found out what she did. Of course, once I found out, I immediately wanted to get an explanation from her, but I decided against it. She had turned me in. There was no reason for me to further any potential trouble by contacting her again. July 11th was our last contact and I plan on keeping that way. She's a disgusting human being for what she did, and I have no use in my life for people like her.
Now you might be asking, "Steve, well why did she turn on you? Something must've happened for her to do this to you?" Oh trust me, I have my guesses, I just know that NONE of them have to do with anything I ever said or did to her. I've been nothing but a good friend to her for over a year, and this is how she treats her friends in return I guess. I'm guessing Erica was paid to rat me out. I don't know that to be fact, but I assume the reason she did it was because there was some incentive in it for her. Hell, for all I know, maybe they went to Erica BEFORE "Bachelor Pad" started and said something like, "Look, we know you're friends with him. If you promise to turn over any communication he has with you after the show, we'll cast you on Bachelor Pad." I don't know. But something isn't right. As much of a disgusting and despicable human I think she is now, I don't think she did this just to do it for fun. I'm guessing there was incentive for her to do it. And if there wasn't, and she really did set me up, then wow. She's even a worse person than I thought. She's either a horrible person for betraying a friends trust like that and never telling me about it beforehand, or, she's a horrible person for possibly accepting some sort of incentive to rat me out. Either way, I'm done with Erica Rose as a person and as a friend. And I'm going to have a field day the rest of the season recapping "Bachelor Pad" talking about her.
This is absolutely not a case of sour grapes because I can't run my spoilers anymore. Like I said, not a big deal since they've been out there almost a month and you can find plenty of other sites that ran with my info from back on July 3rd. And as much as paying the fine wasn't fun and I'm not happy about it, this isn't about that either. It's about believing someone was your friend, believing that someone in this franchise could actually be a nice honest person, but I guess I was wrong. I'm not a guy who is a social butterfly and has tons and tons of friends just to have friends. I have a few very close friends that I trust whole heartedly and have always been skeptical about opening myself up to people. This certainly isn't going to help that matter. Makes me question every single relationship I have with every single person from this franchise. Won't affect spoilers in the future that's for sure, since basically none of my information comes from contestants, but going forward, I'm going to have to re-evaluate who I think is trustworthy within this franchise, and if even carrying on a friendship with them is worth it. Because believe it or not, I know it sounds crazy, but I always thought Erica was someone I could put my complete trust into. Stupid f***ing me.
I'm sure Erica will take to her Twitter account and spew a bunch of lies about me and try and start some sort of Twitter war over this, but I'm having none of it. I just gave you the God's honest truth about our friendship and what she did to me. Seeing the way she reacted to David in episode one just because he wanted to vote her off, I'm no doubt expecting her to overreact and spill lies about me. Just keep in mind whatever she writes, she's on the defensive now because she was just exposed for betraying a friendship and she looks silly so she's gonna retaliate in any way she can. I'll never forgive someone like her for this, I don't want an apology from her, I don't want an explanation anymore as to why she did it, and I don't care to ever hear from her again. She's out of my life and I will gladly look on and watch her fail miserably in her "entertainment career" she thinks she has going forward. And that's being nice after what she did. If she wants to begin a war, I've got a years worth of text messages to destroy her and some of the stuff she's said about other people in this franchise. It won't be pretty. If I were her, I'd just fess up to being a rat who most likely sold out for some sort of incentive and go on her merry way. Good riddance.