-The last 40 minutes of the show all surrounded this rose ceremony issue and the twist of Chris Harrison revealing that they would only be voting out one girl, and then that girl would choose which guy she wanted voted out with her. So it's quite obvious this twist was thrown in because they knew by doing nothing, they had zero suspense in the episode. Chris and Sarah were done. So they changed the rules to make sure it didn't happen. If everyone votes out Sarah, she's taking Michael with her because she'd want to see Chris go far. And with Jaclyn and Blakeley safe with roses, that only leaves Rachel, Lindzi, and Erica as possible candidates to be voted off. Well Rachel wasn't going anywhere, so it came down to Lindzi vs Erica. Chris wanted Lindzi off because he didn't think he'd take him with her. They knew if they voted Erica off, she'd take Chris so Michael concocts a plan to tell everyone to vote Erica off, but make it seem like it was Chris' idea. As long as that happens, and Erica doesn't find out it was Michael's idea, then Chris and Erica go home, two people that weren't in the power alliance.
-However, things changed when people started telling Erica that Chris was voting for her. She confronted him on it and he kept denying it. Yet Michael's alliance kept bending her ear telling her Chris is lying because they needed her to believe it's Chris' idea to send her home. So miraculously, Chris comes up with the idea of, "Why don't I take Erica into the voting room with me to prove that I didn't vote for her?" Ha ha. This was wrong on so many levels, it's ridiculous. I know a lot of you are asking today, "Wait, why was Chris just allowed to take Erica into the voting room when no one else in the history of the show has been able to do this before? And doesn't that mean that basically anyone can do that now going forward?" The best answer to your question is to read Natalie Getz' tweet from this past weekend before the episode aired. This is what she wrote: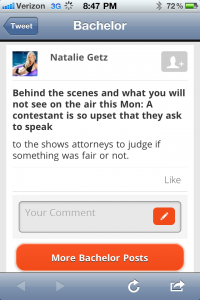 So let's just say Chris didn't just walk up to Erica, take her into the voting room, and drop his vote in the box. Read between the lines on Natalie's tweet and you'll get an idea that much more went on behind the scenes than what was shown. I mean, this is a game show after all. You can't just make up rules in the middle of a show where $250k is at stake. However, if Chris was allowed to do that with Erica, what's to prevent any other contestant on any other future episode, whether it be this season or future seasons, to do the same exact thing. They basically set a horrible precedent last night because now they HAVE to allow anyone into the voting room with them. Why would Chris be able to do it and not anyone else ever? I mean, everyone knows people lie in this game. They tell you one thing, then go into the voting room and do the complete opposite, so yeah, you bet your ass people will want to call people out for who they really voted for in the future. Yet, I guarantee we'll never see that happen again. They allowed it to slide because, ummmm, why? Chris was upset and wanted to prove to Erica he didn't vote for her? Great. Just means you opened up the flood gates for it to happen to anyone else in the future.
Of course, ABC and the show will cover it up by never talking about it, nor, ever letting it happen again. This "game show" has lawyers and people from standards and practices on set at all times to make sure it's not fixed. Which it isn't. They're not fixing the game or rigging the votes per se, but they are certainly doing things to influence certain outcomes it seems like. Why the hell else would Chris be able to take a pissed off contestant into the voting room with him other than for drama and to set up an interesting storyline where now Michael is screwed since his plan backfired. None of that made any sense to me, and we shouldn't expect to ever receive an explanation from anyone on that show why they can just change the rules to get the desired effect that they wanted. To me, it seems like cheating. But since no lawsuit has been brought up against the show, I guess it's considered fair. Uh huh. Sure it is.
So Erica gets voted out, she realizes Michael was behind it, so she takes him with her. Now, I know a lot of you are expecting me to go off on Erica for what happened and her tirade. And yes, although the irony about her calling him out for being a sh**ty friend did not go unnoticed by me, I actually didn't have any problem whatsoever with her blasting him and taking him out of the game. He lied to her face, schemed against her, tried to look innocent the whole time and pin it on someone else, and it backfired. Of course she was going to take him out. Did she go a little overboard with the "I'm glad Holly dumped you" stuff? Yeah, she didn't need to go there. But in terms of strategy and cutting off the head of that alliance, I think she absolutely did the right thing. I know a lot of you dislike Erica now after what I wrote about her, and trust me, she's definitely not on my list for Christmas card recipients this season, but in terms of this game, she did the right thing.
My column on August 7th about the whole Erica debacle was written with a lot of emotion. I wasn't able to say anything for a couple weeks, and when I did, I let loose on her and what happened. I don't hate Erica. I just hate what she did, I'll never forget it, and our friendship is ruined from here on out because I can't trust her. It takes a lot for me to hate someone. I was very, very, very, very pissed off and angry when that all went down, but we're two weeks removed from it now, and I don't care. It's over and done with. I've got no problem with what she did last night to Michael by taking him out. What if I were to tell you that the before filming of "Bachelor Pad" even started, Michael was involved with someone (not from this franchise), and after filming ended, he went back to her and is still involved with her now? Would that change your opinion at all about his and Rachel's relationship that you watched for five weeks, and all the things he was saying to Rachel during those oh-so-intimate moments? Just saying.
Send all regular and "Dr. Reality Steve" emails to: steve@realitysteve.com. To follow me on Twitter, it's: www.twitter.com/RealitySteve. Or join my Reality Steve Facebook Fan Page. Talk to you Thursday.