Wow. Third column this week. And guess what? We're gonna have a fourth one tomorrow. For the last month, you haven't heard me utter one word about any Jef and Emily stuff. I said I wouldn't because there was really nothing to add to the story, and I was just gonna let everything play out and stick to what I've said since back in July that I didn't think these two were ever gonna get married. However, after US Weekly's cover story came out yesterday, and had an actual person (with a photo) as their source, I figured now it would be the perfect time to share with you some information I've had since April. I will have the full scanned story for you to read on the site. Kaylee Shepherd, the girl who is the focal point of US Weekly's cover story, came to me 6 months ago to tell me about Jef. I currently have 36 emails saved between her and I between April and July regarding everything she told me about Jef. I was never going to share it because she didn't want me to, and I respected that. Well, that all changed yesterday when she sold her story to US Weekly. So you can see what she was writing me back in April about everything and form your own opinions from there. I'm not even here to take sides on this. I don't even necessarily believe everything she told US Weekly. But I do believe some of it. I'll let you decide on what you think when you read our email conversations from back in April spanning through July.
So who did Sean give the first impression rose to on night one? Hmmmm, well, the best way to answer that question would actually be with a question. The question that should be asked is, "Who did Sean NOT give a first impression rose to on the first night?" Seems that they changed things up this season, and from the moment the cocktail party started, Sean was allowed to give roses to whomever he wanted to and whenever he wanted to. By the time the rose ceremony came around, he had already given out more than 10. Not sure on the EXACT number yet, but only around 7 or 8 girls got roses during the actual rose ceremony. So they started with 26, around 10 got "first impression" roses, and around 7 got roses at the rose ceremony. So it looks like he probably eliminated 8 or 9 on the first night. As time goes on, I'll find out more I'm sure, but that's how the first impression rose deal went this season. Over 10 got roses before the ceremony, and another 7 or 8 did at the ceremony.
As for last night, thanks to the magic of Twitter, we were able to capture the basics of what Sean's 1-on-1 date was. According to the Twitter account
@Forkalicious, Sean's date last night was a helicopter ride to the top of the Watermarke Tower in downtown LA, where he and his date repelled down the building, and then had dinner. Gee, how original. If you're thinking, "Man, I could've sworn I've seen this exact same date at the exact same building two seasons ago," it's because you did. Brad Womack and Michelle Money did it at the same place (skip ahead to the 6:30 mark to get to the adrenaline portion of their date. You know, unless you want to see Ashley Hebert drama in the first half):
This person wasn't able to identify who was on the date with Sean, but did say it looked like "a blonde in a hot pink top." Well, there are only so many blondes on the show, so that narrows it down to a select group of women. Assuming this woman is able to detect hair color on someone from this far away: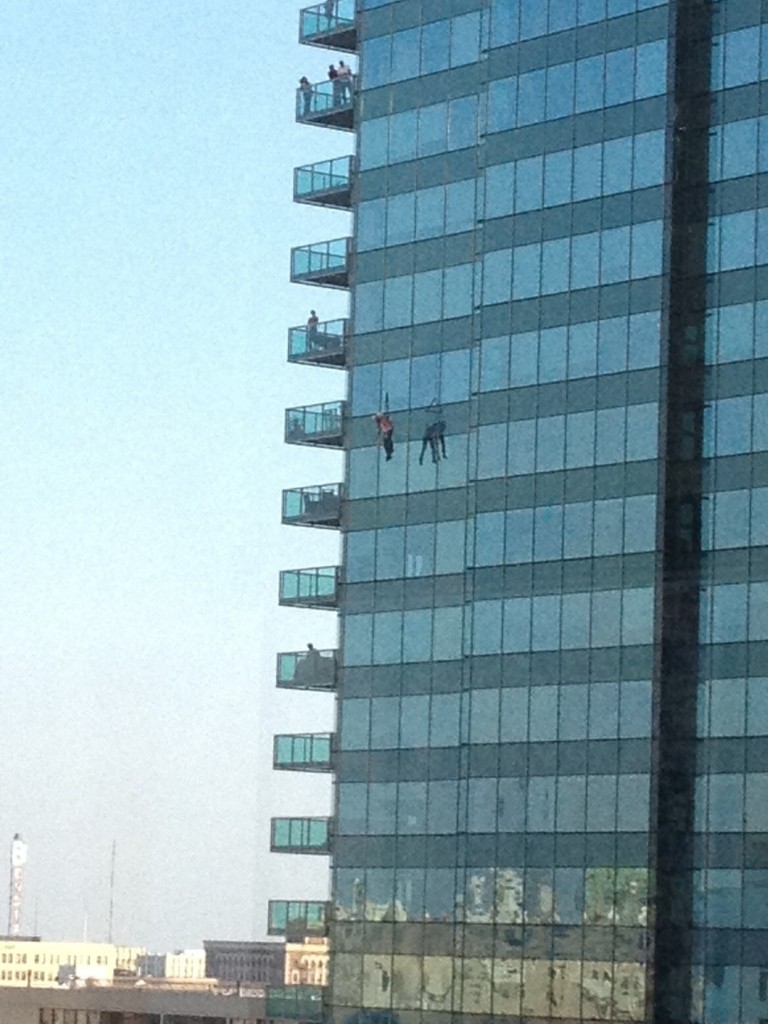 Uhhhh, somebody might wanna check on Sean. Is it just me, or does he look like a dead body that they're harnessing down a building? Just saying. Lets hope he's still alive. Anyway, just like Emily's season, where the first two episodes of dates were filmed locally, looks like the same thing for Sean, so I expect more people on Twitter to be posting stuff of things they see. By all means, have at it. You are making my job that much easier. If there's anything else you want to tell me that you saw or witnessed, by all means feel free to email me. The more the merrier.
One final note to follow up on something I mentioned in Monday's column. Remember how I had called Ed out for committing to the Lemonade Stand event this past Sunday, then canceling at the last minute by saying "I missed my flight?" Sounded awfully suspicious to me. Now comes word that maybe there was a reason he missed his flight. I received this email and photo on Tuesday night:
"Hey Steve!
Just reading your blog from yesterday and saw your note about how Ed was a no show. Sarah Newlon was a no show, too.
I was out at a bar in Chicago watching football on Sunday afternoon and Ed was there. Sarah showed up later. I ran into her in the bathroom and asked her what she was doing in Chicago and she told me that she and Ed were supposed be in New York for a charity event, but that neither one of them felt like going. Her flight from St. Louis had a layover in Chicago, so instead of going on to NYC, she stayed and hung out with Ed.
We took a picture together and she told me I couldn't tweet it because she and Ed would get in trouble for skipping out.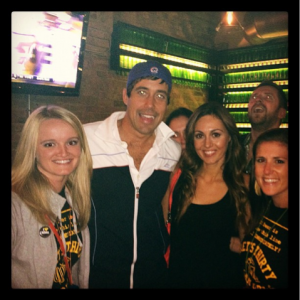 Not breaking news, but just wanted to let you know why they didn't show – and it wasn't b/c Ed missed his flight.
Look, I'm no Sherlock Holmes, but let me just play him for a second. Ed was supposed to get on a plane Sunday morning to NY to go to the Lemonade Stand. Sarah had a layover in Chicago, and she was supposed to head to NY with Ed. Ed and Sarah decide to no-show and not tell anyone. Ed and Sarah slept together during "Bachelor Pad." We all saw it. Gotcha. Ok, thank you for your time. By deductive reasoning, it's fairly easy to see what happened here in my eyes. This case is closed. Man, I'd make a great lawyer.