If you missed my Tweet on Sunday night, it was to let you know that Sean's 1-on-1 date that night was on Hollywood Blvd at the Guinness World Record Attraction where he and Lesley Murphy set the world record for longest on screen kiss. I have no idea what the previous record was, who held it, how long the kiss lasted, or why this is even a world record in the first place. Just know that Sean and Lesley broke the record on Sunday as part of their date while plenty of fans looked on. Originally when I was told a "Lesley" was on the date, I didn't know which one it was since there is a "Leslie" and a "Lesley" this season. But since Fleiss obviously doesn't seem to care about spoiling his own season anymore (yet they still are bothered by what I do which makes no sense whatsoever), he tweeted out this picture Sunday night: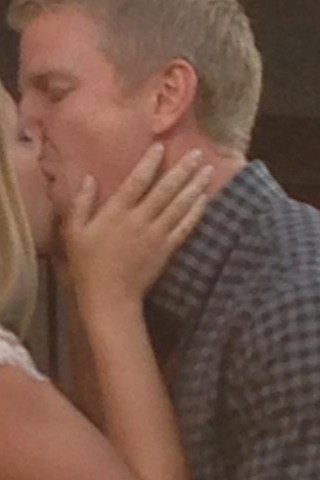 Safe to say, that is Lesley Murphy and not Leslie A. Hughes. Call me crazy. I was able to retrieve some more pictures of Lesley Murphy to add to the pile. Here you go:
Now, Sean might feel some sense of accomplishment knowing he's now a Guinness Book of World Records holder, but, I'd say that pales in comparison to his other family members who have held a more prestigious record for the last couple years. In looking over Sean's sister Shay's blog (say that fast five times ) a couple weeks ago, I noticed that his father and brother-in-law along with their friend, currently hold a pretty impressive world record. You can read about all the details here, but basically they set the world record for driving through 48 states in 97 hours. Holy crap! I didn't even know that was possible. When I moved to Texas from Southern California, the drive took me about 21 hours total. Granted, I stopped and slept at a hotel (I think in El Paso), and had numerous eating breaks, but still. In 21 hours, I covered parts of 4 states (California, Arizona, New Mexico, and Texas). These guys hit some part of 48 states in 97 hours? That takes some true dedication. And some form of craziness as well. So Sean, congratulations for joining your father and brother-in-law in the Guinness Book of World Records. Although, I'd say their accomplishment pretty much puts yours to shame. About two weeks after Episode 3 airs, no one will care that Sean Lowe and Lesley Murphy have the world record for longest on screen kiss.
Monday, Sean had a group date down at Malibu beach while producer Robert Mills and Fleiss tweeted a shirtless picture of him, practically drooling over themselves. Well played boys. Last night was a 2-on-1 date, with tonight being rose ceremony #3. Not sure how many they are down to after tonight, but give it time. We are barely over a week into filming. This stuff will all naturally piece itself together. However I can tell you that Paige from "Bachelor Pad 3" was eliminated on the first night. Gee, I hope that was worth it for her? Someone might wanna enter her into the Guinness Book of World Records for being the first person to ever be eliminated at the first rose ceremony of both "Bachelor Pad" and "The Bachelor." Proud accomplishment I say.