I can't stress this enough. If you don't follow me on Twitter, you probably should create an account and do so. This past Friday was a HUGE breaking news day with "Bachelor"-related information, and it was all done on Twitter. I know plenty of you think I'm wordy, which I can be, and that's why Twitter is so useful at times. Instead of writing a column, I can give out spoilers in 140 characters. Friday was a perfect example. So follow me at @RealitySteve and basically you will get 3 things: spoilers, a heads up to when my column is posted, and the occasional sports take while I'm watching a game. Haven't done that in a while, but I could have a field day with these MLB playoffs. Only problem is, I know most of my followers on Twitter are women wanting to hear "Bachelor/ette" stuff. And inevitably when I tweet something about sports, I get an endless amount of responses from people telling me to stick to the Bachelor info, which is asinine in and of itself. It's MY Twitter account yet I'm only allowed to talk about what YOU want me to talk about. Uhhh, ok. Makes perfect sense. You don't like it, don't follow. No one's holding a gun to your head to follow me or listen to a word I say. Whatever the case, follow me on Twitter if you want to be kept in the loop on any information that I don't have time to write a column for.
Even this morning, before this column was up, I tweeted out a picture of Jef's Facebook status that he changed about 2 hours ago: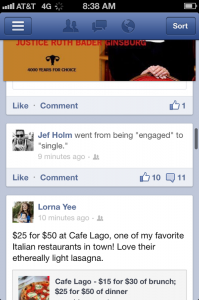 Ok Jemily fans, go ahead and spin this one. Let me guess? His hand accidentally slipped on the keyboard and he clicked the wrong button? Or better yet, "He was hacked!" Lovely. Even though since I told you about the break up last week, neither Jef nor Emily have tweeted one word to/about each other, have tweeted zero pictures of themselves together, and each of them this past weekend each took the other person out of their default picture on Twitter. Emily's picture is now her and Ricki, and Jef's is of him alone. But you still think they're soulmates and are supposed to be together for the next 50 years? This isn't even a Jef and Emily thing anymore. It's more about the Jemily diehards. Why? Why? Why? Why? Why? Why? Why? Why? I don't get why people can't accept the fact that two people from this franchise broke up, just like 21 of the 24 couples before them have? I guess it's something I'll never understand. What made Jef and Emily above everyone else and couldn't possibly break up? Nothing.
With that said, the fact that Jef changed his status this morning after all the tabloids have gone to press, and the fact that even "People" magazine (the ones who Jef and Emily ran to to deny the sexting story, and the magazine that is always granted exclusivity on the first Bachelor interview and the breakups) printed a story this weekend suggesting Jef and Emily MIGHT be broken up, pretty much leads me to believe that "People" knows about the breakup, their story this weekend was to set their readers up for what's coming, and I expect when the magazines hit the stands tomorrow, we'll see that they have the "official" breakup announcement, like they have had with many of the past contestants. Just a guess, but, "People" magazine wouldn't dare run a single "negative" story about these two suggesting a possible break up if they didn't have the "official" breakup story. I guess we'll find out tomorrow. Needless to say, it's old news. They broke up last weekend and their actions every day since then have confirmed it. Nothing "People" comes forward with (whenever they do) will be anything newsworthy considering this happened over a week ago.
Who are Nick Vinci and Francesca Riggione? They are students at Rancho Santa Margarita High School in Southern California that made some news in the "Bachelor/ette" world yesterday. How? From what I can gather, Francesca is a huge "Bachelor/ette" fan, in particular, a fan of Jef Holm. And obviously her friend Nick (I don't know if he's her boyfriend or not so I don't want to assume things) knew about this, contacted Jef, and asked for a little help in asking Francesca to Homecoming. This is how it all transpired yesterday in the classroom with Nick asking Francesca to the dance:
Wow. Pretty cool. That's now the second greatest thing to happen to Santa Margarita High School in the last 25 years. You know what the first one was? Back in 1989, an 8th grade basketball team led by yours truly, winning the P.A.L. basketball championship in Santa Margarita's gym against a team led by former UCLA star, Charles O'Bannon. Daaaaaaaaaaaaaaaamn right. We punked them for the third time that season to win it all. Lets just say my jumper was on point that night. Scoreboard, Charles. No one will ever remember you went on to be a starter on the 1995 national championship team at UCLA. Nope. They'll all remember that fateful February night at Santa Margarita High School where the skinny 6'2″ shooting guard went off and led his team to the title, and then 23 years later is sitting behind his computer, still 6'2″ (yes, I haven't grown since 8th grade), and writing about reality TV for a living. Yep. Just the way I planned it.