Change of plans. I'm actually going to do "Reality Roundup" tomorrow instead since I got a late start to today's column. Today I'll just recap some Jef and Emily stuff, update you a bit on Sean's group date yesterday, and also give you some news and notes involving the franchise. Needless to say, it's been a crazy two days since the Jef and Emily breakup became official on Tuesday night. Crazy tweeters, crazy emailers, all sorts of speculation in the tabloids yesterday. On and on and on it went. The twitter trolls were out in full force. Not to mention a few loonies that seemed to escape from the bin. Yikes. But I guess when you put all your faith into two people you don't even know, and believe every word they put on their Twitter and in Instagram pics, and those two people end up lasting a whopping 3 months together, I guess you would feel pretty stupid about your blind loyalty and start lashing out at people who were right from the beginning. Hey, whatever floats your boat.
In case you didn't see it, here are Jef and Emily's statements to "People" magazine that they released Tuesday night. I'll tell you what I find hilarious about this whole "exclusive" and "breaking news" aspect of it. Well, two things actually. First, it played out exactly how I said it would in Tuesday's column that "People" planted their "Are Jef and Emily Breaking Up" story last Saturday online because they knew something was up. However, the second thing that's hilarious in all this is to go look at the tabloid covers this week. US Weekly's cover story is of Emily saying "We're Done!," but "People" doesn't have a thing about Jef and Emily on the cover this week, even though they were the ones who got their statements Tuesday night confirming the break up. Knowing what I know about how tabloids work, essentially US Weekly outscooped "People" on the story, "People" found out about US' cover after they had already gone to print with their cover (which had nothing on Jef and Emily), so they basically ran to the two of them probably begging for a statement to put out Tuesday night before the mags hit stands Wednesday morning, which they did. Just kinda funny to see "People" were the only ones to get exclusive quotes from Jef and Emily, yet in their magazine this week, there's nothing about them being broken up, just a little blurb about possibly there being trouble.
I just don't get why you'd give such gushing, glowing statements about each other in a breakup. Did I expect them to mudsling? Of course not. But those statement were so written by other people, and so over-the-top ridiculous, that it cheapens the statement itself. Just say, "Things didn't work out" and move on. But to go on for paragraphs about how great the other person is, and how much they love them to death, and she's the greatest mother in the world, yet, you're breaking up? Just sounds pretty hollow. There were obviously problems there (none that I expect them to ever address), but by doing a 180 the other way and glorifying how great the other person is, it made the statements that much more un-believable. I don't buy for a second these two will remain such close friends. She's already deleted every picture of the guy off her Instagram and unfollowed him. Do you really think they'll keep in touch? Please. With that said, I'm glad that it's over and I'm vindicated for what I reported last Tuesday. I'm sure a lot of you still have questions about the who and the why of this breakup, but I'm done talking about it. I've heard plenty of things regarding it, hence the reason I've been saying for a while these two would never get married, but it's not my business to share that with people. All you need to know now is that they're broken up and it's over. You're never gonna get the answers you want to this relationship because I don't see either coming forward to trash the other one, so no need to ask. I'm sure the tabloids aren't done with them, but I am. On to Sean's season. I told you what was going to happen and it did. My work here is done.
As for Sean's season, got something mixed up the other day on Twitter. Tuesday I had posted there was a group date and that filming was taking place at the Fairmont Chateau Lake Louise in Canada. Well that's where they're staying, but the group date was yesterday. There were 7 girls on it – 3 of them in one canoe, 3 of them in another canoe, and 1 of them in a canoe with Sean. I don't know which girls were on it. Here was the only picture so far I was able to get of a portion of the date, but, you can't really tell who is who due to all the heavy clothing being worn. But hey, that's Sean in the middle!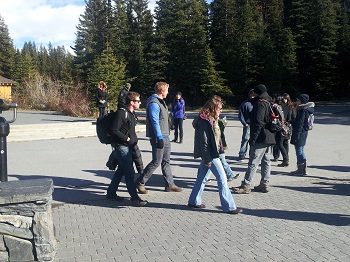 Some other notes to go over regarding the franchise:
-Last weekend, Ed, Jaclyn, Nick, Rachel, and Chris did some appearance at the Mohegan Sun. No idea what it was for, but just the fact that Rachel and Nick both appeared at it goes to show that anyone who went screaming and cursing at either of them after the finale needs to calm down. Sure, Rachel was upset in the moment as she should've been since the dude played her out of $125k, but they obviously can be civil enough with each other now that it seems stupid people got so worked up over the ending.
-For those that have asked me, and I know plenty of you have asked her by looking at her Twitter, yes, Ashley Spivey and her boyfriend Scott have broken up. I don't know why, and I don't know who ended it with who so, feel free to stop asking. But yes, they're broken up.
-I haven't been posting which contestants are home as much lately because I want to kind of roll it out in a bigger column. I'm pretty sure 9 girls went to Canada though, and I'm pretty sure I know who 8 of them are. Like every season, it's one giant puzzle piece. It'll all come together eventually.