-We open the show with, whaddya' know, a shirtless Sean doing some arm extensions and leg presses. Of course, when you work out that hard, you obviously have to shower right afterwards, and why would they possibly shut off the cameras while a man showers? Lets follow him in there to make it incredibly uncomfortable for all those involved. Is it natural to have another man standing right in front of you with a giant HD camera in your face while you're soaping yourself? Ok, just making sure that wasn't me. Must've been in Sean's contract that he must be showering in front of another man at least once during this season. Lets hope we never have to see that again.
-Chris Harrison enters the mansion and tells the ladies to join him in the living room. I'm very disappointed that all these ladies were for some reason all ready to go and none had just looked like they woke up from 2 hours sleep. But then I realized that the shot of them that morning wasn't actually from the next morning after the meet and greet. The meet and greet happened Monday night, Sept. 24th and lasts til the early hours of the morning of the 25th. Once the rose ceremony is over, the women actually go back to a hotel to sleep and then pack up before moving in later that day. The day after the rose ceremony is always rest day. So the shot of them that morning was actually Wednesday the 26th, the day of Sarah's date. Just thought I'd fill you in. And by the way, I love how Chris Harrison seems to be saying in every interview he does (and again that morning to the ladies), that Sean "is the most sincere Bachelor we've ever had on this show." Translation: I just threw every other Bachelor we've had under the bus and basically admitted they were all dogs. Nice one, Chris. Boy, Alex Michel is really gonna be pissed at you. And how dare you say Bob Guiney wasn't sincere in finding a wife when he somehow managed to sleep with 5 ½ women on his season.
-Chris gives the women the first date card which goes to Sarah. Hey, I'm not sure many of you are aware of this so I thought I'd fill you in. It's kinda been kept under wraps to this point, and I hope I'm not stepping on any toes by letting this cat out of the bag, but, what the hell? We're all friends here, no? Good. Well, in case some of you weren't made aware, uhhhhh, Sarah has one arm. How do I know this? It seems to me that not just because every shot of her we can see it clear as day, but from the minute Sarah arrived at the mansion she's been telling us how she only has one arm. She said the phrase "one arm" I think 4 times during ITM's and voiceovers before Sean even picked her up. Even managed to tell us that "I might seem unapproachable because I have one arm," and "my ability to love is not affected by the amount of hands I have." Did she really just tell us that or am I hearing things? Nope. She told us that. Gee, you think Sarah was put on the show and given the first date for any particular reason? Naaaaaaahhhhhhhhhhh. This show is never about exploiting women or anything of the such. How DARE I suggest such a thing. Uh huh. Lets just say that in 25 seasons, we've never seen anyone cast on this show with any type of physical handicap or disability, yet the first time they do, this woman gets the first date of the season. Not coincidental. I guess they want us to somehow think this franchise has turned into a kinder, gentler, more sensitive version of what they once were. Hardly. No chance in hell they cast Sarah, stick her in the background, put her on a bunch of group dates, and have her go home in the first couples episodes. You know it and I know it.
-So one thing about the spoilers regarding Sarah's date that was corrected last night was, I had said that Sean and Sarah rappelled down the WaterMarke Tower in LA. After watching last night, you can see it was a free fall. Now, there is a little question as to if that's the only thing they did. Remember back on Sept. 27th when I posted about Sean and Sarah's date, this woman who was across the street had taken a picture of what was going on: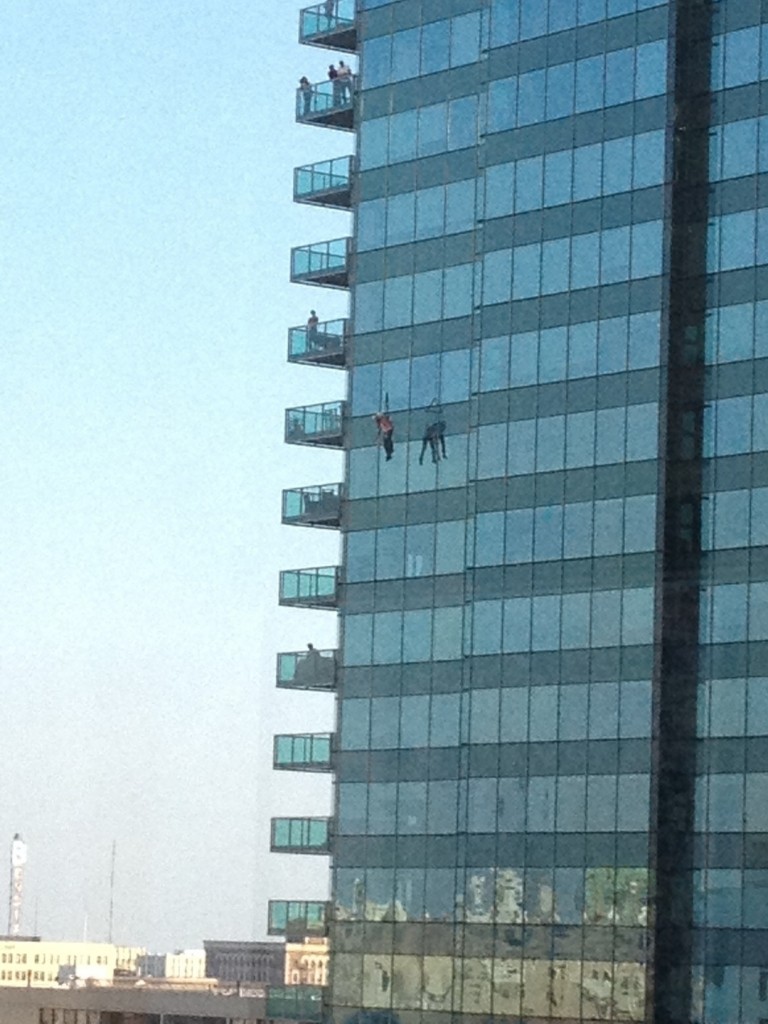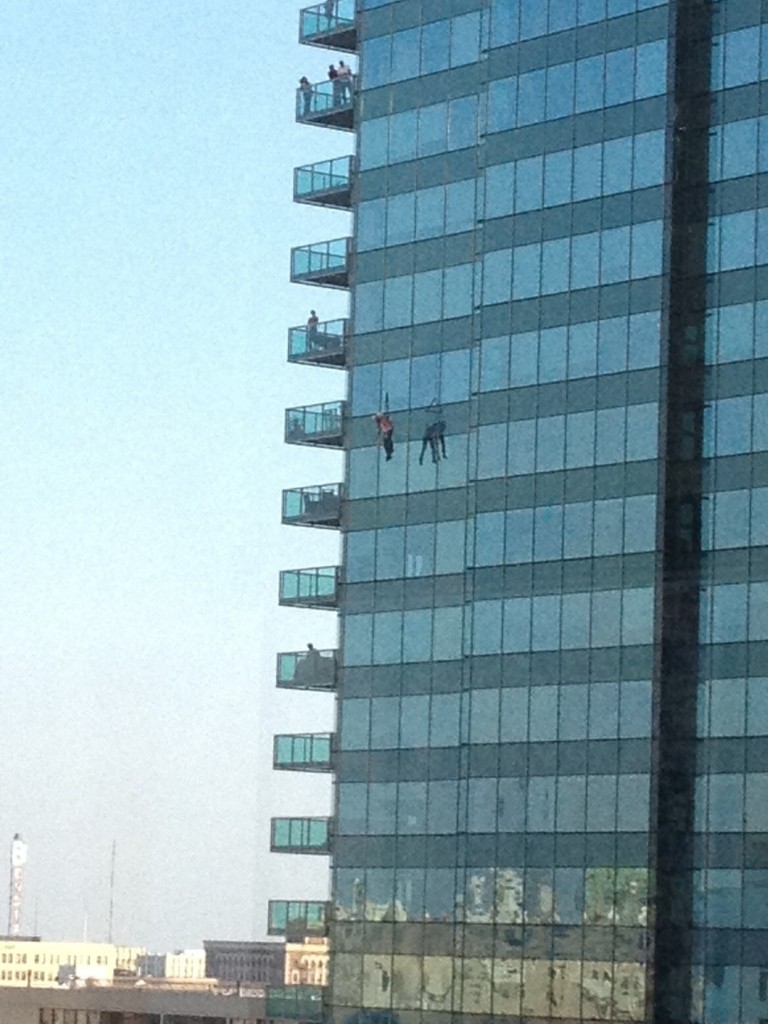 You'd think if she had taken a picture of them in mid-free fall, it would've been a giant blur of them going down, and not what you see above. So either Sean and Sarah went down slow first to get a feel for it, then went back up and did a free fall, or the people in the picture above were stunt people trying it out first before Sean and Sarah did it. That picture certainly doesn't look like two people are in the middle of a fall, but moreso just hanging there. Whatever the case, it was still a repeat of exactly what Michelle Money and Brad did on their first 1-on-1 during his season, at the exact same building.
-Later that night after they both slip into something more comfortable and don't have harnesses riding up their asses, Sarah basically gives away why she got this date…errrrr…tells Sean a story about a past zip lining experience she had. She was in Vegas with her dad and they signed up to go zip lining one day, were all set to go, then an employee told her she couldn't do it because of her disability and she started crying. Well there you go. It's quite obvious that she shared that story with producers at some point during her interview process and immediately the light bulb went off of, "Hey, lets cast her on the show and let her do something similar to what she never got to experience with her dad." That couldn't have been any more obvious if they tried. Sucks that Sarah got rejected by the zip lining people in Vegas and I'm glad she got to experience something like that on the show, but this was exploitation at its finest ladies and gentleman.
-Sean asks her about past relationships and she tells him she's had one serious relationship in her life that lasted about three years but that their "paths weren't going the same way." She was looking for someone with similar interests that wants to explore them with her. I don't know if that person is Sean (well, it isn't), but I'm sure after being on this show now, Sarah should have no problem finding a guy for herself in the future. She'll need to find a guy who accepts her for who she is, will not judge her based on the fact that she has one arm or appeared on the "Bachelor," will have the same interests that he can explore with her, but most importantly, be able to put up with that voice. Now, I'm not saying Sarah sounds like Fran Drescher…but she's close. Fran's definitely more high pitched, but she does have the whole whiny, nasally thing going on that absolutely got to be a bit much last night. Sweet girl and very cute. Just sayin.'
-After their talk over drinks, well, Sarah talked pretty much the whole time while Sean was ringing out his ears, they head back up to the roof of the building to look at the view and chat some more. Sean: "I had high expectations and I can't imagine I'd have more fun than I had today." Really? Because from the looks of it, you're on top of a skyscraper in LA with a girl who just talked your ear off and kissing her without any tongue while cameramen zoom in on your face. That was a lot of kissing for two people who didn't once decide, "Hey, maybe I should actually stick my tongue in there." It was made quite obvious to me on this date that Sean absolutely thinks the world of Sarah for being courageous enough to be the first person ever with a physical disability to appear on this show…but he only sees her as a friend. If you get the first 1-on-1 date of the season on the roof of an LA skyscraper and you don't make out with them, that's a problem. If you're giddy over someone, at some point you'll try and clean out their molars with your tongue. Sean didn't.