-Leslie's 1-on-1 date is up next, and considering she was crying at the beginning of the episode because she hadn't spent any quality time with Sean, it should've come as no surprise she'd end up with this date. I don't know if anyone has ever kept track of this in the past, but I think it's safe to say Leslie has more teeth in the her mouth than the average person. At last count, I think I caught 78 in there. The reason I know this is because she was so giddy about getting the "Pretty Woman" date that she couldn't stop grinning, and when she did, I'm reminded of Dr. Teeth: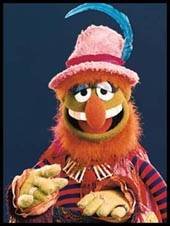 Leslie is ecstatic she just got a pair of earrings since she says she's "never gotten jewelry from a boyfriend before." Leslie, let me explain something to you. Sean is not your boyfriend. Nor is this reality. Nor is Sean giving you those earrings. They are bought and paid for by Neil Lane and Sean didn't spend a penny out of his pocket to buy you anything of the such, so quit pretending like he did. Leslie: "Who gets diamond earrings on their first date?" Ummmmm, women who go on this show and get the "Pretty Woman" date, that's who. No one else in real life does, unless you're working the Vegas strip and you find yourself a sugar daddy 30 years older than you for the evening.
-Sean takes Dr. Teeth shopping on Rodeo Drive before their date, but not after she's uttered the phrase "Holy moly Batman" at least 400 times in the car ride there. You could kinda sense where this date was headed. I'm just glad that Sean was man enough to drive himself, because God knows what would've happened if he let Leslie behind the wheel. Their night could've ended like this again: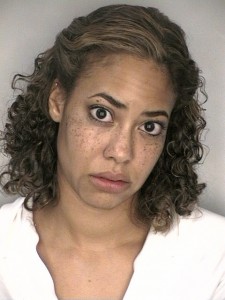 I don't claim to be any sort of expert when it comes to Badgley Mischka dresses by any means, but was it just me, or did she choose from some of the ugliest assortment of dresses known to mankind? And the dress she wore for the date, ummmmm, what was that? Was that a dress, over another dress, over another dress, over another dress? Hey, maybe I'm the one without the fashion sense here but that thing had me totally confused. I didn't know formal gowns came in 7 layers.
-Miss Orthodontics is really playing up the "Pretty Woman" role in this one. She's loving the fact that she's a "tan Julia Roberts," and that Sean is a blond Richard Gere. Really? I mean, do you really want to out Sean like that on national television. It's one thing to get this date with him but I don't think you need to be telling America that he's into gerbils, Leslie. Not cool. And it's hilarious that every season when the girl gets the "Pretty Woman" date she can't stop comparing herself to Julia Roberts character in the movie, which is funny since she played a hooker. I guess she won't be kissing Sean either then if it ever got hot and heavy. And she'll expect a deposit before any intercourse begins that he shall leave on the nightstand in a sealed envelope. This is all getting very creepy. Now Sean takes her to the Neil Lane store since her accessories wouldn't be complete without an overpriced, hideous rope to throw around her neck that's on loan for a few hours. Neil Lane: "We could put something on the neck?" Oh yes you can Neil. But Sean can take care of that later, you know, if he had an ounce of sexual attraction to this girl.
-Sean and Leslie arrive at a private dinner to begin the awkward conversation portion of their date. The "lets-get-to-know-each-other-talk-even-though-before-this-date-started-I-knew-you-were-going-home" awkward conversation to be exact. So Sean asks Teeth what's most important to her in a relationship and she says "communication and trust are HUGE." Really? You don't say? Hey, obviously those two are important in a relationship, we all agree on that, but it's such a bland answer that it doesn't show much of who you are or what you believe. I would think anyone who DOESN'T say communication and trust is important would be off their rocker. It's pretty much a given at this point, so she probably should've dug a bit deeper into things. She said she's single because she didn't want to settle (Yawn), only wants to be married once (Zzzzzzz…), etc. I was half expecting her to tell us that her favorite position is missionary as well. I hate to say that Leslie's answers were boring Sean to tears but, ummmmm, they were boring Sean to tears.
-Sean changes it up. "Ooooookkkkkaaaaaaayyyyy…now that we've gotten those standard, basic, rehearsed answers out of the way, how about this one? What are you looking for in a husband?" Oh this should be good. Leslie: "Someone who's driven, confident, caring, charismatic, giving, and pushes me to be a better person." Eh, a little better. She actually used some descriptive words, but I have to say again, nothing completely out of the ordinary. I mean, just take the opposite of every one of those words. Obviously no one wants someone who's lazy, uncertain, neglecting, apathetic, selfish, and brings out the worst in you. So I feel conversations like this really don't lead them anywhere. Or any couple for that matter. Can we just eliminate a lot of this small talk from the "getting to know each other" part of conversations? I find it kinda pointless. People can say whatever they want to make themselves sound good, but until they actually show you what kind of person they are, it's just words. And since Leslie was giving him just words, it was quite easy for Sean to retort with, "Yeah, I'm not feeling a romantic connection at all."
-This was a crushing blow to Leslie since she figured she had it in the bag. "You didn't see any romance at all?" Sean: "Not really." Well if that's the case, Leslie wasn't going down without taking unnamed women with her, "Watch out for the other girls. Not all are here for the right reasons." Bam! Take out the flamethrower and torch the others as you're headed out the door in yo' ugly dress. Of course, she didn't name anybody by name but I think it's quite obvious who she was after. As for those asking, according to what Sean told her on the date, I guess she did get to keep the earrings and the dress, but not the necklace obviously. Then again when you think about it, think of all the free sh** every girl gets as they continue on this show. You don't pay for anything, you get a gift bag along with extra luggage, meals are paid for, every flight and hotel room is booked to different cities/countries, so getting a free pair of earrings really isn't that big of a deal in the end, is it? I don't know much about earrings either, but I'm guessing if Neil is giving those away free to a girl who doesn't even last on the show, it's probably not his top-of-the-line earrings. Just a hunch.
-The best part about this date was that we saw something that I don't think has ever happened before in this show's history. Sean and Leslie were supposed to have a private concert put on by Ben Taylor for them, but he sent her home, so Ben played all by his lonesome, and a cover song at that. Hey, I didn't know who Ben Taylor was before this episode started anyway, but at least I expect him to play an original. Did he really need to cover one of the best slow song's ever made, "By Your Side" by Sade? I mean, Sade's version is 1,000 times better. In my top 5 of all time slow songs. You be the judge on who's version is better:
Gotta be the first time we ever had a private concert date where someone was sent home early and didn't get to hear the music. Although, back in Vegas during Brad's season, I was hoping that both Jackie and him would've just ditched the "Train" concert and had them play to a crowd of nobody. They're used to that.