-Tierra and Jackie's 2-on-1 is next and Tierra is telling us that she got to sneak out to see Sean last night without any of the other girls knowing. "Jackie doesn't know she's on a date with me and my husband." Neither does anyone else, spawn of Satan. They go horseback riding, and of course, Tierra is upfront with Sean while Jackie is 20 feet behind them struggling to keep up. Of course, Jackie has a different thought process heading into this date. She wants to warn Sean about Tierra and thinks once she does that, she's golden. Jackie: "I'd hate for you to fall in love with someone who's not their true self…I don't want to be that girl who runs around and talks about other girls, buuuuuuuuut…," then Jackie proceeds to tell Sean that Tierra was flirting with a guy at the airport and she doesn't think Tierra is there for him. Of course, Sean gives her the, "that's exactly the kind of stuff I need to know." Lets face it, Sean was all over the map this episode. Does he want the women to pay attention to him on the dates and not talk about the other women, or does he want to hear? He seems to say that he doesn't want drama and hearing what else is going on, but then Jackie tells him Tierra is flirting at the airport with random guys, and he acts like he appreciates her candor. Something in the water in Montana. This whole episode was backwards, ridiculous, and just feeding the ego of the Little Ball of Hate.
-We don't even see any time that Sean spends with Tierra after the horse back riding, so now we're at dinner already and Sean's decision about who to keep and who to ditch is ready to be made. But he wants just one last talk with Tierra before he does, just to make sure he keeps cray cray around for another episode and all of America can boo him from their living rooms. Tierra lays it on thick. "I have the biggest heart…I wanna be loved and I can love back…I was with a guy for 5 years who was in and out of rehab…always stuck by his side…he passed away in 2009…I lost my best friend…I'm scared of losing someone again." Is she serious? She went to the dead ex-boyfriend card at that point? I mean, does anybody buy what Tierra is selling now? Well, besides Sean that is. I mean, is it physically possible to not give someone a rose who just lays that story on you? It's almost like it was too well played and she knew exactly what she had to do to save herself. If she did have an ex that died, then my condolences to her, but I don't think it makes any of us a bad person if we doubt anything that comes out of this chick's mouth at this point. She admittedly said she was on this show to "win" last week, not here for Sean. She has ulterior motives, there's no doubt, and based on the stunt she's pulling on Instagram now, it's kinda hard to know exactly where her head is at.
-For those unaware, Tierra posted two pictures this past weekend on her Instagram account (Truly_Tierra) of an engagement ring on her hand saying "Happily Complete!" Which is funny, because on Thursday and Friday of last week, I got TWO different emails from two different people who came to me saying they'd indirectly heard Tierra was now wearing an engagement ring. Here's the picture she posted: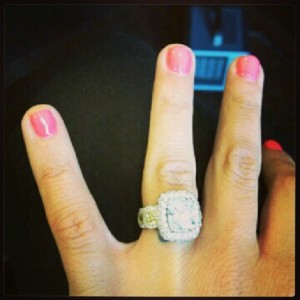 I have no idea what she's doing by posting this picture or if it's even legit. She could easily be posting it just to garner more attention for herself because she seems to be an attention whore. Or maybe like she says this episode, "If I want to get engaged, I can easily get engaged," and she truly did get engaged to someone since she's been back. Who knows with this girl? I tend to think this is just a ruse and she's doing this to get a reaction out of people, but at this point, who knows? What we do know is that Tierra's edit is starting to rival that of Courtney Robertson's. I mean, she's even waving the rose around in ITM's saying "I got a rose," all while cackling hysterically at nothing. This is really, really weird why this show is focusing so much on a girl who couldn't be more disliked by their audience. Yet after tonight, everyone will be talking about her again, so I guess they've accomplished their mission.
-So Sean gives Tierra the rose and Jackie ends up looking like a doofus. Sean: "You are one of the sweetest girls I've ever met…," yet I'm sending you home in favor of someone that has zero redeeming qualities whatsoever other than an indentation on her head that's driving me bonkers. Jackie: "Be careful with your heart." Translation: Lose that crazy b**ch before she comes stalking you. But not before Sean and Tierra have a mini campfire and watch fireworks go off. Can Sean really lay with this girl at a campfire and truly be enjoying himself? That's possible? Remember when Sean said back in week 3 that he'd had concussions before playing football? Are we sure those didn't resurface during filming of this show? Because lets face it, this episode did not make him look good. AT. ALL. And tonight watching Tierra survive yet another episode, I think Sean might want to hide his head in shame for at least another week until she's gone. Man, this is brutal. Was he really that smitten with this chick even though every single girl in the house is telling him otherwise?