Episode 2 (airing June 3rd): Los Angeles, CA (19 to 16)
1-on-1 date: Brooks Forester. She picked him up in a Bentley, they cruised Hollywood Blvd dressed as a bride and groom, got out on the sidewalk, fed each other cupcakes, and took questions from the fans standing around. Afterwards, they headed up the Hollywood sign (just like Ali and Frank when they had the first date of her season. Very original), and they get a private concert from R&B performer Andy Grammer. Brooks got a rose.
Group date: She takes 14 guys to a studio where they record a song with rapper Soulja Boy. Awesome. I was really hoping they made a video to "Crank That" because it's so appropriate for the Disney/ABC audience. Unfortunately, they didn't. The song they make a video to is called "Right Reasons," hence the reason they featured Desiree saying "Is everyone here for the right reasons" in that in the :30 promo that People.com released. Ben Scott gets the group date rose.
Chris, Brad, and Bobby are the three guys who don't have dates this episode.
1-on-1 date: Bryden Vukasin. At the Ojai Valley Inn and Spa. In case you missed it when I first posted on March 21st, a blogger named "Johnny Jet" happened to be visiting the resort at the time of filming and filed this review of what he saw.
This isn't the first I've heard of hotel patrons being inconvenienced by the "Bachelor" or "Bachelorette" filming at their hotel, and it certainly won't be the last. This is pretty much the type of ship they run. It's their way or the highway, and those resorts are basically at their mercy because they are the ones getting free publicity out of being on the show. Pretty funny how "Johnny Jet" calls them out on it though, not to mention laughs at the show for being fake. Bryden gets a rose.
I mentioned in a previous post that Robert Graham once hooked up with Desiree's roommate. Desiree recognizes Robert, but he doesn't remember Desiree. Yet another instance where I'm not sure if this storyline will play out on air, but it definitely happened.
Rose Ceremony Eliminations: Will Smith, Robert Graham, and Nick Mucci.
Episode 3 (airing June 10th): Los Angeles, CA (16 to 13)
For the first time I believe ever in 25 seasons, an episode consisted of two group dates, and only one 1-on-1.
Group Date: Dodgeball at the Americana at Brand. I live tweeted this date as it was happening back on March 20th, but here's the basics:
-They played best 2-out-of-3.
-The 5 guys on the Blue Team were Brad, Ben, Zack K, Brian, and Drew. The Red Team consisted of Brooks, Brandon, Chris, Mikey (Tenerelli), and Michael (Garofola).
-The Blue Team won the first game.
-Right when the second game started, Brooks injured his finger. A medic (and Des) came to his side, and he had to be removed from the game. While he was being tended to, some of the guys on the Blue Team were saying he was pulling a "Tierra." Possible broken finger as he was taken away in an ambulance. From that point on, the Blue Team had to rotate someone and the game was 4-on-4.
-The Red Team won the second game.
-The final two guys remaining in Game 3 were Zack K (Blue) vs. Chris (Red). The Red Team thought they won, but apparently Chris had stepped over the line. So they restarted, and the Blue Team won thanks to Zack.
-The Blue Team each took turns giving Desiree a piggy back ride after the win.
-The crowd shouted for them to have a push-up contest and a couple of the guys did with Des on their back just for fun. The End.
The post date after party was on the rooftop at a hotel in LA. Chris gets the private concert date with Desiree to watch Kate Earl perform.
Here are pictures to commemorate that date:
1-on-1 date: Kasey Stewart. They went window dancing at the Andaz Hotel in West Hollywood. Kasey got a rose.
On the day of Kasey's date, the first major drama of the season happened back at the mansion. Looks like they went back to an ol' standby this season: the ex-girlfriend appearing. ABC wasted no time in promoting this as it was in their first promo of the season. It's actually been a while since we've seen that. Sure, there's always talk every season about someone having a boyfriend/girlfriend back home, but do you realize we haven't seen one actually appear on the show since Ali's season, when Rego's ex-girlfriend made that phone call? Sean, Emily, Ben, Ashley, and Brad's season have all come and gone without them going to the "ex still in the picture" card, at least in terms of them appearing on the show. Until now. Brian J. had an ex and she showed up on that Thursday, March 21st. She confronted him, and he was removed from the show. Her name is Stephanie Larimore, a single mom, and most notably, was also Playboy's Playmate of the month back in June 2006. There are MANY Google images of her if you're so inclined to look. I certainly did. And oh yeah, she's also the ex-girlfriend of former "Bachelorette" contestant Craig Robinson. Ahhhh, what an incestual family this franchise can be at times. From what I was told, Stephanie had no clue that Brian had left to go on the show until either she, or one of her friends, informed her that I had confirmed his as a contestant on the "Bachelorette." She somehow got in touch with producers at that point, told them Brian didn't even tell her she was doing this, and they had her on a plane immediately to confront him.
Group date: Cowboy boot camp. 5 guys (Zak, James, Juan Pablo, Bryden, and Dan) learn stunts from professionals. Zak wins a VIP screening of the "Lone Ranger" movie with Desiree.
Rose Ceremony Eliminations: Brandon Andreen, and Dan Cox. Brian Jarosinski eliminated earlier in the episode because, well, his girlfriend showed up.
Episode 4 (airing June 17th): Atlantic City, NJ (13 to 11)
1-on-1 date: Brad McKinzie. They went to an amusement park in a Rolls Royce and ate dinner. Also played games at the park where Brad won toys to bring home to his son Maddex. Dinner was at a lighthouse, but Brad didn't get a rose on this date and was sent home. However, there is a little drama surrounding Brad's exit. Maddex's mother, Brittnee Nelson, had either a boyfriend/fiancé she'd been with for a while living in Colorado. Apparently while Brad was away filming, Brittnee and her bf/fiancé had some sort of disagreement, and she decided to move back home to Texas where her family is. Her FB page says she's currently in Dallas, Tx. Obviously she couldn't take Maddex with her (I'm guessing that'd be considered kidnapping), so before she left, she dropped him off at Brad's mom's house. This was all relayed to Brad during filming at some point, and Brad makes a phone call to Brittnee in front of the cameras to confront her on what happened. I don't know if this phone call took place before he ever had this date with Desiree, so it's sets up the drama he has going on back home, or, it's after she doesn't give him a rose. Not sure. As we know, everyone that gets a date is given a date for a reason. Because producers already know whether the lead is giving that person a rose or not, since the lead has already told them. Brad was given this 1-on-1 date in NJ because Desiree knew she was sending him home. I guess we'll see what the reasoning is when it airs, if it even does. I have no idea if that phone call with his baby mama will be shown, but it definitely happened. Brad is in Colorado and has custody of his son, Maddex.
Group Date: Mr. America competition at the Revel Hotel. This was another date that I was live tweeting and sharing pictures with as it was happening back on Wednesday, March 27th. The three judges were Miss America 2013 Mallory Hagan from New York, the mayor of Atlantic City Lorenzo Langford, and Desiree. Each guy was asked a question, had to do a talent, and then they had the swimsuit competition. Some of the questions that were asked:
Is sex important in relationship?
If you could be any animal, which one would you want to be? This question went to Brooks.
Describe yourself as fire or ice?
Do looks matter?
What's your ideal mate?
What could you improve on in your relationship? Chris got asked this question.
As for the talent portion, here's what each guy did:
Kasey: He did a tap dancing act. Didn't take it too seriously since he didn't know how, but it was apparently fairly entertaining. Must've been since he won it.
Drew: Read a scene from Romeo & Juliet.
Bryden: Strip tease.
Chris: He came out in women's heels, and hula hooped around his arms and waist.
Mike G.: He got the crowd fired up and sang "Fight for Your Right To Party" by the Beastie Boys.
Brooks: He played the ukuele to a song he made up. At the end of the song, he smashed his ukulele on the ground.
Mikey: Did a Michael Jackson impersonation dancing with a hat white gloves on. Also stripped and did one-armed pushups.
Ben: He pulled a Frank the Tank from "Old School" and did a rhythmic gymnastics routine using the ribbon and everything. Good stuff.
Zack W.: He played the guitar and sang.
Zack K.: He roller skated on stage.
Juan Pablo: Played the mini drums.
(Starting from the far end): Kasey Stewart (being covered up by Chris Harrison), Drew Kenney, Zack Kalter, Mike Garofola, Mikey Tenerelli, Brooks Forester, Chris Siegfried, Ben Scott, Zak Waddell, Juan Pablo Galavis, Bryden Vukasin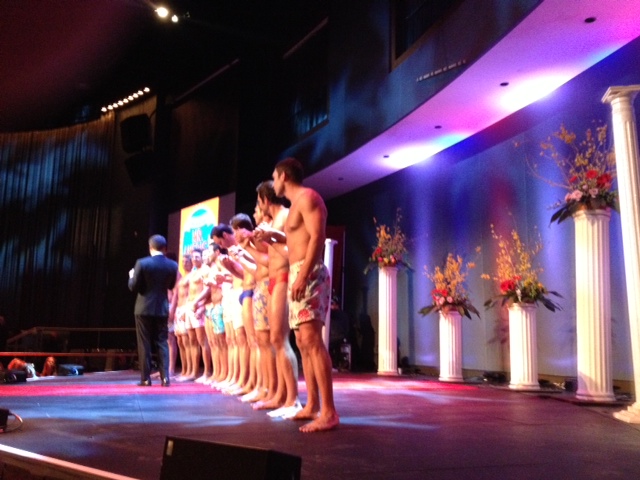 (Starting from the end closest to us): Bryden Vukasin, Zak Waddell, Mike Garofola, Chris Siegfried, Mikey Tenerelli, Ben Scott, Zack Kalter, Drew Kenney, Juan Pablo Galavis, Brooks Forester (being covered up by Kasey & standing next to Juan Pablo in the red speedo), Kasey Stewart (receiving his first place sash)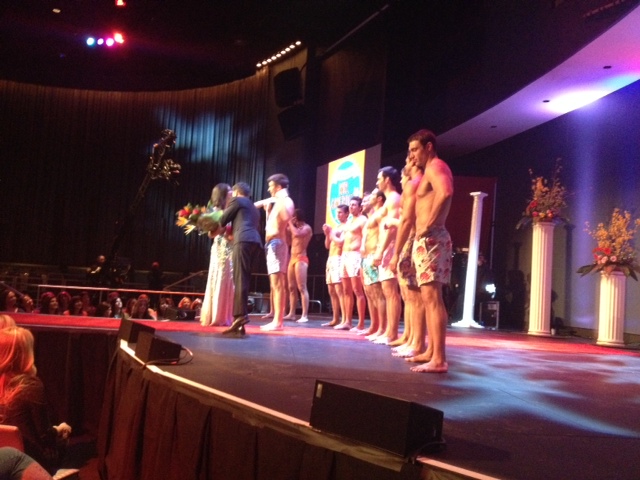 Kasey won the "pageant," Zak W. finished 2nd, with Brooks finishing in 3rd.
1-on-1 date: James Case. They visit an area that was decimated by Hurricane Sandy and meet a couple who were victims from the storm. Darius Rucker appears as well. James gets a rose.
Rose Ceremony Eliminations: Zack Kalter. Brad McKinzie not given a rose on his date.