Episode 9 (airing July 22nd): Overnight dates (In Antigua, 3 down to 2)
No guys were eliminated early or anything like that, Desiree did use the fantasy suite with all three guys. As far as what went on, I have no idea. I guess once we watch the whole season we can see how things play out and you can play the game in your head of, "How many of the three did Desiree sleep with?" That's always fun. I can tell you though at some point during her overnight with Zak, conversation did not go well. Not sure if this will be shown or not, but probably what led to him not getting a rose. Update: The Zak conversation either took place some other time, or not at all. Haven't been able to follow up on that one, but it definitely didn't take place in Antigua on the overnights because he never made it that far.
Rose Ceremony Elimination: Drew Kenney.
Episode 10 (airing July 29th): "Men Tell All"
Episode 11: (Final Rose Ceremony, Brooks vs Chris)
It took place Wednesay, May 8th at the Verandah Resort and Spa in Antigua. Almost a month ago to the day, I sent out this tweet: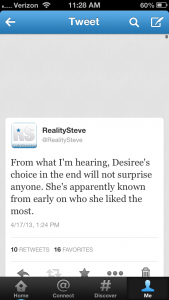 This was right when hometowns were starting and all I was hearing was "Brooks, Brooks, Brooks. She's picking Brooks." So I tweeted that out. Then in my next column on April 24th, is when I revealed that it was Brooks who my sources were telling me was the one she really liked and was going to pick him at the end. Almost like it was a no-brainer. I was skeptical though because last season I was told AshLee was Sean's front runner when hometowns started, and we know how that turned out. So did Desiree have a change of heart? Did something happen at the end that made it go in a different direction? Or was what I was told a month ago accurate and it's been known for a while she was gonna pick Brooks? I can tell you there was no trickery at the end, and she didn't send anyone home early. Both guys showed up, she dumped one and got engaged to the other. Yep. The sources were right.
Desiree is engaged to Brooks Forester.
Desiree had her pre-season conference call yesterday with the media, and obviously was coached to blow smoke up everyone's ass and make it seem like maybe things didn't work out for her, or maybe she's unhappy, or everything was so difficult she didn't know what to do. Blah, blah, blah. We'll have to listen to her hem and haw and dodge questions about whether or not she's engaged until the Aug. 5th finale, but just know it's all an act. There was an attraction to Brooks from the beginning, before hometowns even started I was hearing that's the guy she was gonna pick, she did, and now they're engaged. Congrats to them, and the offer stands as always that if the final couple from this show ends up getting married, I will absolutely buy them a wedding gift off their registry. Lets just say I'm not the least bit concerned about ever having to buy that gift. Enjoy the season.