-Ahhhh, next we have the limo exits since Chris already had his pre-limo talk with Des before she got ready back at her place. Did you know that Desiree came from nothing and never had a lot of nice things? Just checking. Didn't know if you had heard about that yet. I'd say the limo exits this season were tamer than previous seasons, but still some awful ones. Not all 25 guys made an impression out of the limo, so I'll just write about the ones that did…
Drew & Brooks: Both of them were incredibly nervous and both forgot to tell her their name. Always a good start. Then again, Desiree didn't seem to care considering how long they lasted. Someone might wanna tell Drew that the oil grease in his hair is flammable in that mansion. Will we ever see a shot of him this season with one hair out of place? Keep an eye out for that.
Brad: He brought a wishbone for them to tug on and make a wish. Frankly, I would've had her tug on another bone immediately, but that's just me. And oh yeah, she's not that kinda girl. Uh huh.
Michael: He takes her back to the fountain to try and retrieve the coin she threw in with Sean since it's defective now cuz' he didn't choose her. Which she said 5 months ago was the biggest mistake he's ever made, but now she's over it. I don't think I'd be dipping my hand in that fountain water anytime soon. I'm sure drunk PA's probably use that as their toilet during the late night hours. So in addition to his diabetes, I'm guessing we can expect Michael to contract Hep C this season.
Kasey: He works in social media so he's obsessed with hash tagging every sentence out of his mouth. He came up with three for Desiree: #perfectbachelorette, #marriagematerial, #letthejourneybegin. How about this one: #shutthef**kup.
Will: He's in to giving nicknames, so he gives her the nickname "Athena," the goddess of wisdom. Which Greek goddess had baby front teeth? I think he should've gone with that one.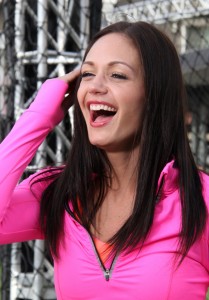 So is it her two front teeth are smaller than the rest, or do they just look smaller because her fang goes higher than each of them? Discuss. Oh yeah, Will wants a nickname from her when they meet inside. He never gets one (at least that we see). Side note: When I originally reported Will's last name was Smith, it was because that was the chatter I was hearing regarding him, when in reality, that was actually the nickname he was given by the guys because the actor Will Smith is his favorite actor. For some reason I thought that was his real last name, and not a nickname the guys gave him. It happens. Sorry for the mix up Will Reese/Smith.
Jonathan: He gives her a card for the fantasy suite immediately because he's horny, and what better way to make a first impression than telling a girl on national television within 10 seconds of meeting her you want to get in her pants. All class, Johnny.
Zak: Shirtless. "Will you accept these abs?" How about you quit it with the nudist look and start dressing appropriately? Did your mother not teach you anything?
James: The biggest thing to James is loyalty. He tells her "Can't wait to meet you" twice in a 30 second conversation. I guess he's really excited to meet her. And incredibly nervous. Someone check his pants to make sure he didn't shat himself either.
Dr. Larry: Would you trust this guy to be your doctor? He rips Des' dress while dipping her, and gives off the vibe of, "Sure, just leave your kid here and I'll drop him off myself after his appointment."
Nick: The magician turned a paper rose into a white rose. Impressive. Now go pull a quarter out from behind Des' ear. Or a personality out of your ass.
Diogo: So was he really going for the knight in shining armor look, or more of the 80's retro "Robocop" look? I'm still trying to decide. Ever since I found out this guy was on the show, I've been pronouncing his name as "Dee-ahh-go." Apparently, it's "Zzzzzhhhhhh-oh-go." Well f**k me. You're "Dee-ahh-go" dude, and thank god I don't have to worry about that after tonight.
Chris: Gets down on one knee and says, "Will you mind…if I tie my shoe?" Hopefully he said that back on May 8th as well to save himself the embarrassment.
Mike R.: The dentist wore his lab coat for tonight so he could be her McDreamy. Wasn't the whole McDreamy/McSteamy debate like so 2008? Hell, when Travis was the "Bachelor" they were calling him McDreamy. That's how tired that joke is.
Juan Pablo: I can't wait to have to translate the broken English he speaks all season. He's from Venezuela and says his name is not "Juan Pablo," it's "JuaPAAHHblo," spoken really fast and with an accent that I'm sure will have women all warm and fuzzy inside. Great. You drool over JuaPAAHHblo while I break my "Google Translate" app. This is gonna suck.
Brandon: Arrives on a motorcycle because he's cooler than everybody else. I think Jake was the last person to arrive on a motorcycle and we all saw what a douchetard he turned out to be. You're following in some pretty small footsteps, Brandon. Hope you can live up to it.
Nick: The inevitable "poem" guy. "Des, after watching you at the end of last season, I know I'm here for the right reason. The way you showed such genuine emotion, made my heart flutter like waves on the ocean. I'm looking forward to this journey with you, I hope you're just as excited too." C-minus. Lets stop it with the poems and raps already. Unless you're a rapping epidemiologist from North Carolina, you are forbidden to rhyme sentences anymore on this show. Lets make this a law.
Dan: I was fascinated when I saw this guy because I never thought in a million years that Jeff Probst would need to come on the "Bachelorette" to find love.
Ben: I mean, c'mon. As mentioned when I first reported it, was this even fair? The best part of Brody's exit was him handing Desiree her flower and saying "here." The worst part was putting him immediately back into the limo. He couldn't stick around longer? The kid had more personality than probably 10 of the guys there. Who wouldn't have wanted to see him chilling at the party with daddy? If Brody isn't the "Bachelor" in 25 years, I'll discontinue my blog.
-I love how after Desiree met all the guys, Chris comes up to her with, "He showed up in a suit of armor. I don't even know where you get that." Well Chris, I'm guessing he didn't travel with it on his flight to LA, so I'm fairly certain it came from your prop department. Call me crazy. Basically, the show is calling all their viewers idiots by playing up this notion that these guys are completely coming with these intros themselves and have no help at all from anyone behind the scenes.