-At the cocktail party, Michael needs to let Desiree know that he has Type 1 diabetes. So the guy who's gonna climb all over Ben for talking about his son all the time and using Brody for attention with Des is gonna play the diabetic card all season? Makes sense. Here's a guy boring her with blood/sugar level stories, yet gets pissed off when Ben interrupts him. Now, after what we saw earlier, it is clearly obvious that they purposely had Ben interrupt Michael's diabetes story for dramatic purposes. Anyone with half a brain could see that. Plus, I'm sure producers knew Michael the attorney wasn't going to take that sitting down. Boy did he ever. The guy wouldn't let it go, but honestly, I would've rather heard Ben tell Brody baby stories than listen to what your blood/sugar level was at. Call me crazy. If anything, if I were Ben, not only would I have interrupted his story, I would've added, "Hey buddy, time's up. I'm gonna steal her for a minute. Elan is ready to give you your insulin shots."
-Mikey, Will, and Michael are now all sitting around and attacking Ben for doing something that happens every season – someone already with a rose asks for alone time at the cocktail party. Happened before, and will happen again. Deal with it. Maybe these guys didn't get enough creatine that day because they are all little miss prissy pants over Ben. Not to mention, the editing of the conversation where they were all sitting around was so choppy, you couldn't really make out who was saying what to who and in what context. Mikey confronts Ben, "Why not let the kid have his time?" Considering he calls everyone "the kid," maybe he needs to start being a little more specific. Ben: "In hindsight, should I have stepped out? Maybe." Yeah, but then there'd be no drama, and the cocktail party would've been boring, so, go on wit' yo' bad self. You did the right thing (well, by listening to the producers) and they got the drama they were looking for so it's a win-win across the board. However, one thing the guys standing around did start saying about Ben was that apparently he was talking a lot about Brody, the bar he works at, how other bachelors "have one bar in the past that turns into 5," and his nutrition shop. If THIS is the reason that the guys didn't like him, then it makes a little more sense, because it seemed their hatred for him really came out of nowhere. Was a little surprised the show didn't go into specifics more on that if that's what Ben was telling them when Des wasn't around. Maybe they will in future episodes, we'll see. But if that's the case, well then, their actions make a little more sense last night. Still being a bit childish over everything and probably a tad jealous he got roses two episodes in a row? Yes. But at least it makes a tad more sense.
-The other big foreshadowing moment they pulled last night was making sure they showed us Brian getting alone time with Des and telling her all about his life and what he's up to. She even asks about past relationships to which Brian states: "Couple months ago, it ended. But it was probably over 6 months ago. You know how that goes." Of course, we all know what happens next week with Stephanie showing up and chewing him out since they've done nothing to hide it from the first promo of the season. Stephanie even took to Twitter last night to bad mouth the guy, so, it sounds like it's legit. I'm hearing a lot of things both ways, so hopefully by next week I can sort everything out. Right now, I'll stand by what I reported a week after this all went down. Stephanie had no clue Brian had left to do the show, apparently they were on a "break" where he told her they needed time apart, then this buffoon decides to go on a network television show where they premise is to find a wife. He's either the stupidest man on the planet, or, incredibly naïve. Or both. Whatever the case, we'll see it all play out next week and hopefully get some resolution to it all.
-Rose ceremony time. Brooks, Ben, and Bryden already with roses. Des, the floor is yours. "So fun looking at you guys…so thankful…couldn't have asked for a better group…open up…so many of you are amazing husband material…makes it more difficult for me…I'm terrified of Brandon and what type of Jenna Burke-esque meltdown he's going to have next week when I send him home. Helllllllpppppp!!!!!"
James: It struck me last night that I think he and Drew comb and part their hair the exact same way using the exact same product.
Kasey: There were zero hash tag references last night. I don't really remember Kasey speaking that much. However, with a 1-on-1 date next week, something tells me it'll be hash tag overload.
Dan: "Des, the tribe has spoken…"
Juan Pablo: She asked him in Spanish to accept the rose. Her Spanish was as awful as her rapping.
Brad: Never spoke a single word last night.
Chris: Might've been hidden the first two episodes, but will get major time next week to begin setting up his storyline.
Brian: He's deleted his Twitter account. Probably a good thing. He is going to get destroyed by Desiree crazies next week. Duck and cover man. These people are lunatics.
Zak W: Went a whole episode without showing any of us his abs. Or his dong.
Drew: I want to see how gooey and crusted the comb that he and James use is.
Mikey: A lot of airtime for Mikey last night. He was everywhere. The last grown man I heard who still went by "Mikey" was, ummmm, I have no idea.
Zack K: Probably should start getting to work on those children's books sooner rather than later. A complete zero for 2 episodes.
Michael: I still want to know why his eyebrow was missing on that episode of "Holidate" from 4 years ago. And oh yeah, he's a diabetic in case you didn't know.
"Desiree, gentleman. It's the final rose tonight. When you're ready. I'm so pumped that next week I get to be at the dodgeball date, I get to appear with Stephanie when she comes to rip Brian's balls off in front of everyone, and I get cocktail party/rose ceremony time. It'll be a profitable day for the new clothing line. I bet at least 3 people buy a new shirt. So now I'll make $60,300 an episode."
Brandon: Might've fainted if she didn't pick him.
Neither Will, Nick, or Robert had much to say in their elimination worth nothing. However, Desiree did. On Twitter. For those asking about the Robert stuff I reported a while back about how he used to date Desiree's roommate, Desiree remembered him from that, but he had no clue who Desiree was, she took to Twitter last night to confirm my spoiler for me. Gotta say, it's pretty nice when I give you info behind-the-scenes that's impossible for me to prove without giving up sources, never gets shown, yet the lead of the show confirms it in a tweet. Thanks Des. You're the best.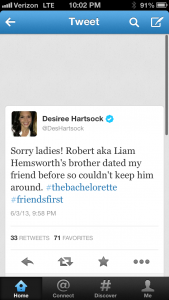 Next week should be one giant sh**storm. Looking forward to it. Send all emails to: steve@realitysteve.com. To follow me on Twitter, it's: www.twitter.com/RealitySteve. Instagram name is "RealitySteve," or join my Reality Steve Facebook Fan Page. Talk to you Thursday with your "Reader Emails" and "Dr. Reality Steve" column.