Steve,
In your tweet regarding Des being on Jimmy Kimmel when he "predicts" who her final four are and who her final choice is and how he's "predicted" the last several season choices…..it's obvious he reads the spoilers, but have you thought about waiting to releasing the final spoilers until after the lead appears on Jimmy Kimmel where he makes his "prediction" to see what he would come up with? I bet he gets 'em wrong! 🙂
Thanks for your time!
Comment: No. It doesn't bother me what Jimmy does, and I'm not gonna cater my column to appease him. I post stuff when I get it confirmed by my sources. I'm fine with it, because it's become so blatant now that he's done it 3 years in a row. I think it's funny.
__________________________________________________________
Hi Steve,
I just finished reading your reader emails and I was surprised someone didn't mention or notice something I saw. During the show they put tweets flashed at the bottom of the screen that have been sent in by viewers. Sometime during the limo exits or the cocktail party someone tweeted an almost exact quote from your spoiler column comparing Drew as a look alike to Jake Pavelka. I had your column up in front of me and it was pretty much word for word. It surprised me because I figured the show producers would read your blog and not post anything that even hinted that it might come from you. Did you see that tweet? Thanks for your blog! I love it!
Comment: I didn't see that tweet in particular, no. I don't read many of them. I'm too busy writing while the show is on. Not to mention the last 2 weeks I've live tweeted. I've found I'm spending more time looking down at my note pad or my phone, than actually looking at the screen. I might need to stop live tweeting because I know I'm missing some stuff.
__________________________________________________________
Hey Steve – I saw on E! news last night that Ali Fedotowsky is predicting Brooks as the guy Des chooses. How very wise and perceptive she is to come up with this all on her own without any help from your spoilers.
Comment: Same feelings about Ali as I do about Jimmy – I'm fine with it. I know where people are coming to get their spoilers and my numbers aren't suffering, so let anyone else do what they want to do. It makes no difference to me. Ali could've went on E! and said she KNOWS Brooks wins and not credit me, and I wouldn't care. I only worry about myself and my site, and let others talk about me and what I say. It's the way it's always been since I started spoiling.
__________________________________________________________
Just wanted to point out that all of Desiree's fairytale references are blaringly reminiscent of Julie's quest for a "fanty-tale" in "Burning Love." They called it before it even happened. That is how cliché this show has become.
Carry on.
Comment: Yes they are. Maybe Des was a huge fan of Julie's season. She sure has some guys that are similar to Julie's.
__________________________________________________________
Dont you think Jonathan could have just been a set up situation? I
think he was because they really over played the fact that shes
there for the right reasons and that they need to treat her right
or "see what happens if you dont". She said it… Chris said it.. a
couple times before the end of the show…
I dont know if she wanted him there to prove that point and make
the men aware she wasnt messing around or if the show came up with
it.. but it was stupid. I cant believe that any guy in his right
mind would say it.. and keep coming back with that after it was
obvious it annoyed her the first time.
Comment: I think it was a combination of alcohol and producer manipulation. Nothing more, nothing less.
__________________________________________________________
Robert totally looks like a young Rob Lowe.
Do you see the resemblance?
Comment: Yes. Yes I do. I think the best part about the Rob Lowe picture is that this person actually sent me in a signed copy of Rob back when he was boozin' and whorin' it up back in the day. Take that to a collectible show and sell it. Could be worth something.
__________________________________________________________
Steve,
Not sure if you noticed the tweets during the show… if you did and already spoke about it, apologies. But I found it funny that so many of the "BachelorNation" speaks out were people who work on or are connected to the show. And then there's the tweet from @TheFinalRose (who seems connected with all the Bachelor people) that is EXACTLY what you wrote in your play-by-play of Des' guys!
"Drew totally has a slight Jake Pavelka vibe about him." Just further proof of how much they pay attention to you.
Keep up the good work. You make watching so much more fun!
Comment: Based on what executive producer Robert Mills and Chris Harrison tweeted out this week, looks like the live tweeting on screen will be scaled back a bit because, well, people think it sucks. Which it does. It offers no added insight to the show whatsoever. It's pointless.
__________________________________________________________
love your blog!
totally random but just a funny heads up. so i flipping through the channels and turned on the premiere episode of bachelorette last night (rerun on abc…blow out kings game and nothing else on tv…i was that desperate) and verizon fios is my provider. I was laughing when i clicked on the info for the episode and the "cast" was as followed in this exact order: chris harrison, brooks forrester, drew kenney, chris siegfried, zak waddell, and kasey stewart. those were the only names shown if you clicked on the info of the episode and considering brooks and chris were barely shown i found it pretty funny that the "cast" included des's top 4 guys. not sure who is responsible for the info of the program but it's not like verizon or abc can claim it was alphabetical or something. if there was any doubt you were wrong (which you aren't), can't image there is now.
i wouldn't watch the show without your blog!!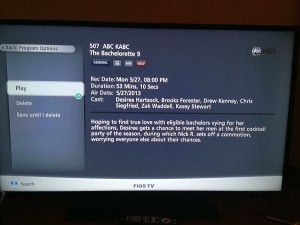 Comment: Pretty random. Although out of order, that is pretty funny. That's about as coincidental as you can get.
__________________________________________________________
Looks like Team Bachelor hit the motherload on tales of sorrow. You're too young to remember a daytime TV show from the 1950's, "Queen for a Day." It was absolutely sick. Three women would get up and tell their sob stories to a live audience which would then vote whose sob story was the worst. They used an applause meter to count the vote. I have no idea how that worked, but there was a little semi circle on the stage with an arrow apparently driven by the intensity of the applause.
The lady whose sob story beat the others would walk away with all kinds of "fabulous" prizes (usually involving a Maytag, a houseful of linoleum flooring – really helpful to people who usually had no houses – and a $50 gift certificate for the Spiegel catalog). The losers got nothing.
So we've gone from prior seasons of "I wish so and so would be more open" to "too much information."
Why do I watch this?
Sigh.
Comment: That was a game show in the 50's? How boring. Would they do background checks for the legitimacy of these people's stories, or could they just make anything up for the dope ass new linoleum flooring? I swear I could be a TV executive.
__________________________________________________________
I've become weirdly obsessed with your reader emails section – it's kind of fascinating and hard to stop reading despite being really awful. I'm legitimately curious though – how many of these emails do you get seeking dating and relationship advice? No offense to you but it's really sad and kind of pathetic that these people have no one to go to with their strange relationship issues other than the guy who spoils 'The Bachelor/ette.' I've always enjoyed your spoilers, they satisfy my curiosity and usually help me decide which episodes I want to bother watching. But I'm just wondering why on earth you indulge all these people seeking advice? Seems most of them should be referred to a therapist…
Good luck recapping this season – sounds like the cheesiest and most boring one ever, which is saying something. Think I'll sit this one out.
Comment: How many of these emails do I get? All the ones that you see every Thursday. Once in a blue moon someone will email "Dr. Reality Steve," and ask for my advice but don't want it posted. Very rarely though. Some weeks I have more than others. Like this week's is rather small. Only three of them.
I don't mind doing it. It's rather fun. And makes me realize that I don't have it half as bad as some of these people. I'm definitely surprised by some of the things people confide in me, but it's all done anonymously, so maybe I'm not. I guarantee if I posted these people's email addresses/names, there wouldn't be a column anymore because no one would send anything in for fear of being embarrassed or emailed by a bunch of strangers. That's why I don't do it.
Am I a trained professional? No. Do I have a background in psychology? Nope. But I'm honest. And I'm a third party. And sometimes people need that so I guess that's why they ask. Is every bit of advice I give brilliant? No. I just try and take a realistic approach to things. Most of the emails it seems like people over analyze or complicate matters more than they should, when usually the answer is pretty clear, and I just try to be that person to open their eyes to it.
__________________________________________________________
Hey Steve!
I was wondering if you know of anyone else from the bachelor franchise besides Ali who is blogging about Des' season? For Sean's season many were like Courtney, Michael stag, arie, etc. Thanks for your time!
Comment: Sarah Herron from Sean's season is. I linked to her blog in Tuesday's column. That Bachelor.tv website discontinued the blogs from former contestants this season. So outside of Ali and Sarah, I don't know of any others who have one. But a lot are live tweeting the show, so you can go that route.
__________________________________________________________
Hi Steve! Hope you are enjoying your summer!
Here is what I don't get….if a guy is in the middle of telling Des his "sob story" or whatever and someone else comes in and interrupts him 30 seconds into his story, why doesn't he just say, "Hey bro, I am right in the middle of telling her something important can I have just like 3 more minutes of her time and then I will come get you?"
I just don't see what the harm is in saying something like that. If someone said that to me I would probably be like, "Ok sure! No problem."
Have you ever wondered that? Yeah I know….then they would have no drama, right?
Comment: You answered your own question.
__________________________________________________________
Steve,
Something has been bothering me since the first night about Chris on the Bachelorette. He stole his entrance from The Office! Jim does the "Do you mind if I tie my shoe thing" Here is the link to the clip:
I'm just saying, if I were Des and someone stole a line from The Office and claimed it was theirs, they would be gone! That's just because I love The Office so much 🙂
Also, if someone said "for the right reasons" one more time last night, I was going to throw my TV out the window.
Keep up the good work!
Comment: I guess Chris is now competing with Jef Holm for biggest rip offs since all of Jef's lines to Emily were stolen from E-cards.
__________________________________________________________
Hi Steve,
I've been following your posts for years now. I've actually watched the Bachelor & Bachelorette since the beginning although I took a few seasons off as I couldn't stand the leads. My neighbor and I would meet at the bus stop on Tuesday morning and while we waited for the kids to get on the bus we would predict what would happen. She was always right because of your site so once she told me I've been following ever since. Now it's more like background noise while I'm working.
Which brings us to why I'm finally writing to you.
I'm a travel agent and just received the following email from Elite Island Resorts. Just in case you needed any additional confirmation about Antigua. This is the first time I've gotten email from a resort before the show airs. I've gotten "As Seen on…." emails from resorts after the season ended. I was a little surprised that the resorts would be allowed to send out this type of information so early.
Anyhow, just thought I would share.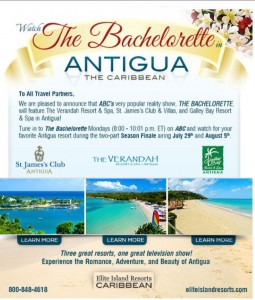 Comment: Yeah, that is pretty bizarre that Elite Island Resorts is giving away all three locations that they film the overnight dates at almost 2 months before it airs. Could be it was mistakenly emailed out, or not. I don't remember this happening before but I could be wrong.