-The remaining 5 guys who haven't had a date yet this episode (James, Juan Pablo, Zak, Bryden, and Dan) head to some made up ranch (the "Rose and Thorn Ranch?" Really? It's the Calamigos Ranch in Malibu) to learn stunts. They will be trained by the stunt coordinator from the upcoming "Lone Ranger" movie. Sweet. I can't wait for the "Lone Ranger" movie to come out. Must mean that a "Plasticman" movie can't be far behind. It'd be nice if Hollywood actually came out with some original movie concepts for once. The influx of reboots is mind numbing. However, you will catch me at some point this weekend front and center watching "Man of Steel." I hope it's better than that piece of crap "Superman Returns." Who the hell ever thought of that idea? Remember earlier where I said lets just forget every "Bachelor/ette" season before Brad 1.0 and pretend like it never happened? I feel the same way about "Superman Returns," and apparently so do movie makers because I guess "Man of Steel" basically doesn't follow anything before or after "Superman Returns" and does pretend like it never happened. Good. Because it didn't happen. In my mind at least. What an embarrassment to the franchise.
-The guys are trained on stunt fighting and lasso'ing things, although we never saw them put the lassos to use. Probably a good thing since they practiced with pink lassos. Really? Not even Wonder Woman had a pink lasso. Could they have possibly emasculated the guys any more? And speaking of Wonder Woman, how great was it that she flew in an invisible airplane and her lasso made people lose their memory? Man, if only. Maybe the stunt coordinator could've somehow gotten a hold of Wonder Woman's lasso and given it to these guys so they each could've taken turns lasso'ing in Des to try and make her forget about the other guys. Or Brooks at least. Unfortunately, that didn't happen and Des still remembers. And by the way, I dare any guy to say they didn't get a little tight in the shorts every time they saw this come up on screen back in the day: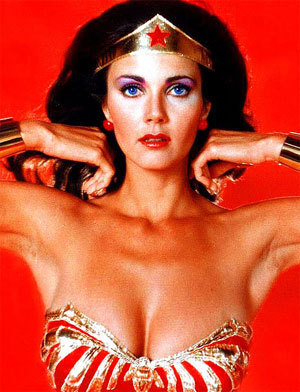 That's what I thought. And you know what, if we're being honest with each other here, isn't it safe to say that Lynda Carter might be one of the hottest 61 year old women on the planet? I mean, we are talking about a former Miss World USA in 1972.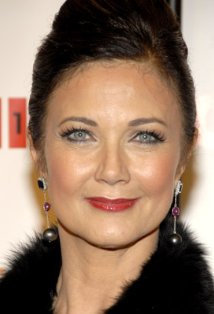 -After their stunt "training," each guy had to "rescue" Des. How about rescuing the rest of us from this episode? I wouldn't call that much of a rescue they had to perform. They fake punched two guys then shot another one. If all rescues were that easy, I think the world would be a much safer place. Each guy basically did the same thing, but JuaPAAAHHHBLO spoke to the bad guys in Spanish, so I guess that means he did the best. Personally, I thought she should've chosen Dan for the sole reason that he split his jeans and he has barely spoken a word in three episodes, but hey, not my call to make. JP (I'm sick of writing out his full name) ended up getting the rose. I know I wrote in the spoilers that Zak got the private screening of the "Lone Ranger" date. Apparently I was wrong. The good thing about it is a whopping one person has called me out on it since last night, so obviously it's not that big of deal to you people. Nor should it be. If your life goal is come on my site and point out every single time I'm wrong, you need a new hobby. Will I have every detail of every episode of every season? Absolutely not. But I will have more than enough to get you through the season. If something like "who got the special time with Desiree in episode 3" has you all up in arms, you probably need to put down the remote and read a book or something. Or get some friends. This isn't life or death, although for some people out there, I can tell it is. Apologies about that being wrong last night.
-JP and Des ended up getting an advanced screening of the "Lone Ranger," and whether or not they actually watched the movie is up for debate. Personally I wouldn't have because I have zero interest in seeing that, but these two seemed all excited about playing tonsil hockey all while Desiree is trying to figure out what the hell this guy is saying. So just to update our leaderboard, so far she's kissed Brooks, Chris, Kasey, and now JP this episode. Oh, and she ain't done. By a long shot. At the after party, Bryden gets some time with her and broke out some home movies of his leg fractured in 17 places after an injury in Iraq. Kidding. But I bet he had it on standby if he thought he was going home. Very disappointing that either a producer or guys in the house told Bryden, "Dude, comb your hair. You look like a dork," since now he is sans the Lloyd Christmas haircut and I can't make fun of him for it anymore. Bryden seems nervous around girls, or maybe just Des, because she basically has to start straddling the guy before he makes a move. Des: "He doesn't know when to make the moves, but when I get close, he's on it." Bow-chicka-bow-bow. Uh huh. You hit that Bryden. Don't worry, Becky will still be waiting for you at home. But might as well get your freak on while in California.
-Zak and Des had an awkward giggly conversation. He told her that, "I don't know if you know this, but I made an attempt to kiss you earlier." He did? Was this shown and I missed it because I was thumbing out tweets at an alarming rate last night along with taking notes, or did we never see this? Whatever the case, the two of them sit there talking about a kiss that never happened earlier, and then…they don't kiss. Bizarre. I mean, I see Zak working here. Bring up the whole "Hey, I tried to kiss you earlier, failed miserably" self-depricating humor story, but then you gotta seal the deal afterwards, right? What was up Desiree's butt at that point? Was she still being pissy about Brian leaving? Did she miss Stephanie and feel so bad for a washed up Playmate single mom that she was distracted? Her time with Zak ended quite abruptly in terms of what we saw. Maybe she did end up kissing him, who knows? I don't think I'll lose sleep over it.
-James gets time with Des and tells her how much he appreciates her laughing at his stupid jokes. I haven't heard any of his stupid jokes, have you? Please, enlighten us James. Something tells me James' jokes might max out at about the 7th grade level. I could be wrong though. However, James has a dilemma. His dad is back home very sick with a cancer spot on his pancreas, and James feels like he might be wasting his time on this vapid, shallow, BS reality dating show that's produced 3 marriages in 25 seasons. Ya' think? Of course, he needs reassurance that if Desiree doesn't see a long term future with him, then to let him know now so he can get back home to his ailing father. However, if there's a slight, minute, .000001% chance she might like him, then he would want to stay. And with that, she gets up, go grabs the rose from in front of the other four guys, and gives it to James, totally justifying him bolting his sick dad to be on this show. Some people's priorities are completely out of whack.