Wanted to mention something I'd tweeted about a couple weeks ago that some of you seemed to take the wrong way. I mentioned I had gotten an email from Mandalay Bay comping me 3 nights stay and tickets to the Jonas Bros concert on August 10th, to which I stated I had zero interest in. It then spawned quite a few tweets back asking me to give the tickets out to others. Actually, it doesn't work that way. I have to actually book the room and appear myself to receive the tickets, so unfortunately, I can't just give them out to anybody. Although I did get a follow up email from them that offered me the same deal for other concerts coming up. Bruno Mars August 3rd, Brad Paisley 31st, Backstreet Boys September 7th (I'll already be out there that weekend), Bon Jovi October 12th, and Josh Groban October 13th. So yeah, basically none of those concerts I'd be interested in. Bruno Mars possibly, but I can't go the weekend of August 3rd so that's out. Sorry for any confusion and excitement it may have caused for any of you that thought I could just hand you over Jonas Bros tickets.
One of the funnier secrets about this show is that while the show is airing, the contestants aren't supposed to talk to each other. Not until the "Tell All" episode airs, are these contestants ever supposed to reach out and shoot the sh** with someone from their season. At least, that's what they're told not to but it's laughable to think these people actually follow that rule. Which made it that much more funny when Michael in his exit interview specifically talked about that point in this Q&A:
Have you actually talked to Ben since he left the show?
Michael Garofola: No, no, no. We are not allowed to talk to the other guys on the show until after Men Tell All. So that is my company line on that.
Gee Michael, then why were you at the SL club in Miami chillin' with Brooks last weekend if you're not allowed to talk to anyone from the show?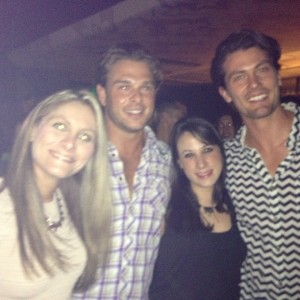 It's always funny to catch these people in lies or made up stories. And why is Brooks wearing another zebra shirt? He's obsessed with those things. He wore it in his ABC bio picture. He wore one the night he was in LA over Memorial Day weekend when his buddy Tyler Burton made a Vine video with Brooks in it (even though he tried to keep him hidden), and now he's wearing one at a club in Miami. Strange.
The "Men Tell All" taped yesterday, and not suprisingly, not a whole hell of a lot happened. Once again, they will drag out 2 hours worth of stuff, but a lot of it will be the drama we had to suffer through during the season. So here's what I can report from the taping:
-To no one's surprise, Drew, Chris, and Brooks were not in attendance. Neither was Brian J. So that promo at the end of last night to make you think Brian would be there? Lie.
-The four guys called up into the hot seat were James, Ben, Juan Pablo, and Zak. I guess because Juan Pablo got 13 seconds of air time all season, I guess they thought they'd bring him up on stage. They actually had a few fans wearing "I love Juan Pablo" shirts join him up there as well.
-Des did a pre-taped segment with Ashley, Ali, and Emily that aired where the four of them sat around talking about how to deal with the "villains" on their season.
-Zak claims he still wasn't over Desiree and even wrote a song about it that he sang for everyone. No, I'm not kidding. Man, he must be really pushing hard to try and be the next "Bachelor."
-James and Ben took the most heat. One surprising note was that Dan (yeah, I barely remember him either) apparently went after Ben the hardest. Claimed that the mother of Ben's son sought him out in Vegas one weekend, and started talking to him telling him stuff about Ben. Ben denied it, said it never happened, and even told Dan to call her right now because it was a lie. Dan accused Ben of being a cheater and that he abandoned Brody at some point. Ben did not take this all that well and these two had it out the most.
-Des went after James hard for not being there for the right reasons and what he said about wanting to be the next Bachelor. She also questioned Ben's sincerity.
So yeah, without the three guys in attendance the audience cares about the most, and not really a true "villain" this season that everyone hated, I can't imagine it being all that much of an interesting two hours. They'll spice it up in the promos like they always do, but those are the basics of what happened. If I hear anything else, I'll let you know in Thursday's column.