With the holiday yesterday, I figured most people weren't around their computer, so we start the "Daily Links" feature back up again today. It will be up tomorrow and Thursday as well, with Friday and Monday off, then will return next Tuesday for all of next week and continuing on for the foreseeable future. I spend a lot of time at the computer on a daily basis and I see a lot of things, but I don't see everything. So if any of you have a story you want me to link to, by all means, email me the link and I'm pretty sure I'll put it up if I feel it's relevant. I'm trying to keep these links to just "Bachelor," reality TV, and entertainment news. Will I expand at some point into sports? Probably. Just not sure when. I mean, I threw one in there today just because it was utterly hilarious and it reminded me of some of the Bachelornation crazies that take this show waaaaaaay too seriously.
But before we get to today's "Daily Links," at least for the next two weeks before he leaves for LA to begin filming the "Bachelor," here's a segment I'd like to call "This Week in Juan Pablo Tweets." Just a gathering of the senseless, sometimes misspelled, and always laughable tweets that Juan Pablo spills out every day. Man, I'm getting more and more excited for this train wreck to start. So here you go in case you missed some of his brilliance over the last week.
Juan Pablo has been very vocal about his love for the Backstreet Boys, including Instagram videos of him lip synching their songs. This is a problem.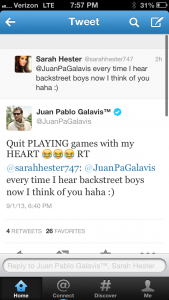 He's a Hurricane fan? Didn't realize they had any considering no one shows up at their games. And their coach dresses like a college professor.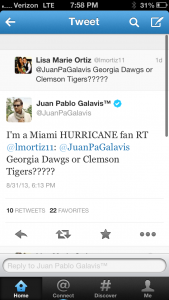 He loves doing the double tweet where he posts in English and Spanish. Especially important ones like this about where he can find some Nutella. I thought Nutella was mostly eaten by kids with a peanut allergy or anyone under the age of 10? Guess not.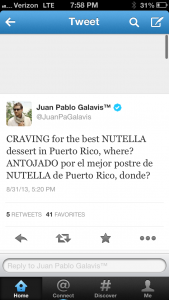 This person has no idea what they just signed up for. Poor them.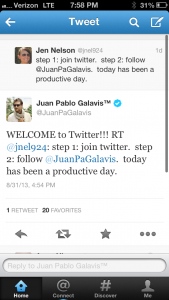 Unless Alex Morgan is one of this season's contestants, how about none?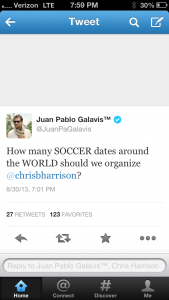 Might be the worst excuse for not liking to read. Because you're too active? You're never on a plane, or relaxing at home? You've got a bunch of flights coming up in the next two months. Pick up a book. Preferably one that teaches you a better command of the English language.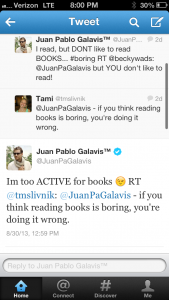 Ahhhh, the entitlement attitude has already started to set in…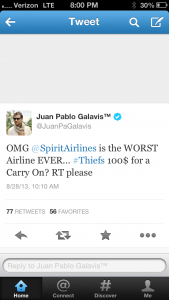 My favorite one of the week. Someone actually looking for an answer for his unnecessary capitalizations and he tries to justify it. Sorry. Not working.