Tomorrow should be an interesting day. I'm attending the Shauntervention right down the street from me. As you know, I've been a proponent of the "Insanity" DVD's for a while now, so I figured why not get the chance to meet him and work out with him? This class is going to kick my ass. Been doing the videos sporadically lately so I have a feeling tomorrow is going to be brutal. Oh well. Will be interesting to see where I'm at compared to the other people there. It's an all day thing, but I think I might have to skip out around 2:30. You know, there's a thing called A&M vs Alabama that I kinda don't want to miss.
We're just a few days away from Juan Pablo's season beginning filming with his girls set to arrive tomorrow. After I posted the first five girls on Wednesday, I mentioned to people that someone should inform him to take a look at them before he's cut off from all media so that he can begin to pre-judge them like everyone else already is. Well, someone actually tweeted at him to look yesterday and this was his response: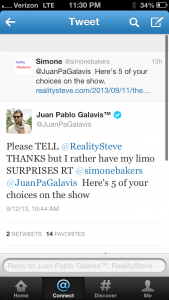 I wish Juan Pablo good luck on his journey, and hey, maybe he'll find his wife, but with all due respect, I don't buy for a second this guy isn't going to take a minute out of his day, click on my site, and take a quick peek at some of his girls. Sorry. Don't buy it. Hell, I would. I would think most people would. But I guess publicly he has to say that. The producers can only control so much of what he does, but they aren't with him 24 hrs a day right now. Nothing stopping him from going to a computer, or pulling it up on his phone for a quick minute to take a peek. Of course he's going to look.
I've added some pictures to Ashley Poe's profile in the Juan Pablo's Girls "link at the top of the page.
Daily Links
-I honestly thought this was a joke. We're well aware of the Chirs & Des' book of poetry they're selling, but this is downright laughable. The article speaks for itself, but, who buys 15 copies of the same book just to get a follow on Twitter? Are people that desperate to be liked? And 2,500 books? Huh? We're barely 6 weeks removed from the finale and already these two are becoming delusional.
-Somebody in Miley's PR team must've gotten to her and told her sticking out your tongue in every picture is horrible for her image, because now, she's going to retire it. Too bad her tongue isn't retiring from other things.
-Even though I thought the "X Factor" premiere was good and I'm looking forward to this season, doesn't like many other are. Ratings were down pretty hefty from last season's premiere. Oh well. I'll still watch.
-Man, I think the Harry Potter dorks are creaming themselves over this news. This is like their porn.
-"Big Brother" has been renewed for a 16th season. Excellent. This means my streak will continue of 16 seasons that I have never watched.
-Keanu Reeves wants to make a "Bill & Ted's Excellent Adventure 3." Of course he does. He hasn't done anything in years. I'm guessing his little blonde buddy with the perm wants to make it even worse since he hasn't worked in 20 years.
-I know One Direction fans are crazy, screaming teenage girls, but now we can add psychotic to the list. This is sick.
-You know it's a slow news day when I'm linking to a story about the "Today" show having a new logo, even though it pretty much looks exactly the same as the other one.
-So yesterday I gave you the link to the couple from the "X Factor" that seemed a bit too campy. Come to find out, the guy Alex made it Hollywood Week of "American Idol" last season, and his girlfriend Sierra Deaton has a pretty extensive resume. YouTube has plenty of clips of these two singing together, but this one is my favorite since she's reading lyrics off her iphone like a regular Farrah Abraham:
-There will be a Miss USA contestant this weekend who has visible tattoos, and apparently this has struck a bit of controversy. Regardless, I'm gonna go on record and say she doesn't win.
-I kinda thought Kendra Wilkinson had fallen off the face of the earth since I hadn't heard her name in a while, but I guess not. Maybe that was her husband who's out of the NFL and can't get a job. Anyway, Kendra says she'd totally let her daughter pose for Playboy. Of course she would. Why do you think mommy is so famous? For her intelligence?
Send all links and emails to: steve@realitysteve.com. To follow me on Twitter, it's: www.twitter.com/RealitySteve. Instagram name is "RealitySteve," or join my Reality Steve Facebook Fan Page. Talk to you tomorrow.