So tomorrow I will update you on some of the happenings with the "Bachelor" that I've yet to mention along with giving you a couple more girls on this season. Definitely will give you two more. Maybe three. Possibly four. Also a few notes about the girls and who decided to show up this season. So look for that tomorrow. This season has been a bit different in terms of info (at least so far) in that I'm getting about half the story, but not the whole thing. Like, I'm aware of the locations of most of the dates this season, I just don't know who's been on them yet. Some I have (outside of Kat's), and some I haven't. So I'd rather just give it all to you at one time when I know who was on the date and what they did, rather than just the location. So still finding the pieces to the puzzle to put together. I noticed on Kat's date, a lot of tweets and Instagram posts were hashtagging #firstdate. That's wrong. There was a 1-on-1 date the night before in LA that I was told about which was the first date of the season. I know what they did, and some details behind it, and I think I know who was on it, but not 100% confirmed yet on the girl so I don't want to say anything yet. We're only 8 days into filming, so there's plenty of time left. The whole season will eventually be spoiled like it has been the last 4 years. No worries.
Daily Links
-It's only fitting that today starts with a Miley link, no? Yesterday I linked to the cover of "Rolling Stone" with her topless. Now, if you're not interested in actually buying the mag, TVGuide.com breaks down the top 10 things she reveals in it. Much quicker.
-Can only laugh at this one since it was about as predictable as the sun rising today. Lindsay and Matt Nordgren are already done.
-For all of you that hashtag waaaaaaay too much on your tweets and/or Facebook posts, here's how ridiculous you sound:
-In this day and age when everyone has a cell phone, and everyone has a Twitter/Facebook account, don't celebrities realize that basically NOTHING is off record anymore? So she claims it was off record, but still stands behind it. Then why even say it was off record? What does it matter?
-A new app out there will allow you to check social media and not be spoiled:
I get the idea behind it, but it still seems like it would be impossible for it to prevent all spoilers from appearing on your news feed. Too hard to police something like that.
-Floyd Mayweather has a lot of money. More money than we can ever imagine. That's why he can place $200k first half bets on college football games like I'm placing a $5 bet: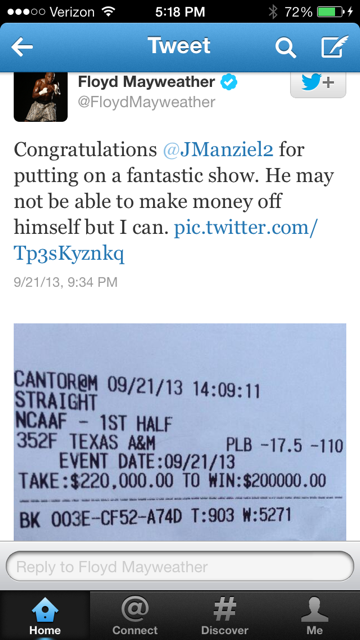 The thing with Money May though is he loves posting his winning gambling tickets all the time. Yet he's never once posted a losing ticket, which we know he's had plenty of.
-If there was any story that made me happier yesterday than this one, I've yet to find it. Harry & Lloyd bring a tear to my eye.
-Man, if Dr. Drew wasn't already looked at as the coolest Dr. on television, now he's one of the biggest bad asses as well. He kicked prostate cancer in 10 days? Geez.
-Lamar decided to come out of hiding yesterday and obliterate his absentee father on Twitter yesterday. No mercy, Lamar.
-Hey guess what? Farrah Abraham is now into the sex toy business and getting a mold of her hoo-ha made so guys can enjoy getting off to her without actually getting off to her. Farrah is one of a kind I tell ya'.
-At least Tina Fey has a sense of humor about her nip slip from the Emmys:
-This Leah Rimini vs the Church of Scientology battle is very funny to me. She says they want her to fail. They say they don't give a sh*t. Can't wait to see this play out even more.
-Speaking of DWTS, looks like Bill Nye got injured yesterday. No new updates, but I'm guessing he'll have to be removed from the show. Better him go out this way then having to watch another performance. It's for the best Bill. Now go mix something in a beaker.
-What do you do if your team has already clinched the NL East and you're bored at a Braves game? Well this guy sure had a brilliant idea. As I mentioned in the Ellen Pompeo story, in this day and age, basically anything and everything good ends up on film. Why do people even leave the house anymore?
-Douchelords like this are the exact reason why I never joined a fraternity. If I ever had a frat bro give a motivational speech like this one before a flag football game, I might've laughed in his face (Note: A lot of cursing for no apparent reason). Calm down, broski. Drexel intramural sports are about as insignificant as they come. No one cares about your team, your frat, or whether you won. You should be embarrassed over this speech. Total meathead. The best part is the players around him basically laughing at the guy.
-Remember the Packers/Seahawks game last year that ended on that horrible call in the endzone by the replacement ref? Here's what he's been up to since. Not to mention the death threats he received by idiot fans. Wow. It's like some of the Bachelor fans got a hold of his phone number to harass him.
Send all links and emails to: steve@realitysteve.com. To follow me on Twitter, it's: www.twitter.com/RealitySteve. Instagram name is "RealitySteve," or join my Reality Steve Facebook Fan Page. Talk to you tomorrow.