I haven't brought this up in over a month for reasons I expressed back then – most of you, if not all of you, don't care. However, I'll just say this once and move on. I won my fantasy baseball league by the largest margin in the over 25 year history of the league. And oh yeah, currently sitting tied for first in fantasy football. Yes, I would like a medal. That is all.
A few of you have asked about our "Amazing Race" recapper and where it was for this past Sunday's premiere. She had too much on her plate this season and is unable to recap this season. I appreciated all of Kim's columns and hopefully she'll come back next season. Not necessarily looking for a writer to fill in this season, but if you're really interested, I'd take a look at any writing samples people want to send me.
After I posted yesterday about Juan Pablo's group date with the K-pop group 2ne1, I was emailed a couple videos taken by one of many in attendance, along with a blog (man, who knew there was a "K-pop Insider Blog" out there. Is that like the Korean Reality Steve?) that has a picture taken outside of the performance with Juan Pablo and the six women on the date: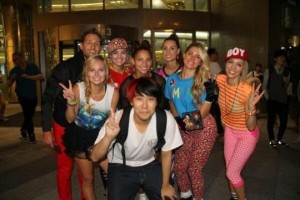 It's pretty clear that Kat is the one on the far right. Of the other 5 girls, I'm aware of who 4 of them are and I will be releasing them over the next few weeks. Here's the video of the whole performance if you want to watch a bunch of awkward dancing in 80's clothes. And is anyone else a little disappointed by the lack of dancing skills our Latin heartthrob has? Hmmmm, maybe he can only salsa or something. He's doing his Latin blood a disservice by getting up there and moving like that. Booooooooooooooooooo….