"Daily Links" will return tomorrow. Big update today that took longer than I expected. Got a lot to share with you, so bear with me. I said yesterday I'd release five more of Juan Pablo's girls today. I lied. I'm gonna give you six because I'm such a great guy, which will bring the total up to 20. Still 7 left to release that I'm gonna hold on to for the time being. You know, there's still 4 girls left whose name begins with a "C" along with an "S", an "N", and a "V." All in due time. One month into the season and I've got the whole cast. Not too shabby. Never been close to that before. I'm totally gonna give myself a sucker. Maybe even a watermelon scratch-n-sniff sticker for my pee chee. Also today, I'll share with you some of the limo exits the girls had, and then tease a few things to expect this season, which I'll answer for you at a later date. Last I heard they were in New Zealand for episode 6, and should be leaving fairly shortly for their next location, which is the last stop before hometowns. My guess is today or tomorrow. I'll let you know if I hear anything. Hometowns begin next week and I'd say there's a 99.9% chance I will spoil them before the first one is even filmed. When you know who and how many are left, it just becomes a matter of math at that point. Just saying.
Lets get to the always knee-slapping hilarious limo exits. Every year, it's a bunch of unfunny, unoriginal ideas that the producers tell the girls to do and they do them without fail. Oh sure, some people already know what they want to do out of the limo, but it needs producer approval. It's not like anyone does something out of the limo that completely takes the producers by surprise. Of course not. They are either told what they are going to do, or the idea they have is approved. That's how TV works.
-Lucy wore a hippie dress, a flower power head band, and went shoeless on the first night. Should we have expected anything less?
-Kat salsa danced with him. Good. Kat dancing is what this world needs more of.
-Ever heard of a piano bike? Yeah, me neither. But Lauren Solomon showed up night one riding in on one of these: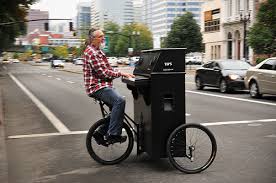 -Ashley Poe gave him a gold star being a first grade teacher and all. I think she should've gone with a fruity smelling eraser.
-Molly the dog got out of the limo before Kelly did. Kinda like how Ben's son got out first last season. And yes, Molly lived at the mansion with the girls until they left LA.
-Of course you had the obligatory soccer reference, and Alli came out of the limo with soccer shoes on kicking a ball around
-Amy Jokinen (one of the girls confirmed today) put him on a table for a massage during her 1 on 1 time at the cocktail party. Lovely. Happy ending?
-Remember this tweet from night one? Well, she was on her phone texting out of the limo: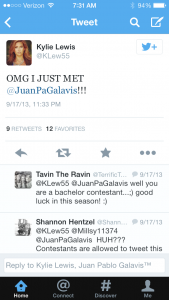 As for some things to look for this season:
-Who broke out the stethoscope when they met Juan Pablo so he could hear her heart beating?
-Which girl faked a pregnancy by having a fake baby bump out of the limo?
-We haven't seen bungee jumping since Jake & Vienna's 1-on-1 I don't think. You will this season.
-Who's got a baby daddy who currently plays in the NBA?
-Who gets sick on the first night from drinking like a champ?
-Who got to ride in the watercar down in Long Beach?
These and many more will be answered for you in a future column. Now lets get to 6 more girls from this season that have now been updated on the Juan Pablo's Girls link at the top of the page…