In case you missed my tweet last night, "Bachelor" filming is now in Miami and they will be filming dates there this weekend before hometowns begin next week. Depending on if there are Twitter sightings of these dates will determine when I release some of the remaining girls. Lets say pictures surface of him on a 1-on-1 and it's with a girl I haven't released yet, then I'll release it immediately since I have the rest of the girls profiles all set and ready to go for next week. But if there are no social media sightings of them this weekend, then I'll just wait until his final four is set, and I'll release the remaining 7 girls. There's definitely going to be a couple that make the final four who I haven't released yet. Could be three, and might be all four. We'll have to see. All depends on who he eliminates in Miami.
Oh hey, here's a picture of contestant Elise Mosca back in the day getting quite cozy with the Situation. Pay no attention to the "Stephanie Pratt" stuff at the bottom of the pic. I guess some news outlets thought she looked like her. That's Elise. Do with it what you want.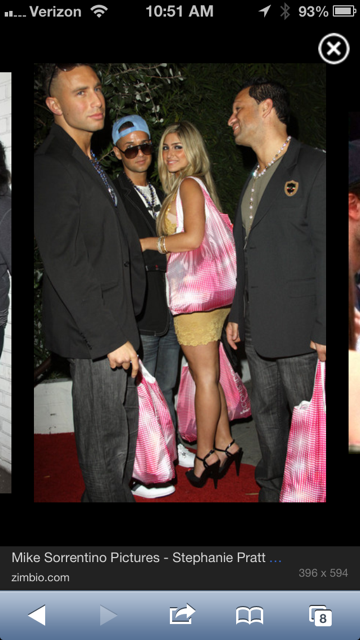 And just a funny email I got this morning from a reader:
"Steve,
Just wanted to let you know that your column helped me solve a clue in Wednesday's New York Times daily crossword. 25 down clue was "indy racer Luyendyk" of whom I never would have heard had I not read your Emily recaps. So, thanks. That's the closest to anything intellectual I expect to see from Arie Luyendyk. Top of the fame heap when you're a clue in the NYT, right next to 26 down "ex president who swore in President Hoover." Common knowledge, really."
Comment: Well, technically they were referring to his dad, Arie Sr, since Arie Jr. has zero racing career to speak of and his pops won the Indy 500 twice. Lets not give Arie too much credit. Although I'm sure he'll be contacting tabloids any minute now to tell them to write about how he was the answer to an NYT crossword puzzle.