Your complete cast list of all 27 girls is now up at the Juan Pablo's Girls link at the top of the page.
So now you know who all of the "Miami Six" are in the picture that was released yesterday by the media. From left to right: Sharleen Joynt, Nikki Ferrell, Clare Crawley, Andi Dorfman, Renee Oteri, Chelsie Webster: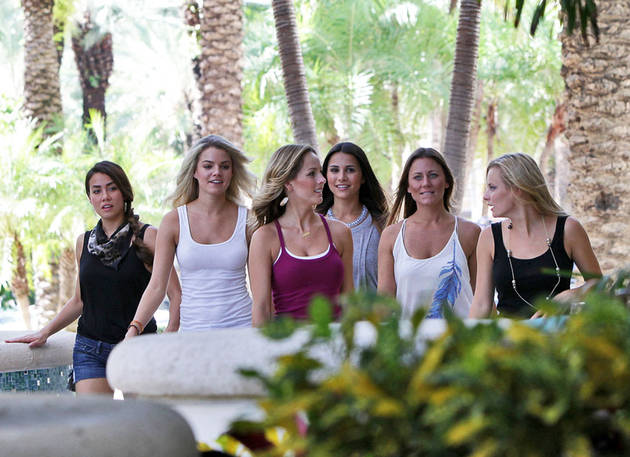 As for your answers to the teases from last week are, here you go:
-Who broke out the stethoscope when they met Juan Pablo so he could hear her heart beating? Nikki
-Which girl faked a pregnancy by having a fake baby bump out of the limo? Clare
-We haven't seen bungee jumping since Jake & Vienna's 1-on-1 I don't think. You will this season. Chelsie
-Who's got a baby daddy who currently plays in the NBA? Cassandra
-Who gets sick on the first night from drinking like a champ? Victoria
-Who got to ride in the watercar down in Long Beach? Cassandra
Some other notes of interest:
-The first impression rose went to Sharleen.
-There is no 2-on-1 date this season. I know I don't remember every detail of every season, but, I don't think we've ever seen that before. I think all 27 seasons have had a 2-on-1 date in them.
-The group date after party in New Zealand was at the "Lord of the Rings" house.
-There were only two private concert dates this season
-The soccer group date was at the StubHub Center in Carson, CA.
And finally, remember how I told you Lauren Solomon has been on three game shows in her life? Well, here's a clip from her appearance on "Minute to Win It". Her ex-fiance Blake is shown twice in the clip as well sitting in the audience: