Twitter and Instagram are a fascinating world. Especially if you're a celebrity. It's really interesting to look at people who tweet at or post comments on other people's Instagrams that they obviously don't know. We all know that person in our twitter feed who has 17 followers, follows 1,000 people (all celebrities) and spends all day every day tweeting at a celebrity in hopes to…what? Get a response? And even if you do, what's the big deal? Instagram takes it to a whole other level since you'll see people who don't even know each other, start bickering back and forth on some celebrities Instagram account who they don't even know. Or then you get the crazies who the second one of their celeb "friends" posts a tweet or a picture on Instagram, they HAVE to be the one to get the quickest comment in. And sometimes their comment will just be to say "first comment." Yes, that's how pathetic some people can be when it comes to social media. You'll see it all the time with "Bachelor" people as well. I mean, just LOOK at this comment on Catherine's Instagram that someone emailed me last night: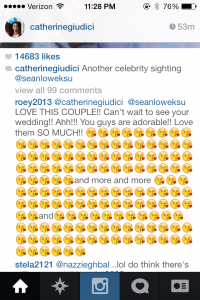 Really? You're REALLY that excited for two people's wedding you don't even know? How is that humanly possible? And I know this person probably thinks Catherine and Sean see that comment and think it's cute or endearing. Not that they would ever admit it publicly, but I hate to burst your bubble. They don't. They think you're crazy. Because you are. If you wanna write "Wishing you two the best of luck," or "Good luck in the future" or something to that effect, sure go ahead. You look way less crazy then using a bunch of emoticons and exclamation points to tell a reality show couple that you don't even know how much you love them. Twitter and Instagram is a fascinating study in human behavior. If you had to pass a psychological test before you were ever granted access to a Twitter or Instagram account, I think half the accounts out there right now would be suspended.
DAILY LINKS
-Man, and you thought that maybe Miley had turned the page and took her foot off the pedal with the glittering backless gown she wore to the Marc Jabobs event in NY this week. Nope. The same exact night, after she probably ripped that thing off (or had it ripped off by some guy), she went to the after party and decided to take this spread eagle shot of herself
-Maybe Katharine McPhee has been separated from her husband and it wasn't a big deal she was making out with a married man. However, according to these reports, doesn't look like Michael Morris' wife took too kindly to the pictures getting out. As she shouldn't have. Best part of this story is he tried to prevent the pics from being released. Ha ha…now that's funny. If you think a tabloid is going to let you pay them off to NOT release scandalous photos, you're crazy.
-Of course we're hearing from McPhee-ver's camp and obviously she's embarrassed. Lets make one thing perfectly clear. She's only embarrassed she got caught, not that she's obviously been carrying on with a married man. Just like all the cheaters that issue public apologies AFTER their stories hit the media. If you're truly sorry, wouldn't you have told your spouse beforehand? What good is it to apologize once it's already public knowledge. Comes across as completely insincere and you're only doing it because that's what the public response should be.
-I'm sorry, but this "Chinese Food" song has no business being in the Top 30 of the Billboard charts. It's awful. At least Friday was funny and had a better video. This is just dumb:
-Someone needs to dig and find out which A-list actress this story is referring to. Secret society sex clubs in Hollywood is nothing new since that's been going on for years. These people are freaks. Whether you want to believe it or not, some of your favorite actresses slept their way to the top. That's just the way it goes.
-Annapolis High School in Maryland is having all their students sign a dance contract and are banning twerking from this year's prom. Ugh. How politically correct of them. Let the kids have some fun. So an 18 year old in a ruffled gown that hangs down to the floor is bent over in front of some football players crotch. Big deal. If I were those students, I'd boycott the prom and just do a house party that allows as much twerking, drinking, and sex as possible. Booooooooo Annapolis High School.
-Whoever thought that when Jamie Lynn Spears got knocked up at 16 years old, that five years later she'd actually be a somewhat productive member of society? Take a look at her fiancé and daughter now. Like, is this real? It can't be.
-Since pre-production is underway for the next "Star Wars" movie, news and info seems to be coming out like once a month. Check out this original trailerfor "Revenge of the Jedi" back in the 80's. Yes, that's right. It was originally called that before being changed to "Return of the Jedi".
-Nicholas Brody's wife on Homeland had a baby. I figured I'd introduce her that way since if I just said "Morena Baccarin had a baby," you guys wouldn't have a clue who I was talking about. Lets just hope this kid doesn't turn out like her daughter on the show who's literally the most unhappy child in America. Can she crack one smile in 3 seasons? Is that asking too much?
-Anytime "Anchorman 2" releases a trailer, I'm going to show it. These were actually released a couple days ago but I didn't see them til yesterday. Can't wait.
-An interesting look at the most popular female name, year-by-year in both all of the US and broken down state-by-state covering every year since 1960. Holy crap, for 15 straight years (1970-1984) "Jennifer" was the most popular name in America. How boring. I never would've guessed Sophia or Isabella in recent years.
-Anytime a story about "Hooters" is in the news, you can bet your ass I'm linking to it. A Hooters waitress was fired for putting blonde streaks in her hair. Really? If she thinks that's bad, she probably shouldn't apply at Twin Peaks. She doesn't want to know the discrimination that goes on there.
-Pretty amazing to think there are still people out there who don't have a Twitter or Facebook account. I get the whole privacy thing, but I always find it weird if I meet someone who doesn't have one. Immediate red flag. Anyway, lets all give a warm hearty Twitter welcome (trolls, start lining up) as Katie Holmes has joined Twitter. She tweeted yesterday from South Africa on the set of some movie with Taylor Swift. I'm sure the Scientologists are eyeing her account like a hawk right now.
-Speaking of the woman formerly known as Mrs. Tom Cruise, nice to see Tori Spelling diss Katie in her upcoming book calling her a robot and a horrible singer. I guess anything to sell book, huh Tori? Funny thing about that is Tori being all bent out of shape that Katie didn't know she had kids. When you're holed up in seclusion and don't speak to the media for the 5 years you're married to Tom, I wouldn't expect her to know anything going on with a 90's actress and her kids. Probably got awfully lonely down there in that basement.
-So if Farrah Abraham announces her new DJ Douche boyfriend on Wednesday, how long does it take the tabloids to pull up his arrest history? 24 hours. Mr. Wonderful has 37 traffic tickets in his past. Only a matter of time before we hear even more stuff about this guy.
-I cannot stand shows from the 70's and 80's being rebooted for either TV or the big screen. Drives me bananas. Well, they're at it again as now they want to reboot "Murder, She Wrote." Angela Lansbury is turning over in her grave as we speak. Correction: Didn't realize she was still alive. Sorry Angela.
-Lets all raise a glass now that Orlando Bloom and Miranda Kerr have separated. Since when did Miranda Kerr start morphing into Mila Kunis?
-Remember "Vodka Samm," the University of Iowa girl who tried to run on the field at their home opener, got arrested, blew a .34 at the police station then started tweeting from prison? Well, here she is speaking on the incident for the first time. Kinda sad story actually. Definitely not the way I saw that story headed.
Send all links and emails to: steve@realitysteve.com. To follow me on Twitter, it's: www.twitter.com/RealitySteve. Instagram name is "RealitySteve," or join my Reality Steve Facebook Fan Page. Talk to you Monday.