As we know, Sean & Catherine's wedding will air live on ABC Sunday night, Jan. 26th. Even though no location details have been released publicly by ABC, WetPaint reported the wedding is happening in Santa Barbara. Which makes perfect sense if it's going to be in California, but not LA. They weren't doing San Francisco or San Diego, so Santa Barbara makes the most sense. I heard the Bacara Resort a while ago but had no idea if that was solidified. The whole "live" aspect of this wedding is going to be interesting just because there's so many logistical things to deal with like kids, commercial breaks, a mic not working, etc. Should be interesting to say the least. Their save-the-dates are starting to arrive this week as you've probably seen Ashley and Molly tweet about it. Or maybe you saw his friend Charlie Grogan (from Emily's season) Instagram out a pic of the invite AND the letter ABC sends to everyone with it telling them to keep their mouth shut. Look for yourself: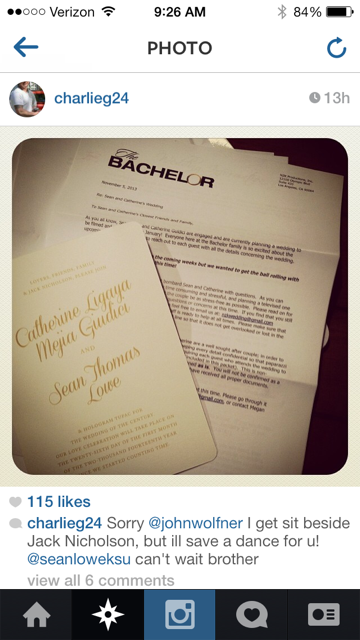 Smart move Charlie. Especially since you're showing us a letter that has an email address in it to contact the honchos over there about the wedding: nzkwedding@gmail.com. Now c'mon people, don't you dare start bombarding that email address with a bunch of spam or pointless emails. I would never suggest doing such a thing. I mean, the letter is clearly stating not to share anything with anyone, and here's this rocket scientist posting it on Instagram. Why? For what? To let everyone know you're going to the wedding? Wow. You're special. I really don't get these people sometimes. I'm guessing by the end of the day (if not the next couple hours) Charlie will remove that Instagram picture. Kinda like how Mikey Tenerelli took down the pics of him and Kylie Lewis the day I posted them.
Daily Links
-For the first time in its show's history, the "Real World" is changing its format for season 29. Normally it's just seven people in a house fighting, drinking, hooking up, getting a fake job, etc. Same idea, but during the middle of shooting, when the cast goes on a day trip, they will return and their exes will now be living with them, hence the re-named "Real World: Ex-Plosion." We've seen this on other shows before, but to do this on a show like "Real World" that's been on the air for 21 years is amazing. Might actually get me to watch again.
-Now two consecutive days that the Biebs prostitute has spoken to a different media outlet about her night with the 20 yr old. Do we really need to hear this? And is anyone buying this for a second? I bet he thinks this is probably helping his image. Trust me dude, it's not. Every time this skank opens her mouth, your reputations sinks further into the gutter.
-The reviews for "Catching Fire" are starting to come in, and they're mostly positive. I never read any of the books, but I did see the first one. I'm interested to see the second one, but am I camping out in my Peeta hunting gear? No. I actually forgot a lot of what happened in the first one other than how it ended. Will need a refresher.
-Lady Gaga went on Howard Stern yesterday to talk about a lot of things, but then continued her bitchfest with Perez Hilton. Seriously, one of the least entertaining and uninteresting Hollywood feuds ever. No one cares if these two aren't friends anymore.
-Speaking of Gaga, she's the host and musical guest for SNL this weekend. Her promos:
-Yet another Hollywood celeb got the bob cut. Great. Is this gonna be the 2013 version of the Rachel Green do'? Lets hope not. However, somehow Rebecca pulls this off and doesn't look half as crappy as some of the others who did it.
-Speaking of hair, Jon Cryer paints his on. I refuse to believe this. The Duckman always needs a full head of hair. I'm really interested to see where Phillip Epstein would be 20 years later. My guess is he'd be the manager at Traxx.
-Playboy is celebrating their 60th anniversary come the new year and decided to put 39 year old Kate Moss on the cover. I'm certainly not complaining about Kate Moss cuz, you know, she's kinda attractive. I just thought she was done taking her clothes off for money. Guess not. Money talks.
-And hey, speaking of taking her clothes off for money, you know it's inevitable that Courtney Stodden eventually will. Which will come first for her: porn or the tell-all book she wants to do? Ummmm, hmmmmm, let me see…tough one…close call…uhhhhh…I don't…porn.
–50 Shades of Grey fans can quit their hyperventilating now, the movie has finally been given a release date. It's been delayed by six months. Originally slated to premiere in August of next year, it now will hit theatres Valentine's Day weekend, Feb. 13th, 2015. Probably when it should be. Not to mention, the first character photos have the shelves on the cover of EW.com this week. A lot of people care about who got cast in the lead for this movie. I'm not one.
-Is anything in Tori Spelling's life even real anymore? Seems like every week we're learning something new about her life that is completely fabricated. So basically believe nothing that you see with this woman. Her whole life is fake. Well, except her marriage to David Silver. That was real. Don't tell me it wasn't.
-Since Miley has been stealing all her spotlight recently, Lindsay decided to post a braless underwear selfie the other day. Nice Lindsay. Thanks for keeping us updated on what you wear to bed. We were curious.
-One of Britney's backup singers is running to her defense saying that Britney does Tori Spelling" target="_blank">all the singing on her new album. Actually the auto tune does most of the singing, since we all know how Britney really sounds.
-Georgia QB Aaron Murray set the SEC record this year for most career touchdown passes. That's great. But who's he dating? This cleat chaser. Nice grab, Aaron. Now you're competing against AJ McCarron in more than one area.
Send all links and emails to: steve@realitysteve.com. To follow me on Twitter, it's: www.twitter.com/RealitySteve. Instagram name is "RealitySteve," or join my Reality Steve Facebook Fan Page. Talk to you tomorrow.