Man, why don't people listen to me? I do my best to set a good example to the rest of the masses out there, be an upstanding citizen, try and entertain the best I can on a daily basis, but some people just can't seem to listen to a word I say. I preach and I preach and I preach and I preach and present people with solid evidence about things that happen, yet I'm still doubted. Maybe I need to do a better job of getting my message across? Maybe I'm not being forceful enough in my writing when I'm trying to make a point? I don't know what it is but it's gotta change. I cannot and will not stand for insubordination from my readers of this column. Didn't you hear me yesterday? I SPECIFICALLY said I did not want any of you emailing the nzkwedding@gmail.com account with pointless harassing emails regarding Sean & Catherine's wedding after Charlie Grogan decided to tweet out a photo of it on his Instagram. I told you that didn't I? DIDN'T I??? THEN WHY DON'T YOU LISTEN???!!! It only took them 3 hours after my column went up before that pic was off Charlie's Instagram account, but not before I received this email yesterday from a reader who emailed the address and the response they got:
_________________________________________________________
Wed, Nov 13, 2013 at 9:46 AM, **** ******** [********@yahoo.com] wrote:
I will be happy to attend Sean and Catherine's wedding on Sunday January 26. I'll take my steak medium well and will gladly accept your discounted lap dance offer.
On Wednesday, November 13, 2013 4:53 PM, NZK Wedding [nzkwedding@gmail.com] wrote:
Sounds great! We will be able to RSVP you as soon as you send in your signed documents… I'll check with the couple on lap dance discounts.
Best,
The Wedding Team
__________________________________________________________
You people just don't listen. Stop emailing nzkwedding@gmail.com. I will not condone such juvenile behavior. Lets be grown ups here people. These people have a wedding to plan and shouldn't be distracted by your silly nonsense when you email nzkwedding@gmail.com. And Charlie Grogan should be ashamed of himself for posting pictures like this on his Instagram: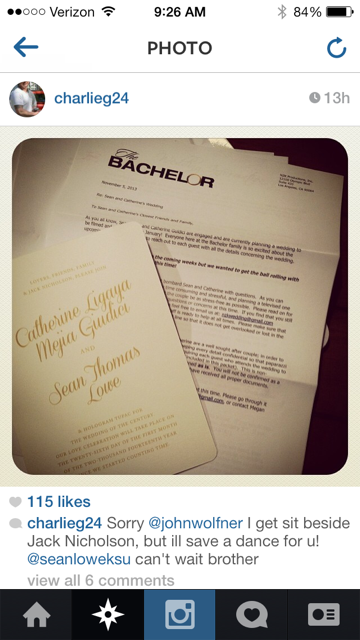 Daily Links
-For years since "Friends" went off the air, fans have clamored for a reunion. That'll probably never happen, so the next best thing is when one of the cast members shows up on another one's current show. I guess this is some intergalactic nerd-dom that only these people can understand and gives them the satisfaction they need to continue breathing every day. Well geeks, that time has come again. Matthew Perry is gonna show up on "Cougar Town" sometime this season to reunite with Courtney Cox. You do know these people are just acting, right? You do know their names aren't Chandler and Monica and they aren't married with twins, right? Ok, just checking.
-Now the truth finally comes out. Mariah Carey says she basically hated "American Idol" because of, well, you figure it out. How they ever thought Nicki Minaj was gonna help this show, I'll never know.
-I guess TuPac has some competition now for which guy is most likely to be undead. Andy Kaufman's brother is now saying Andy is alive and is living with a woman and they have a 24 year old daughther. Mind you, Andy Kaufman died of lung cancer in 1984 and had an open casket funeral. Uhhhh, ok.
-Big week for Jeff Probst. First the devastation in the Philippines where "Blood vs Water" and next season were filmed this past summer, and, he's gonna basically be naked tonight on "Two and a Half Men." He talks about both, plus last night's episode right here.
-Emma Thompson is forgiving Helena Bonham Carter for sleeping with her then husband, Kenneth Brannagh, years ago. I guess it's great that Emma isn't holding a grudge, but imagine if every woman forgave the other woman that slept with their man? This could be setting an awful precedent.
-"MI:5" will be released in 2015. Really? Do we need another one of these? Wasn't four enough? Hell, wasn't one enough? I just don't think people are buying Tom Cruise as a major movie star anymore.
-DWTS pro Anna Trebunskaya walked the beach with her pregnant belly so the paps could take pictures of her. What's even better is now we're 6 months into the pregnancy, and she's still not telling anyone who the father is. That's always smart.
-One of my favorite summer reality shows is making a comeback in 2014. "Last Comic Standing" will return to NBC next summer. Believe it or not, there are some pretty good comedians that were spawned from this show over the years it ran. Some winners, some not. Never knew why they took it off the air to begin with, but I'm glad it's back. As many of you know, I'm a huge stand up comic fan.
-Taylor Swift performed at the Victoria's Secret fashion show last night and wore a bunch of different ensembles. I'm beginning to think this girl can do no wrong. Please, tell me if she does. I need to be alerted of this stuff. Safe to say I'll be tuning in December 10th. You know, for the singing and stuff.
-Maksim is coming back to DWTS on Monday. No, not to dance but to judge. And he's not even replacing Len or any of the other two. They're just gonna throw a fourth judge on there for the hell of it. Maks must be tired of being out of the spotlight or something. Lets hope he brings Kate along. If they're even still together.
-A-Rod has already done enough to tarnish his image, both personally and professionally, that there's really not another level he could sink to at this point. Or is there? Now comes word he's cheating on gf Torrie Wilson in hotel bathrooms? Classy.
-If you're a former member of 98 Degrees, and you haven't sung a note in probably 15 years, how do you supplement your income? By taking your clothes off and performing in a male stripper show, that's how. You know, behind Nick and Drew, Jeff Timmons might be the most successful member of 98 Degrees ever!
-I guess Katharine McPhee thought it wasn't really a great idea to sleep with a married man, so apparently she's no longer dating her former "Smash" director. I wonder if she would've come to this decision if she had never been caught in the first place? My guess would be no. Funny how after you're exposed you realize it's probably not a good idea to date a married man. But before anyone knew? Brilliant.
-There are few things I find funnier on live TV than news broadcasts where the teleprompter breaks down or someone forgets their lines. Like when this happened to an Austrailian reporter. How awkward was it watching her read off papers to do the weather?
-If you're gonna break into cars, steal people's credit cars, then run up a bill at Carls Jr. of all places, maybe you shouldn't post pictures on Instagram about it. Just like social media has been a helpful tool every season in spoiling the "Bachelor," now you can catch criminals by using it. Hooray America!
Send all links and emails to: steve@realitysteve.com. To follow me on Twitter, it's: www.twitter.com/RealitySteve. Instagram name is "RealitySteve," or join my Reality Steve Facebook Fan Page. Talk to you tomorrow.