Finally got everything together and have your full season spoilers along with plenty of other information about this season. As far as I know, there is no other place on the internet that's given a single spoiler about this season the last two months. So after today, any site that claims "we're hearing that…", or "sources tell us…", no, just stop. You didn't "hear" anything or you would've already reported it. It came from this site. So yeah, basically I'm talking to you "EOnline," "People," "US Weekly," "RumorFix," "HollywoodLife," "Radar" or any other mom and pop website that ankle bites off this site. It'd be nice to give the site credit when you eventually steal from it like you do every season. Is it really hard to say "RealitySteve.com reported…?" I know it'll probably fall on deaf ears and they won't do it, but hey, doesn't hurt to get it out there and let them know how big of frauds they are when it comes to "spoilers" of this show. These sites aren't even talking about the show yet, but come January, they'll be all over it and their news will be six weeks old since it's getting spoiled today.
Some interesting tidbits to share about the season that you'll be reading shortly:
-Every girl that got a 1-on-1 date this season got a rose. JP never sent anyone home on a 1-on-1
-For I think the first time ever, there is no 2-on-1 date this season
-Zak W. makes an appearance this season to talk to Juan Pablo. Just not sure which episode it happens in, but it's definitely before they start traveling
-Clare is the only person in JP's final four to get a 1-on-1 date before episode 5
-There are four girls that are either eliminated, or eliminate themselves, before rose ceremonies
-Four of Juan Pablo's girls are currently in, or were in, relationships since they've returned from filming. And if I know about three of them, that means I can pretty much guarantee you there are others:
1) Amy Long is back together with her ex-boyfriend, former Florida St. football player, Chase Walker.
2) Lucy Aragon is dating the founder of SnapChat Evan Spiegel. They were just recently in Hawaii together and she's really not hiding the relationship whatsoever. Yes, THAT Evan Spiegel that just turned down a $3 billion purchase offer from Facebook. Lucy comes from some serious money as well, so, I don't think it matters.
3) Christy Hansen is dating current Chicago Bear safety Chris Conte. A picture from Chris' Instagram posted this past weekend: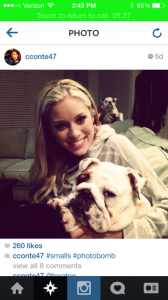 4) As mentioned in my post Nov. 6th, Kylie Lewis is dating Mikey Tenerelli, formerly of Desiree's season. Well, I should say WAS dating. After a whopping few weeks of sex, they're already done. Man, if those two couldn't make it, what hope is there for the rest of us?
I put the date that each episode is airing in parentheses next to its episode number. This is subject to change since all I really did was go in order from every Monday staring Jan. 6th. Remember last season, they switched up the "Tell All" and the overnight date episode to have a 2-part finale. Based on what happens this season on the overnight dates, I can see them doing that again and airing the "Women Tell All," then the overnight dates, then the finale. If that happens, it wouldn't be announced til we get closer to the end. For now, I'm just dating the episodes as if it'd be a normal season schedule. So here you go…
Episode 1 (airing January 6th): Los Angeles, CA (27 down to 18)
ABC's press release yesterday states that the "Bachelor" premiere is Monday, Jan. 6th, which is true, but that's the actual show. As mentioned in the Oct. 30th post, there will be a special on Sunday night the 5th that will focus on Juan Pablo's girls for the season. Showing us a lot of their intro videos, and a couple girls were even surprised by Chris Harrison and the production team who showed up to give them a rose. You know, kinda like how Carson Daly shows up to surprise people on the "Voice," even though there's nothing surprising about it since the people already know. So yeah, that's what will air on Sunday night the 5th. No word yet on if it's going to be a 1 or 2 hour show. That'll be announced as we get closer to the premiere.
As for some of your limo exits, back in the Oct. 15th post and the Oct. 22nd post, I filled you in on a few things that were gonna happen:
-Lucy wore a hippie dress, a flower power head band, and went shoeless on the first night. Should we have expected anything less?
-Kat salsa danced with him. Good. Kat dancing is what this world needs more of.
-Ever heard of a piano bike? Yeah, me neither. But Lauren Solomon showed up night one riding in on one of these: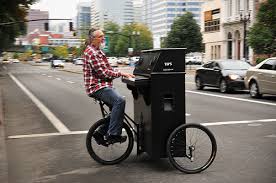 -Ashley Poe gave him a gold star being a first grade teacher and all. I think she should've gone with a fruity smelling eraser.
-Molly the dog got out of the limo before Kelly did. Kinda like how Ben's son got out first last season. And yes, Molly lived at the mansion with the girls until they left LA.
-Of course you had the obligatory soccer reference, and Alli came out of the limo with soccer shoes on kicking a ball around
-Amy Jokinen (one of the girls confirmed today) put him on a table for a massage during her 1 on 1 time at the cocktail party. Lovely. Happy ending?
-Remember this tweet from night one? Well, she was on her phone texting out of the limo: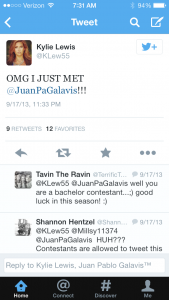 -Clare faked a pregnancy out of the limo by wearing a fake baby bump
-Nikki had a stethoscope that she wore which she let Juan Pablo use to hear her heart beating
-Sharleen got the first impression rose
Once the first episode is online and released to the media and I somehow get my hands on it, I'll add anything to the night 1 shenanigans that aren't already here.
UPDATE 12/18: I've seen the episode. Here are the basics:
-The Sunday night show on the 5th I think is mostly going to center around footage of Juan Pablo & Camila in Miami and the girls that got surprised by Chris Harrison and producers with roses to let them know they were on the show. The fact that the first episode shows 9 girls' intro videos (which is standard for the first episode) makes me think we won't be seeing any intro videos of the girls on the 5th. We'll see.
-Episode starts with your basic footage of Juan Pablo in his hometown of Miami playing with Camila and talking about his life. Then shows him in LA moving into his house and hanging out at Santa Monica Pier with Camila doing daddy/daughter things. His parents and Camila lived in LA the entire time he was filming there.
-One minor correction to be made on the spoilers. I said that Sean & Catherine visited after night one to talk to him about the journey. Actually it's just Sean, and he talks to him before night one about what to expect. Basic stuff.
-There are 9 intro videos shown: Chelsie, Renee, Andi, Amy J, Nikki, Lauren H, Valerie, Lacy, and Clare. So if you're scoring at home, of the 9 that got intro videos its: the final four, four girls that got booted night one, and Chelsie. Odd mix. I know that's the first time that all 4 of the final four got their intro videos shown in the first episode. You know what that means? Absolutely nothing. Just pointing it out.
-You already know about some of the limo exit shenanigans. I will say that this had to be the least creative limo exits they've ever had. A LOT of girls did nothing. Just got out, introduced themselves, gave a hug, said their name, told him they were excited, then went in. Good. After 27 seasons now of limo exits, it's basically impossible to do something creative or funny.
-Amy L. is the first one they show out of the limo (even though she wasn't the actual first one out), and Andi is the last one they show. Sharleen is second to last and her side boob was on full display.
-Once inside, Juan Pablo breaks out a little music and they have a quick group dance. There's also a photo booth where the girls get in and take silly pictures.
-When the cocktail party starts, the girls who get their 1-on-1 time with him shown are: Nikki (the first girl we see him with), Renee, Lucy, Amy J, Chelsie (in the photo booth), Elise, Lauren H, Andi, and Sharleen.
-Honestly, there is really nothing major that happens at the cocktail party at all. The biggest focus, and probably what most people will be talking about the next day, is Lauren H. She's the one previously engaged who had her fiancé dump her just weeks before the wedding. So basically every shot of her at the cocktail party, and every ITM, is of her crying and them just harping on what the broken engagement has done to her confidence. It kinda sucks. She will probably be crucified by the public and be the crying, blubbering girl from night one that everyone remembers.
-The only other noteworthy thing to happen is Sharleen getting the first impression rose. This chick is awesome. Basically, she doesn't seem to give a sh** about Juan Pablo and is shocked he's even giving her the rose (my guess it was the side boob). She's the only girl in the mansion that doesn't speak in clichés. Even accepting the first impression rose, she's reluctant. Says "our connection seemed a little forced." Then drops the doozy of, "Either I feel something or I don't. Still a little early for me." As opposed to every other girl that's coached to say how great the lead is when they're meeting him for the very first time and really don't know sh** about him. So now we pretty much already see Sharleen's storyline developing and why she ends up leaving on her own in Miami. She obviously was never really that into him.
-Of the 9 girls eliminated on the first night, I'd say Lauren H and Kylie probably get the most camera time. Kylie mostly ITM's and Lauren, well, a lot of crying. A lot.
-I'd say overall the girls who get the least amount of camera time once the cocktail party starts that I can remember are: Christine, Victoria, Chantel, Cassandra, Kelly, Lauren S, Val, Christy, and Alexis.
-I cannot say this enough: This episode is EXACTLY the same as the previous 26 first episodes they've had. There is absolutely nothing different about it, the two hours flow just like all the other ones, there's very little drama, and it's basically just an introduction to everyone. They'll hype it up and people will say all these things about how great it is, blah blah blah but it's the same thing as all other first episodes. Until the promo for the whole season airs, that's when you'll be able to tell about where some of the edits are leaning. Like Nikki comes across as completely normal and likable in her intro video and her 1-on-1 talk with him at the cocktail party. I'm guessing that'll last one episode based on the fact that she's the most unlikable girl in the house. It's easy to edit her that way in episode 1 when you don't have to show her interacting with anyone.
-Clare will probably come across as a fan favorite just based on her intro video talking about her dad that died a year ago and left behind a DVD that she has yet to watch which she says she'll show to her future husband.
Rose Ceremony Eliminations: Maggie Gantt, Alexis Morgado, Kylie Lewis, Amy Jokinen, Lacy Faddoul, Ashley Poe, Christine Llano, Valerie Eredia, and Lauren Higginson
After night 1, here are your remaining 18 women along with their Facebook, Twitter, and Instagram accounts:
Chelsie Webster:
Facebook – Chelsie Webster
Twitter – @ChelsieRene
Instagram – Chelsiewebby
Andi Dorfman:
Facebook – Andi Dorfman
Twitter – @AndiDorfman
Instagram – Andi_Dorfman
Sharleen Joynt:
Facebook – Sharleen Joynt
Twitter – @Sharleenjoynt
Instagram – Sharleenjoynt
Nikki Ferrell:
Facebook – Nikki Ferrell (still not turned on as of 11/16)
Twitter – @Nikki_Ferrell
Instagram – Nikki_Ferrell
Clare Crawley:
Facebook – Clare Crawley
Twitter – @Clare_Crawley
Instagram – ClareCrawley
Kat Hurd:
Facebook – Kat Hurd
Twitter – @KatHurd
Instagram – KatHurd
Alli Restko:
Facebook – Alli Restko
Twitter – @alligal77
Instagram – Alligal77
Kelly Travis:
Facebook – Kelly Travis
Twitter – @KellyTravisty
Instagram – KellyTravisty
Lauren Solomon:
Facebook – Lauren Solomon
Twitter – @LaurenSol
Instagram – LaurenSol
Amy Long:
Facebook – Amy Long
Twitter – @AmyLong7117
Instagram – AmyLong7117
Renee Oteri:
Facebook – Renee Oteri
Twitter – @ReneeOteri
Instagram – FloridaRay18
Lucy Aragon:
Facebook – Lucy Aragon
Twitter – @LucyAragon
Instagram – LucyAragon
Danielle Ronco:
Facebook – Danielle Ronco
No Twitter as of 11/16
Instagram – Dannironc
Chantel Forrest:
No Facebook as of 11/16
Twitter – @ChantiRella
Instagram – ChantiRella
Elise Mosca:
Facebook – Elise Mosca
Twitter – @EliseMosca (still not turned back on as of 11/16)
Instagram – EliseMosca
Cassandra Ferguson:
Facebook – Cassandra Ferguson
No Twitter as of 11/16
Instagram – CassandraFergie
Christy Hansen:
Facebook – Christy Hansen
Twitter – @Christyhansen_
Instagram – ChristyHansen
Victoria Lima:
Facebook – Victoria Lima
Twitter – @KittenAstrology
Instagram – VictoriaLima88