Episode 2 (airing Jan. 13th): Los Angeles, CA (18 to 15)
After night 1 happened, and before his first 1-on-1 date, that's when Sean & Catherine visited Juan Pablo at his house to talk to him about whatever. You know, since they'd never even met each other before, I'm sure it was some deep conversation where Sean gave savvy advice. Or just another way to let people not forget Sean & Catherine are getting married live on ABC Jan. 26th. Gotta do that and shove down people's throats a successful relationship from the show considering we're certainly not gonna get a marriage out of this season. You notice how the Trista/Ryan, Jason/Molly, and the Ashley/JP weddings all took place when the show wasn't airing? Doesn't it interest anyone why they couldn't make Sean & Catherine's AFTER Juan Pablo's season ended? Why take any attention away from the season currently in progress? What, you couldn't wait another six weeks? Please. Oh that's right, I forgot. It's because JP's season is an absolute farce and they need a positive love story to deflect attention away from it. My bad. UPDATE 12/18: It's just Sean that meets with Juan Pablo, and it's before he meets the ladies on night one.
1-on-1 date: Clare Crawley. Was at the Calamigos Ranch in Malibu, where Des had her stunt man group date last season. They built a man made ice skating rink, brought in fake snow and trees, and added a bunch of lights. They had a private concert performed for them by Former "X Factor" season 1 runner up Josh Krajcik. Clare gets a rose. As posted back on Oct. 3rd, here is a distant picture of how the set up looked: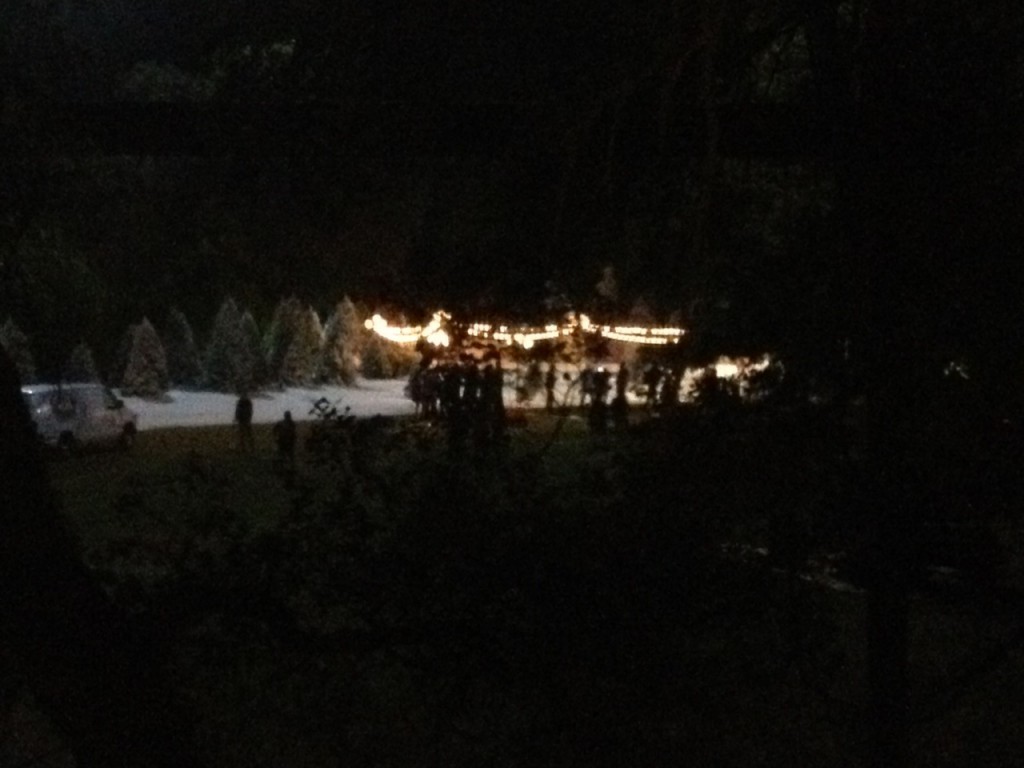 Clare didn't get to meet Camila, but Juan Pablo, his parents, and Camila apparently filmed something together on this day. Maybe they let Camila ice skate before Clare showed up or something, but Clare didn't meet her. I've was just told that the parents and Camila were seen around these grounds on the day of the date being filmed.
1-on-1 date: Kat Hurd. They took a private plane to Salt Lake City, Utah to participate in an Electric Run. Kat gets a rose. Plenty of people in attendance were live tweeting this, and I covered it in Sept. 23rd's column. Here are four links to Instagram videos captured by others from that date:
JP & Kat on stage (courtesy of Carrierunz)
JP & Kat dancing on stage (courtesy of Mellihrub)
JP offering rose to Kat (courtesy of Josi9)
JP & Kat leaving the stage (courtesy of twedebird)
Group Date: 13 girls participated in a photo shoot with rescue puppies where the girls had to dress like the dog they were taking pictures with. The girls were: Nikki, Andi, Christy, Chantel, Lucy, Victoria, Kelly, Elise, Chelsie, Alli, Cassandra, Lauren, and Renee. Sharleen, Amy Long, and Danielle did not get a date this week, so Juan Pablo had chocolates sent to them back at the mansion. Kelly got the group date rose. Victoria got so wasted at the hotel after party, she never comes back to the mansion with the rest of the girls and just stays at the hotel. Juan Pablo visits her at the hotel the next day and says it's best that she goes home then.
Rose Ceremony Eliminations: Chantel Forrest & Amy Long. Victoria Lima already eliminated earlier.
Episode 3 (airing Jan. 20th): Los Angeles, CA (15 to 13)
1-on-1 date: Cassandra Ferguson. They rode in a water car down in Long Beach, then they came back to his place and he cooked her dinner. Cassandra got a rose.
Group Date: 10 girls went and played soccer at StubHub Center in Carson, CA. The 10 girls were: Nikki, Andi, Christy, Lucy, Sharleen, Kelly, Alli, Lauren, Danielle, and Renee. Kat, Clare, Elise did not get a date this week. Nikki got the group date rose.
1-on-1 date: Chelsie Webster. Bungee Jumping. Afterwards, they got a private concert with country singer Billy Currington. Chelsie got a rose.
On the day of the rose ceremony, Juan Pablo came over and cooked breakfast for the girls and there was a pool party during the day.
Rose Ceremony Eliminations: Lucy Aragon & Christy Hansen
Episode 4 (airing Jan. 27th): Seoul, South Korea (13 to 11)
Group date: 6 girls (Kat, Danielle, Cassandra, Nikki, Chelsie, Elise) joined the Korean pop group, 2NE1, on stage for a performance of their hit single. Nikki got the group date rose (Yes, that's back-to-back group date roses for Nikki). Video footage from this date was tweeted out and was posted in my column on Sept 30th.
1-on-1 date: Sharleen Joynt. The two of them went shopping in Seoul and explored the city. Sharleen got a rose.
Group date: 6 girls (Alli, Andi, Kelly, Lauren, Claire, Renee) got a tour of the city. They got fish pedicures, took pictures in a photo booth, sang karaoke, then they took paddle boats that you foot paddle with on the water. Andi got the group date rose.
Rose Ceremony Eliminations: Lauren Solomon & Elise Mosca