If you've looked on JP's Instagram account today, you'll see that he's in Kansas City for the World Cup Draw this morning and the MLS Championship game tomorrow afternoon. Of course, then there's the issue of the fact that, oh I don't know, the girl he chose lives in Kansas City as well. Now, it's not like JP will be seen publicly with Nikki anywhere in KC since that's not allowed, but is there a chance he might sneak a visit with her? Absolutely. I mean, Sean & Catherine did it here in Dallas. Ben & Courtney did it in Arizona. And I'm sure other final couples have snuck in a visit that wasn't one of the ABC regulated ones at the safe house in California. So yeah, let the speculation begin of when and where JP meets up with Nikki this weekend. And if he doesn't, well, that'd probably be more fitting actually. I mean, just think of it from her side. If he DOESN'T make an effort to see you when he's in your city, knowing that past final couples have, I'd say that's pretty telling. I'm sure the doubters will use this as the exact reason why they'll claim JP didn't pick her because they'd never let him be in her city publicly if he did. Uh huh. Keep thinking that. Either way, it's a joke anyway. Enjoy the season.
Speaking of the season, I gave my thoughts regarding the four Sunday "Bachelor" specials that are airing in Juan-uary. Yes, it's overkill. I don't think though that's it's a negative for the franchise.
The group picture taken the first night was released yesterday as well: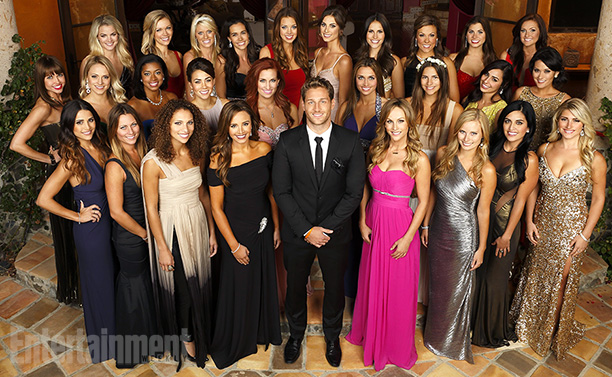 Nothing too exciting here but a couple things I noticed:
-Danielle is wearing pants. Pants. Who the f**k wears pants on the first night?
-I get it that some women like to do the head tilt when they take a picture. However, when you're in a picture with 27 other people, and you're the ONLY one doing a head tilt, well Victoria, you look dumb. However, the crink in Victoria's neck did allow us to see Amy Long's cleavage, so thanks V.
-Not sure who told Chelsie that wrapping herself in tin foil would be a good look, but someone did.
-I bet Lucy thought there'd be no way that anyone would outdo her headband. Lucy, meet Christy.
-What teenage pageant did Elise steal her dress from? Holy sparkle Batman!
-Every woman in the front row outside of Andi looks incredibly uncomfortable in their pose
Here are all your bios for JP's women, and as I perused all of these, I had at least one thought about each girl:
Alexis: Not sure what I'm more amazed at – that "Home Alone 2" was actually listed as someone's favorite movie, or the fact that of all the women that applied for this show, and the 27 that they narrowed it down to, TWO of them listed "Home Alone 2" as their favorite movie. Did Alexis and Chantel not see the first one? Wasn't that like 1,000 times more iconic than the sequel?
Alli: Alli says if she could go anywhere in the US, it'd be to New Orleans to hear the music and eat the food. Yeah, be sure to head down there for Mardi Gras too. You'll love the scenery of drunk idiots puking as they walk down the streets. Gives the city a whole new vibe. And smell. Safe to say I'll never go for Mardi Gras ever again. What a dump.
She also says her best date memory was driving to the date in an open Jeep and it started pouring. Wow. That's the best date memory she's ever had? Alli needs to date more.
Amy J: When asked, "What do you hope to get out of participating in this television show," she responded with, "I hope to find love! And if he decides I'm not the girl for him, I hope to gain friendships, peace through time away, a greater understanding of people and love and the beautiful world around me." Whoa. That's a bit deep Amy. You do realize you were going on the "Bachelor" right, and not some 6 month sabbatical to a third world country? When you set your expectations that high, certainly you will be disappointed. I'm guessing Amy was.
Amy L: What do you like to do for fun in your Hometown and why? "There's a great tiki bar. Tons of lakes to enjoy boating and water sports, family time." I'm sorry, where's this great t***y bar you speak of? I read that too fast the first time around.
Andi: They really like fibbing with some of these girls occupations. Or just flat out lying like in Andi's case. Her occupation says "federal prosecutor." Andi is an assistant district attorney, not a federal prosecutor. HUGE difference. She's less than a year out of law school. One does not become a federal prosecutor that fast. Please. Not to mention her LinkedIn page specifically states she's an assistant district attorney.
Or maybe we should be more disturbed than an assistant district attorney, and probably the leading candidate to be the next "Bachelorette," is a cold-blooded deer killer. Someone sent me this picture this morning. I'm guessing this doesn't sit well with middle America: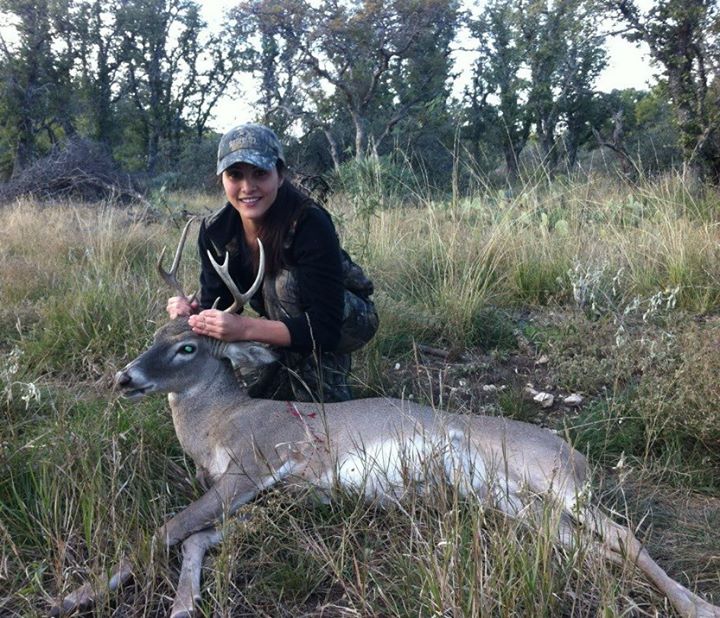 Ashley: She loves it when her date "makes me feel like I'm the only woman in the world and no one else has ever made him feel the way I make him feel." Aren't those the lyrics to some Taylor Swift song or something? Hate to tell you this Ash, but I'm sure all of the dates you've been with at some point have had someone else in their life that made them feel better than you did.
Cassandra: She is straight forward and to the point. You better hold her hand on your date with her or she will kick you in the balls. Period.
Chantel: What do you hope to get out of participating in this television show? "A relationship with Juan Pablo. This is a once in a lifetime experience so I do hope for an amazing experience, meet new friends and travel, but most of all I want love." Chantel, you didn't need to kiss the show's ass like that. I appreciate you having the balls to appear on the show as the token black woman this season, but lets be realistic here. You weren't gonna end up in a relationship with Juan Pablo. End of story.
Chelsie: What's the best trip you have ever been on and why? "I went to Mexico with all of my cousins/aunts/uncles and grandparents. We had so much fun but what I remember most was going off the resort and giving toothbrushes/clothes/teddy bears to very poor villages. It taught me at a young age to be very grateful and the joy of helping others." Hey, now we know where Eddy the Teddy came from! She kept one from a kid in a poor village. Go Eddy!
Christine: The fact that she admitted her favorite board game was Monopoly pretty much just confirmed she only likes it missionary.
Christy: Her answer how much time it takes to get ready for a big night? "1 hr and 20 min." Damn. That as about as specific as you can get. Does she set the timer on herself? You know what, I'd actually rather have someone that meticulous, than someone who takes their sweet ass time. Here's always been how I function when it comes to getting ready with my significant other. If I say we need to leave at 7:30, and you know it takes you an hour and half to get ready, then is too much to ask you start getting ready at 6:00? Hell, believe it or not, it wouldn't kill you to actually get ready BEFORE then. I don't care how long it takes you to get ready. 30, 60, 90 min. I've never had an issue with that. Do your thing. I won't interfere. Takes me about 20 minutes total, so I'll be watching SportsCenter. Just back time how long it takes you to get ready to our departure time so we're not late. That's all I ask. Sure, if there's a wardrobe malfunction or you light your hair on fire with the flat iron, sh** happens. But it drives me batty if I say I want to leave at 7:30, you know it takes you 90 min to get ready, and they start getting ready at 6:20 or something. There's my pet peeve for the day. Hope you enjoyed.
Clare: Oh boy. This season is not gonna end well for Clare. Did you see these answers?
Who do you admire the most in the world and why?
I admire the nobodies of the world that lead selfless lives. The ones you don't hear gloating about their accomplishments.
What is the best trip you have ever been on and why?
I have never taken a vacation. I've always worked my buns off and never made time. Plus, I was never in a relationship that I could go on a vacation with.
Do you consider yourself a romantic if so why?
I've never been one to be romantic. It's hard for me because I've never experienced romance. I wish I was.
Sounds like Clare has never left her house. So she's 32 and has never been on a vacation, let alone been on a vacation with a boyfriend, and she's never experienced romance. All of which happened to her over the course of the two months she was filming this show, before being taken alllllll the way to the end, and probably lied to hundreds of times, before getting dumped at the altar. Let me just be the first put this out there. I'm predicting a full blown Clare meltdown when Juan Pablo doesn't give her the final rose.