A LOT of stuff to get to today before we jump into the recap. Many of you are returning here for the first time since Des' season ended. If you are, welcome back. And also, you missed out on a whole hell of a lot. The whole season was being spoiled in real time during filming between September and November and your episode-by-episode spoilers were posted on November 20th, the earliest they've ever been posted. If you're coming to this site trying to avoid spoilers, you've been warned, they will be talked about in every column. It's pretty much impossible for me to recap the show and NOT reference the fact that I know what eventually happens. So just know every recap will include spoilers throughout. Those who are hanging on to last season in hopes and thinking I was wrong then, so how do you know I'm right this season? Well, not much to say. I guess you'll find out. Just know it is.
Lets first start off with when I joined Jason & Molly's podcast earlier this summer to discuss all things Bachelor franchise related. If you didn't give a listen then, check it out. We talked about a lot of good behind-the-scenes stuff:
Part 1: http://kiroradio.com/listen/9961572/
Part 2: http://kiroradio.com/listen/9961650/
Here was a funny email I received a couple weeks ago that I thought I would share with you:
"Hey Steve,
Love your blog, I've gotten to the point where I only read your blog now and don't bother watching the show because your blogs are much more interesting anyways. I wouldn't normally think about writing you but I thought you would find this interesting. I was browsing through people on OK Cupid and who else pops up but Elan. You'd think that a producer of the Bachelor franchise could find plenty of women to go out with, but I guess not. Haha. Here's pics to prove he's on there."
Scary. Just scary. What would you do if you were matched up with him? I'm sure he's a great guy, fun at parties, and can tell a giant Twitter lie with the best of them but, ummmmmm, yeah. Delete.
A lot of the talk shows used "Bachelor" material in their monologues last night, including Jimmy Fallon who had a little fun at Kat's expense. Funny, we've known Kat's name for over 2 months now and I never actually looked at her name that way (fast forward to 2:25 of the clip):
Of course, Jimmy Kimmel had Juan Pablo on the night of his premiere, which he does every season. And his bit is to pretend he knows nothing about the spoilers, then "guess" who the final few women will be. Last night, he said he thinks the final three would be Andi, Nikki, and Renee, and he thinks Nikki will win. Ok, this bit is getting kinda old, no? Really Jimmy? You're able to base that off one episode? Sure you're not. Then again, he called Juan Pablo out for tweeting on Saturday about the Kansas City Chiefs game, Nikki's hometown. I noticed that as well. Not to mention, the night before, Juan Pablo tweeted about the Missouri football team during their game against Oklahoma St. Whatever. Whether he made those tweets or not, doesn't change what happened back in St. Lucia in November.
Based off what I saw on Twitter last night, seemed like quite a few girls from this season threw viewing parties last night for the premiere. Kat even held one in Scottsdale where she raised over $5000 for the John C. Lincoln Health Network. Then it looks like next week, there's an event in San Francisco that Kat will be attending which you can as well: http://www.eventbrite.com/e/teamkat-bachelor-viewing-party-tickets-9644289329. If I didn't already have plans (you know, stuck at home watching the show and taking notes), I totally would've been there.
Lets do a quick compare and contrast, shall we? For the last few seasons, the lead of the show always puts out a blog on Tuesday mornings on People.com giving their thoughts on the previous night's show. Here was Juan Pablo's blog from last night. Damn, that was a hell of a ghost writer he had for himself. Compare that blog to the complete, unedited conference call transcript he did with the media before the season, and tell me if you think Juan Pablo actually writes/talks like he did in today's blog. Yikes.
The ratings are in for the premiere, and the "Bachelor" delivered it's highest in 3 years. I already did the research for you. Sean's premiere episode drew 6.9 million viewers. Ben before him drew 7.7 million. For Juan Pablo to draw 8.4 million up against the National Championship game, pretty much proves the point I make every season. This show is going nowhere unless they just decide they wanna stop making it. It's also further proof that what I do doesn't negatively affect their show in any way, shape, or form. You break it down even further, it drew a 4.1 in their target demo, women 18-49. That's a HUGE number, even for this show. Which is great for me. Keep it coming, boys. It's fun doing this for a living.
In the episode-by-episode spoilers back in November, I updated you on four of the women that were already in relationships or hooking up barely minutes after getting booted and returning home: Kylie, Amy, Christy, and Lucy. Here's an update on that update:
-As far as I know, Christy is still dating Chicago Bears safety Chris Conte. She should probably reconsider though since his pass coverage skills are below league standards.
-The SnapChat guy, Evan Spiegel, dumped Lucy. Awwww man, I wonder why? Did you see anything on last night's show that would make you reconsider whether or not you wanted it to be publicly known you were dating her? Man, I couldn't find one thing. Crazy Evan. What's a matta' wit you?
-A new development happened on this front since we last spoke. Alexis (eliminated last night) started dating Michael Garofola from Des' season. Man, Michael surely is making the rounds in this franchise, isn't he? The guy has been on three dating shows since the turn of the century, and just as late as this past September he was in AshLee's pants from Sean's season. Now he's moved on to some new fresh meat in poor little Alexis. She has no idea what's hit her. Just three months ago this guy had diarrhea of the Twitter and Instagram telling us how much he was in love with AshLee. How quickly he moves on. I don't know how he even nabbed Alexis in the first place since she's way out of his league, but this guy personifies everything that happens to these bachelor guys once they're on the show. Unfortunately I have a feeling Alexis will be suffering the fate of those before her in the near future. Get out while you can, Alexis.
-And Amy L. has had an interesting few months since she got booted from the show. First she went back to her ex-boyfriend, a former FSU football player. But apparently after that, Michael's partner-in-crime (and seducing contestants) Brooks joined in the fray, and started hugging up on Amy. Enough so, that these four spent New Year's Eve together down in Miami, where Amy and Brooks got their love on: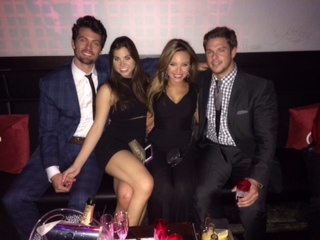 I'm sure Brooks and Amy's night of passion will last centuries that Nicholas Sparks will be writing books about. And by centuries, I mean by next week probably. Good luck to the two of them. I'm sure a girl who plays Cinderella at Disneyworld in Orlando (no, she's not a TV reporter anymore) and a guy from Utah are going to be verrrrrrry monogamous with each other. This is all very funny to me. Anyone else have any stories of bachelor guys on the prowl for this new crop of meat? Feel free to drop me a line.
So the schedule this week is that on Thursday, I will combine the "Reader Emails" and "Dr. Reality Steve" column. Not sure if it's gonna be like that every week or not, but at least for the time being, it looks like that's what'll happen. Also, coming Thursday night is the return of the live video blog here on the site. I didn't realize I haven't done one since Sept. of 2012. Yikes. Time to bring it back, so be sure to catch that. Whew. That was a lot to get out before I started. Lets get to what happened last night…