I'd say it's been an interesting last 48 hrs concerning the Elise story. It's just still amazing to me that no one took 20 seconds out of their day to ever go do a Google search on her and find this video. If I didn't post it, someone else would've. Once I start finding out who the contestants are on these shows, the first thing I do is a Google search to find out anything I can on these people. Some have a lot, some have very little. Elise didn't have a ton, but it was one of the first things I saw. However, this was back in October and there was no point to bring it up then. I've known about the video for 3 months but figured I'd wait til the season started before mentioning it since that's when more people would see it. If someone else found it and posted it before me, I was fine with that because Elise is not a major player this season. She's only got two episodes left. But there are quite a few questions surrounding this whole saga now that it's out in the open. Let me lay out some of the facts for you followed by my opinion of what I think this is all about. Seems pretty clear to me, but I don't know, maybe I'm off.
Lets start off by reminding you the live video blog is back tonight at 9:00pm EST/6:00pm PST, so come check that out. Great turn out last week and the video has become one of Spreecast's most watched videos since posting last week. Barring any change in schedule, I fully expect to be doing it the same time every week all throughout the season. Might even add a couple short ones that run during the day as we get closer to the finale. I'll let you know.
An article was posted today in the Citizens Voice in Pennsylvania talking about the whole Elise situation. In short, Elise was granted an unpaid leave of absence from her teaching position on Sept. 9th and didn't have to give a reason why. Well, we know why. This past Monday, that unpaid leave was extended again for the second semester, however, the video didn't come out til Tuesday and now the school district is going to determine what to do from here. My guess is that Elise will not be allowed to teach at that school again. Call me crazy. Then again, does Elise really want to? The girl basically took a LOA because she wanted to try her hand at Hollywood and get "discovered," that's clear as day. My personal opinion is that I don't think she ever had any intention of moving back to small town in PA to be a first grade teacher once she got the taste of Hollywood, and now, she probably couldn't go back even if she wanted to.
Look, plenty of people leave their hometowns and move to LA in hopes to make it big. Probably happens daily. You hear stories all the time of actors nowadays who lived in their car for the first few months going on auditions trying to make it big. I get it. I can't fault Elise for trying. She's just delusional. Her resume was pretty much a whole bunch of nothing, and that god awful video certainly wasn't going to help matters. So I don't know where she goes from here, but I'm guessing it won't be teaching since now this will pop up when any employer does a background check on her.
Which brings me to my next point of how did the school district not even know this about her? Do they even do background checks? I mean, it's not like she committed a crime, or a felony, or anything along those lines. But why is the school district hearing about this video now for the first time because I made it public when it took me two clicks on a google search of "Elise Mosca" to find it? Seems like the school district should have a little egg on their face for this, and not just Elise. I'm sorry, but they should've known about this video before they hired her and either accepted her then as a teacher, or said no because this was too risqué. She filmed this video when she was still a teenager (which probably makes it even worse), but for the school district to come out now and say, "As superintendent, I'm concerned with teachers presenting a positive image. We want them to be role models," is kinda silly, no? Shouldn't they have already known about this? And what's ABC's role in all this? They give all their contestants extensive background checks, numerous drug and STD testing, and have them fill out 1,000 question questionnaire's about themselves. So either they never knew (which I find hard to believe), or they knew and didn't give a crap. Probably the latter since their contestants to them are just a piece of meat. I'm sure they looked at it as, "Hey, if it gets out, more publicity for us." They don't give a sh** about Elise or what happens to her. Please.
An interesting column from one of the girls who was eliminated on the Austrailian version of the "Bachelor" that aired this past fall. Funny thing is, when I read this, this sounds like something that could've come from any of Juan Pablo's girls. Or any girls from any other past season of this show. More proof at how controlled and manipulated the environment is.
ABC's site has two more deleted scenes up from this past Monday's episode, and they're both from Kat's 1-on-1. Man, they really screwed Kat. So she and Juan Pablo had a full picnic before they even boarded the plane to Utah, yet NONE of it was ever shown. They couldn't have shown this, taken a commercial, then shown the Utah part of the date? Guess not. They needed to dedicate FOUR segments to the group date and drunk Victoria. Oh well, sucks for her. Here are the deleted scenes:
No joke, I got these two emails within one minute of each other from two different people this past Tuesday night. This one came at 8:24pm:
Hi Steve,
I was just reading your recap about Amy being Cinderella at Disneyworld, and I had to quickly check my pictures from our visit there last January. Is this her?? Sure looks like it!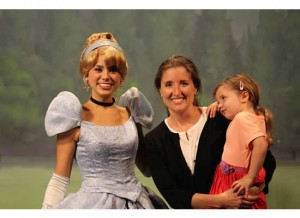 Then this one came at 8:25pm:
Steve,
Here is a picture of Amy as Rapunzel in December 2012. I remembered her as soon as she walked out of the limo. she has such a distinctive face, and she was actually my favourite of all the princesses we met at Disney. She talked to my 3 year old daughter for a long time, and even cracked a couple of jokes. Unfortunately I didn't get video of it- it was my favourite character interaction.
Anyway, she's better at those caricatures than she is as a reporter!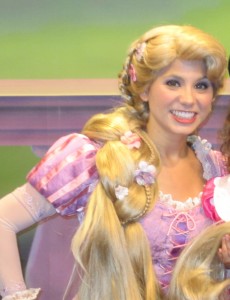 Well, at least Amy is well liked in her job. I wonder if she's gonna try and sneak Brooks into Disneyworld and they can go for a quickie on her lunch break at Pirates of the Caribbean or something.
Since no one probably cares what Chantel or Amy has to say about their experience, and Victoria would be too much of a loose cannon, Kelly is going to be on the conference call today with the media to talk about the show. I'll tweet out a link either tonight or tomorrow once the transcript from the call is up.
As for this Sunday's night's show, "Bachelor: Love Stories," here's what
you can expect.