Needless to say, plenty of you have opinions on the Sean & Catherine wedding from this past Sunday night. I think the "Reader Emails" are already at about 40 or so, with probably 80% of them being wedding related. I'd say it's running about 50/50 in terms of whether or not people liked it. I have a few thoughts I'll get to in a moment on it, but it's pretty much what we've come to expect from this show when they televise a wedding. Granted this one was slightly different because it was live, which really had no major effect on the outcome. I think I remember Chris Harrison having one screw up while introducing one of the prepackaged videos, but other than that, nothing too major. A wedding is a wedding. It's definitely more for the women who watch this show so they can dissect every little piece about it. Frankly, the first hour and 20 min or so was a waste, but, it's exactly what they did for the previous weddings they aired. They kill time showing everything leading up to it, then the ceremony maybe lasts 30 minutes. So any more "Reader Emails" or "Dr. Reality Steve," get them in the next couple days to steve@realitysteve.com so they can be posted on Thursday.
A couple things to discuss regarding the wedding overall before we get into what actually happened. First, the ratings. It drew 6.2 million viewers. By comparison, Jason & Molly's drew 9.3 million, and Ashley & JP drew 3.9 million. So it fell pretty much right in the middle. Yes, it was going up against the Grammys, and that certainly didn't help, but, Juan Pablo's first Sunday show of the season back on Jan. 5th, that one hour "Intro to Juan Pablo" drew 6.5 million. I'm guessing executives never expected that episode to outdraw a wedding. Now, lets take a look at the ratings for all four of Juan Pablo's episodes this season:
Episode 1: 8.6 million
Episode 2: 7.88 million
Episode 3: 7.82 million
Episode 4: 8.6 million
So basically every episode of Juan Pablo's season has drawn AT LEAST 1.5 million viewers more than that wedding did. And 2 episodes drew almost 2.5 million viewers more. I would expect the ratings for the rest of the season to be in the 8 million range as we're starting to dwindle down in numbers and people start realizing who is who.
The other big story to come out of the wedding was this whole notion that people actually thinking ABC was lying saying it was live all because of Ali Fedotowsky's whereabouts. Ali tweeted out a picture Sunday afternoon on the set of the E! Grammy pre-show, then as we know, she was at the wedding. I can't tell you how many people emailed me saying, "The wedding isn't live! Ali can't be at both places at the same time!" People, do you really think a network is going to lie to its viewers about whether something is live or not? That's impossible to do because they'd be called out on it by everyone. Pay attention. The wedding was live. Ali tweeted the picture from the PRE-show at the Grammys. She never tweeted pictures from inside Staples Center while it was happening, or even an hour before it happened. She was at the E! pre-show, left and drove up to Santa Barbara for the wedding. If you noticed in that first hour when they had the live shots of the crowd mingling, Ali was never there. She was still en route to the hotel. Here's a Google map link from Staples Center to the Four Seasons Biltmore. It's 92 miles. Here's Ali's boyfriend, Kevin Manno, tweeting yesterday about Sunday: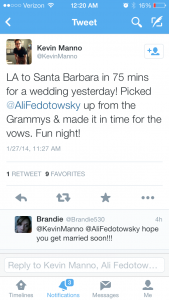 So yes, it's entirely possible for Ali to leave the E! pre-show and make it to Santa Barbara in time for the vows. Hell, she DID. We saw her there. And no, it wasn't taped. Did you not see multiple people from the wedding tweeting and instagramming pictures as well from the cocktail party that we were all watching live? I was shocked at how many people doubted the wedding being live all because of Ali of all people. Use your head. A network isn't going to advertise a live wedding for months, only to tape it and EVERYONE at the wedding being able to keep that quiet? And all tweeting and instagramming at the exact same time as we're watching them on TV? Please. Bizarre.
Ok, quick thoughts on the wedding itself:
-I still have no idea what "grown sexy" is, nor do I care to know, and I don't think the 6.2 million who watched even have a clue. But if Catherine's goal was to get "grown sexy" to become a new wedding catch phrase, she sure did a hell of a job of it.
-As we saw, Juan Pablo wasn't there. I think we can all guess why. People and Entertainment Weekly had reporters at the wedding. ABC's leash on Juan Pablo is about as tight as you can get right now after his foot-in-his-mouth incident. There was no way they were going to expose him to the media in that setting.
-The Honeymoon Suite Cam was just pointless. The show was only 2 hours long. We all knew the show would end once the ceremony was over. What, were people actually expecting a network television show was gonna broadcast these two back in their room? Hence the reason it was pointless. Just dumb.
-The amount of wedding night sex talk was unbearable. I know it's been a huge focus surrounding Sean ever since he starred as the "Bachelor," but when you dedicate at least 30 minutes to it in the prepackaged videos, and it's constantly what you are referring to, even telling Chris Harrison you're "going to perform masterfully," it's a bit much.
-Sean's dad I'm guessing will be officiating wedding ceremonies til the day he dies. That was right up his alley and I guarantee fans of this show are contacting him now asking if he'll officiate their wedding.
-They made such a big deal about the vows, and honestly, I mean they were good, but did they blow me away? Not really. Pretty much what I expected them to say. Although Catherine did throw in "love sprinkles," whatever the hell those are. Do those go on cookies? Donuts?
-I can almost guarantee you one thing: Des & Chris' wedding will not be happening in 2014. Not saying they're not getting married, I'm just saying I can't fathom it happening later this calendar year. It will no doubt draw lower ratings than Sean & Catherine's wedding if it did. Even if Des & Chris go with a November wedding, are people really gonna be that excited to see it? They'll be like, "Yeah, this is great and all, but we just watched one 10 months ago and it's pretty much the same thing." They need to space out the weddings if they want to draw people in. Not to mention, I don't think Des & Chris have nearly the popularity that Sean & Catherine do, and that's not saying much.
Here are a couple deleted scenes from last night. Hey, more trash talking about what a buzzkill Nikki is. Real shocker. Plus, Juan Pablo's first deliberation with Chris Harrison that wasn't shown:
I know a lot of you will be asking me this week, "What are they talking about regarding Clare next episode?" In case you missed Chris Harrison's blog, or weren't paying attention to the preview for next week, here's what you missed:
The thing he's referring to is Clare going to Juan Pablo's room late at night after one of the dates, and them going frolicking in the ocean together. Basically a repeat of what Courtney did with Ben in Puerto Rico, except Clare kept her bikini on. I have a feeling as well that this was done behind the girls backs and none of them knew this happened just based on what the preview is showing. It's only showing Juan Pablo and Clare discussing it and not anyone else. So there's your spoiler for next week.