Back tonight with another live video chat at 9:00pm EST/6:00pm PST. Gonna go about 45 minutes, and I'm guessing a lot of you will want to talk about the Clare/Juan Pablo frolic in the ocean from this past Monday night. Clare is on a conference call with the media today to talk about the show, and I'm guessing that'll be the first question asked of her. And Clare will absolutely deny sex took place. And you know what? Most people won't care or believe her. She's already guilty until proven innocent in the public eye, so nothing she says today is going to change anyone's mind. Just go look on Twitter of what people think happened. It's running waaaaay in favor of she did. It didn't happen. But it doesn't matter what I say, or if Clare denies it, the damage has already been done. The show got what they wanted by making everyone think they had sex in the water by showing two people kissing in the ocean with their bathing suits on. It's been a hot topic this whole week and will continue to be in an otherwise boring season. They didn't have sex in the ocean. Don't know what else to tell ya'.
Former lead herself Jillian Harris also chimed in on it, and she's got a little experience in this area when the whole overnight date with Ed thing was aired, and people just automatically assumed he couldn't get it up that night because of the way it was edited, the soundbites they played, and choppy edited talks shown afterwards. Jillian's take on Monday's episode: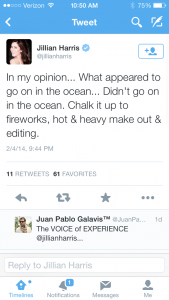 I think people in the know who have experienced this show know exactly how Monday's episode was made to look. The other 99% of their audience that just watches an edited television show for 2 hours every week and wants to believe things that aren't there see something different. Hey, it's worked. Everyone's talking about it so they win.
Totally off topic, but Juan Pablo kinda put his foot in his mouth again on Twitter last night. In case you missed it, former 3 time World Series champion pitcher Curt Schilling announced yesterday he has cancer. And the fact that he didn't announce what type of cancer he has makes me think this might not be good. Well, anyway Juan Pablo thought he should tweet Curt and share his condolences. I think.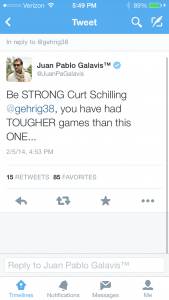 Really? I'm guessing cancer victims would disagree with that. Game 7 of the World Series, or cancer? Hmmmmm, tough one JP. I think the Big C wins out every day of the week and twice on Sundays. I think I know what Juan Pablo was trying to say, but yet again, it came out wrong and looks completely insensitive. No Juan Pablo, he's NOT had tougher games than what he's about to battle through. Just quit tweeting altogether how about that?
Some of you have asked about the Juan Pablo and Nikki tweets from Tuesday where they both mentioned they were at an airport, both mentioned they were cold, and then he tweeted from LA saying he's watching soccer and Nikki tweeted a picture of a snowed in hotel from Colorado. Yeah, that was done on purpose. They are together. Don't let fake Twitter pictures fool you. It's obvious Nikki was put up to it to throw people off with that pic of the Colorado hotel. Once their tweets on Tuesday were made public, they scrambled and tried to cover but did a very bad job of it. They're not fooling anybody. She was in LA with him on Tuesday and I'm guessing leaves today or tomorrow. Usually the visits are 2-3 days long. Busted.
Alli and Christy went on the KISS FM radio station in Chicago the other day to talk about their time on the show. Here's the 6 min interview:
Pretty funny that they acknowledge they got no screen time because essentially they caused no drama and he wasn't into them. And it doesn't look like they'll be hanging out with Kylie anytime soon. Yikes.