-Did you notice how the episode started out with, "Previously on the Bachelor…" Wait, huh? It NEVER starts like that. It's always, "Tonight, on the Bachelor…" What is this, an episode of Nashville? Why do we need to be reminded of the silliness that was last week? Whose idea was that? They always show previews of what we're about to see, not what we already saw. Very weird. I guess they needed to remind everyone what happened with Clare last week in the ocean since that hasn't been talked about at all in the past 7 days. Whatever the case, Juan Pablo is arriving by plane on the water in New Zealand and tells us that, "I'm here to find love and fall in love and New Zealand is the perfect place for that." Chelsie seconds that. "This is the most beautiful place I've ever been." We're not 17 seconds into the show and already the adjectives are flowing like fine wine. Didn't they say last week Vietnam was beautiful and they could definitely fall in love there? Or was it in Seoul? Or was it in every other city they've ever been to in the 27th season of this show? I'm losing track. I guess they're just good at reading the cue cards that say, "_____ is the most beautiful city in the world. ________ is the perfect place to fall in love." Shut up.
-Kat utters the kiss of death phrase when it comes to this show: "We've been a slow boil. Time to kick it up a notch." Translation: I'm basically screwed this episode, and not in a good way. Six episodes in if no kissing has taken place, when the other seven already have, and in Clare's case, she's checking her ovulation calendar daily, you know you're in trouble. Andi gets the 1-on-1 date and Clare is clearly disappointed even though did she really think Andi wouldn't get one considering she's the last one left who hasn't? Sweet. She finally gets her 1-on-1. Now she can stop all her pissing and moaning. She's about as giddy as the day when she murdered that deer: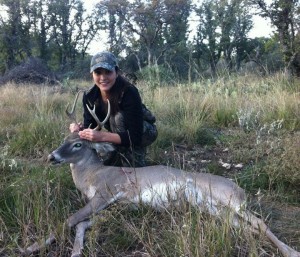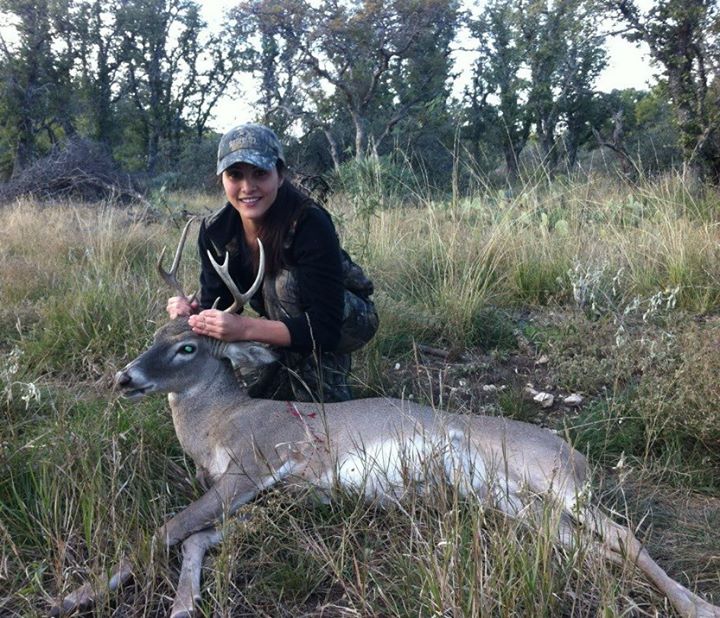 Andi: "Things might just erupt in New Zealand." Oh you sneaky Bachelor producers. How so very good you are at foreshadowing. Really, so creative. How long did it take you to write that one?
-Before we get to Andi's date, the producers need to throw in a little more foreshadowing as Cassandra says she's missing her son, Trey. And for the love of all things holy, you'll never guess in a million years who's listening to her and empathizing with her? Yep, Mother Goose herself, Renee. Yes Renee, we know you need to be everyone's shoulder to cry on this season, but this is taking it to the extreme isn't it? I mean, I know you're the only mother left and it makes sense you two would bond over children, but c'mon already. Let it go. The other women are your competition right now. You have a 1-in-8 chance to be Juan Pablo's future ex-girlfriend. Don't concern yourself with what others are saying or doing in the house. You try and get yours, girl. Hey, Clare did. And look where that got her. Everyone in America thinks she's a giant slut bag. Sooooooo, yeah. Watch yourself.
-Juan Pablo is hoping for a breakthrough on his date with Andi. They take a speed boat out on a lake, then end up stopping in a place called "The Squeeze." No, that's not the name of a porn. Or what Clare did in the ocean last week. It's a place where people go that they have to squeeze in between rocks for, ummmmmm, fun? Yeah, looks lovely. They get out of the boat and get down into their bathing suits. Andi is in a one piece. Ummmm, is that even legal on this show? Has anyone worn a one piece before? (As we found out later, Sharleen wore one as they went zorbing). So after squeezing through rocks covered in moss, they come out the other side and there's a waterfall. Each of them get under it, start making out, and groping like no other. So basically, the same exact thing that he did with Clare in the ocean last week he's doing with Andi under the waterfall. She's straddling him, he's got his hand on her ass, and they are being quite touchy. So I wonder how many people now will be screaming "they had sex" today? Zero. I hope Camila didn't watch this episode either. Daddy is being naughty again. Turn on Dora the Explorer and go to bed little one. Daddy needs to get his freak on.
-Andi: "This is by far the most romantic date I've ever had." Yeah, totally agree. I mean, if at any point one has the opportunity to scrape themselves across moss-covered rocks halfway across the world, I mean, who would dare pass that up, right? Basically the whole day portion of this date consisted of them kissing under the waterfall. We never hear one ounce of conversation between these two the whole time they're in the water. Kind of the theme of the episode as we'll continue to see. When they were making out, they didn't cut away to shots of Andi or Juan Pablo in ITM's, all you heard were voiceovers of Andi talking about how amazing the day is, how amazing it is to be kissing Juan Pablo, and every other adjective in the book. Normally, they'd just show you ITM's of her saying that, but it was obvious those voice overs were recorded after the season was completely done filming and Andi was brought back to LA to voice them. It was much too obvious. You could even tell by listening to them it was like she was practically reading a prepared script for her well after the fact. Those voice overs definitely weren't done in New Zealand, that's for sure. Andi is quite the reader. Maybe she should try "Books on Tape" since her law career is pretty much over once she becomes the "Bachelorette."
-The two of them then sit down for dinner in front of a geyser. Juan Pablo is stuffing his face with tuna and the geyser explodes. How fitting. I mean, you don't think a geyser exploding is any sort of sexual innuendo they were going for, do you? Naaaaaaaaaahhhhh. The explosion of the geyser got Andi all wet, literally and figuratively, so I guess Juan Pablo didn't get to finish his tuna. At least not on camera he didn't. Juan Pablo is full of love for Andi. "Andi is great (you know, like every other girl he calls great)…she wants a family. She's just like me…she's opening her heart." Well, that water was not the only thing that discharged that night. This is such a lovely date. It really is. Who doesn't want to see two people eating dinner while a phallic symbol sprays them? There is only one possible way this date could've possibly ended. One way. That's it. And you know what it was. I know you know what it was. A METAPHOR! Andi: "It's ironic we're standing here next to a geyser, because our chemistry is bursting through as well." I will have you know that the height and distance of my vomit was equivalent to that geyser that exploded on screen. No joke.