Another live video chat tonight at 9:00pm EST/6:00pm PST. Extended it back to an hour last week, but tonight will definitely only be doing 45 minutes again. Once I post the video this afternoon, remember you can get in early and ask a question just by pressing the blue "Question" button, and it'll get answered on the air if it makes it through the screening process. We're not tyrants when it comes to screening the questions. Most usually end up getting read. It's really only the repetitive ones that get deleted within the same broadcast, or, just trolls looking to start trouble. Yeah, believe it or not, there are trolls who come to the live video chat. Imagine that? One thing I wouldn't mind seeing is every once in a while someone asking a question that's totally off topic, or, even about another show. I mean, I get that you all are tuning in to talk about the "Bachelor," which is what most of the show is about, but I have no problem every once in a while going in another direction since there's only so much I can say about this show that I haven't already said. So I'll see you tonight and maybe someone will want to ask me to compare and contrast "Friday Night Lights" with "90210." Then again, you might get a 10 minute answer, so maybe that's not a good idea.
ABC's press release for next Monday's episode is out, and they wasted no time in telling us that part of Nikki's 1-on-1 date is she got to meet Camila as Juan Pablo takes her to Camila's recital. That I didn't know. Sooooo, any of you possibly doubting how the ending of this season turns out, you should have your answer now. Meeting the kid with still 5 other people left in the competition. Game, set, match.
I've gotten a few emails from readers who enjoyed the hair stylist whose email I shared in Tuesday's column. I figured women would be interested in that. The emails I've gotten were because they wanted her advice for their OWN hair, which I'll gladly help you out with. She said anybody that is interested in getting tips from her, just to pass on your email to me, and I'll give it to her. Glad I could be of such great help to women in need of a hair job. Looks like Renee took to heart what the stylist said on Tuesday as she posted this picture on Instagram this morning. Coincidence?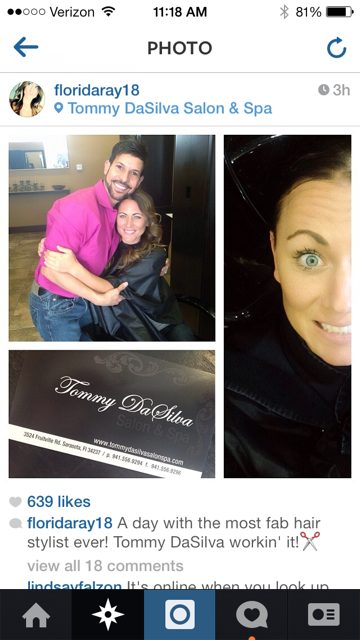 Jason & Molly's podcast from this weekis up, and they finally gave in. They've come over to the dark side. Both of them admit to the fact that they know the spoilers for this season, but came about it in different ways. Molly just gave in and read it, whereas Jason was told by someone at work. What confused me after listening to this was Jason said the person who told him at work said he got it from my site. Well after I congratulated both of them on Twitter yesterday for coming over the dark side, Jason retweeted saying the spoiler he got was wrong. So I needed clarification as to how if the guy who spoiled it to Jason got it from my site could be wrong. Apparently he told Jason that Juan Pablo chose no one. Ummmm, that's not what I wrote. No idea where he would've gotten that from. Man, even when I clearly write about the spoilers as clear and concise as I do, people still get it wrong. Here's the podcast:
Missed this editing error from Monday night. Got this email on Tuesday:
"Hi Steve,
While watching the Bachelor tonight, I noticed something rather odd. During the rose ceremony, right after Chelsie gets done talking, they show the girls. But instead of just 3 roses out, it shows 5 roses. It seems that they might have edited in a wrong scene where it shows Renee and Nikki with roses, and just Chelsie and Kat without one. I find this weird because it's quite a blatant error for them to make. Not sure if it was an accident or just the editors seeing who would catch it, but you didn't mention it in the recap of the episode so I was wondering if it was only viewable on certain websites. I have attached the picture of said scene if you would like to see what I am talking about.
Love your recaps, by the way! Best thing to read after viewing the episode.
Thanks for reading this!
So I still had Monday's episode DVR'd, and I fast forwarded to the rose ceremony. As Chelsie is talking and BEFORE Juan Pablo even steps in the room, they show a shot of the remaining 7 women – 5 of which already have roses. Nice editing.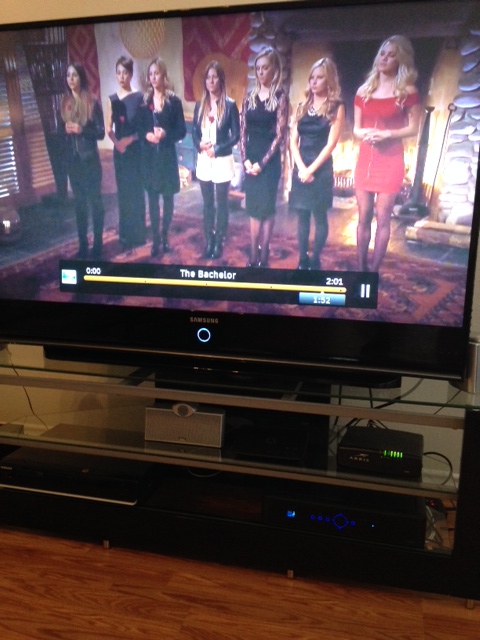 Yesterday, Sean released a 12 minute "movie" where he talks about his "Bachelor" journey in a spiritual way. The movie is called "I Am Second" and you can view it right here. Of course people are going to have their different opinions on it, and if you're not based in any faith, I'm guessing you'll probably hate him even more. But this is honestly a side of Sean that none of us have seen him talk about since we first saw him on Emily's season. I commend him for talking about the show in this way, and for discussing the whole "Virgin Bachelor" thing at length. By all means he's done some things that have been questionable over the last year, but I think this video is gonna give you a side you didn't think was there. Just like anything, some of you will hate it, some of you won't. I liked hearing his true thoughts of everything that went down that isn't sugar coated by ABC publicists and what not. Very interesting video.
See you tonight.