As you know, this show is known for it's hype. Every episode is the most dramatic/explosive/shocking episode yet. Just choose your adjective, and every week it's the same thing. So already people are in full freak out mode after last night's preview talking about next Tuesday's overnight date episode where Chris Harrison says, "What happens in the fantasy suite, doesn't always stay in the fantasy suite." Of course, everyone will think this has something to do with sex. It doesn't. I mean, yeah, he slept with all three girls on the overnight, that's a given. Please, did you think he didn't? With those three? I mean, you already thought he and Clare did in the water, so you obviously wouldn't be surprised by that. Obviously we know Nikki did. And you don't think Andi was down for a little romp? But the promo was just more about over promising, and come next Tuesday, under performing. It's what they specialize in. It gets everyone talking this week, only a week from now you'll be like, "That's what they were hyping?" Trust me, it's nothing major. Juan Pablo puts his foot in his mouth again to Andi on the overnight and she calls him out on it. Shocker, huh? Can't believe it either. I don't know the exact details of what he said because I wasn't there, but I'm pretty sure it has to do with him talking about the other girls while he's with Andi and she gets pissed.
Hey, another week, another tabloid story of Juan Pablo womanizing out at a Clipper game in LA. Does it mean that he did? Of course not. But it certainly doesn't help any image he's trying to portray. And it's not like this is one picture. How many pictures have come out of him with other women since the show's been airing? Hell, half of them have been ones he took himself. The guy likes women, he's certainly not going to settle down with Nikki, and he just did this show to increase his brand and try and get a job out of it. Nothing more, nothing less. Unfortunately, the one thing he wanted was DWTS and as I mentioned last Thursday night on the live video chat, he's not on next season. Guess the gay comments came back to bite him in the ass after all. I don't know when the DWTS cast is officially going to be announced, but I can tell you that Juan Pablo definitely isn't on it. Oh well. Back to Miami for him.
Renee had her conference call with the media last week, and being she's the motherly figure in the house, of course she didn't have a bad thing to say about anyone. Like Renee was actually gonna take shots at JP or one of the girls? C'mon. She's as gumballs and rainbows as you can get. However, she had a nice little Instagram screw up yesterday essentially spoiling the show. You see this post from her?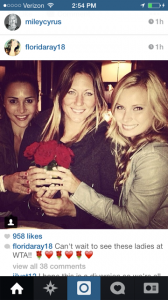 Then when a bunch of people called her out for essentially spoiling that her and Andi are the next two to go, she deleted what she wrote, then wrote this in her own comments to try and put out the fire: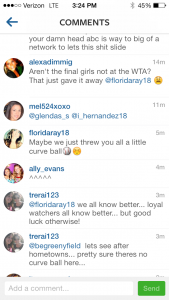 Ha ha. Nice try Renee. That's not a curveball. That's you saying, "Oh crap. Didn't realize I just gave it away. Let me try and diffuse it" and failing miserably. It's ok. It's not like it hasn't been out there for 3 months already. Hilarious seeing all the people on her Instagram that either A) got so pissed at her for spoiling it or B) called her out for trying to pretend she didn't give it away. Remember, the WTA tapes this Friday in LA, so with Renee and Andi both being there, that would mean that neither of them make the finale since both the hometown and overnight date episodes are airing back-to-back on Monday and Tuesday next week. Ahhhh, social media. Gotta love it.
I don't usually put "Reader Emails" in Tuesday's column, but I enjoyed this one too much not to. Brings me back to the old days and I hadn't seen this one in a while.
"Hi Steve,
Reading through your column today and a couple people brought up Jake Pavelka. A couple weeks ago, I wanted to re watch his break up special with Vienna to see the "stop interrupting me" moment but could only find the first part of that episode. I know you would *love* more work to do, but if you possibly could find this and could post it in next week's column, I'd appreciate it and am sure others would be interested. That was just some really entertaining television.
Thanks for all you do!
Ask and you shall receive. The Jake freakout of "Please stop interrupting me!" happens at the 5:05 mark in case you want make a GIF of it. Nice Jake. Way to keep your cool.
The ratings are in from last night and, kinda surprising, but last night's episode was the least watched episode of the season with 7.6 million viewers with a season low 2.2 rating in the coveted 18-49 demo. Going up against the Olympics doesn't help, but I'm guessing next week it will start trending upwards the rest of the season. The biggest thing will be to see if the finale outdraws the premiere of 8.6 million viewers. It should. I think every finale has outdrawn its premiere.
Here are your deleted scenes from last night: Chelsie excited about getting a hometown (not), Clare telling Renee and Chelsie about the DVD, and JP telling Renee he wants to meet her son (only so he can dump her the next day)