Hi Steve-
Love that you are answering questions immediately after that are asked. Much easier to follow.
Couple of questions for you:
1. Do you take the time to read the comments people write after you put up a post? No. I have someone who monitors the email comments just in case trolls decide to get loose. I'm notified if it happens, and that person gets banned. Disagree with my opinion all day long, call me names, have your own opinions, that's fine. But when personal attacks get made, lies are posted, personal information is given out, or you sign up using an email address of, oh I don't know, realitystevesucks@yahoo.com, you're basically just admitting you're a troll and you're on there to do nothing but cause trouble and you will be banned. There's no point in having other people want to deal with that.
2. Have you come across people posting a spoiler elsewhere and then someone comes upon it and passes it along to you? For example, what if I posted on my Facebook page that I was friends with contestant A (or had seen them) and I knew they had been to New Zealand and I posted photos. Has anyone ever spoiled the "winner" before you've been able to spoil it? Like maybe a random hotel guest sees the final two after the proposal. In the past there have been people who will email and say, "Oh, well I saw somewhere where it said this…" That's great. I don't post anything until my sources tell me. I do remember during Emily's season that someone told me a message board had said it was Jef pretty close to finale taping. I hadn't heard it from my sources, so I waited until I did. When I confirmed it was Jef, I acknowledged there was someone out there who had it back closer to it happening. It rarely happens, but if it does, I have no problem acknowledging it because it doesn't affect what I do.
There is a much longer answer to this I could give that explains spoilers in general, but it's basically impossible to say without it coming across as self serving. So I'll just keep it as short as possible: People know where to come to for all their "Bachelor/ette and Bachelor Pad" news and spoilers on the internet because there's only one site that has established it's credibility with their accuracy season after season after season.
3. Do the girls go back after their one-on-one dates and tell the others girls about it? Did the other girls know before the rose ceremony that Nikki had met JP's family? Depends on the girls. Each girl is different. As for the Nikki situation, no, she didn't tell the girls that she met Camila.
Thanks.
___________________________________________________________
Hi Steve,
I am at work so I will make this short and sweet. Love the blog and the video chats! I am so glad JP picked Nikki. All the other girls dodged a big bullet.
I would not want to see any of the others hurt which would end up happening. I think JP knew picking Nikki would be easy, especially for the breakup.
From my personal observation, Nikki has a coldness to her and she can play the bachelor game better than most. I do not know her but even with the "good" edit, she is just is portrayed as cruel. One thing I can say is she is a survivor and probably would not create a drama nightmare for him when they breakup.
(The whole recital scene was bizarre. But I loved how Carla and Nikki shot daggers at one another.)
I am glad she wins I hope she enjoys her prize. This is a win win for both of them. Both JP and Nikki can fake "a connection", score TV time, make some appearances, get a few free things and hopefully book some gigs, then say goodbye. Enjoy your 15 minutes.
Comment: Absolutely Nikki is enjoying being the "winner." She'll milk the magazine covers, the photo shoots, the TV interviews, and by summer these two will be done.
___________________________________________________________
Hey Steve,
Huge fan, love your blog and you have made watching this ridiculous show a true pleasure.
Just wanted to let you know: the technical term for Nikki's face is BRF (Bitchy Resting Face) not RBF (Resting Bitchy Face)
I'm sure you could care less but just trying to help you keep up with your street cred! HAH
Keep on spoiling!
Comment: I stand corrected. Yes, it's BRF.
___________________________________________________________
I've been reading your site for a few years now and feel compelled to write in for the first time after reading your responses to the emails this week regarding the new video ads that pop up over your posts.
I initially had the same reactions as those readers: indignation that I had to sit through a 15-second clip in order to read something (it's the first time I've ever seen a site do that). But your responses provided some great perspective on that, particularly that 15 seconds is really nothing when added on to the rest of the time it takes to read the blog. Hopefully you won't be given as hard a time about it moving forward.
So anyway, thanks for addressing it and thanks for all of the entertainment value you add to the experience of watching this ridiculous show!
Comment: No problem. Just kind of a head scratcher to me. I'm long winded. For the most part all my columns are 4, 5, 6 pages long. It's taking you 5-10 minutes to read it. What's another :15? Anyone else in my position would be doing the exact same thing. If they didn't, then they wouldn't be monetizing their site to the fullest. This is my job. This is how I get paid.
___________________________________________________________
Hey Steve,
Thanks for your spoilers. This season has just been a wreck. But I can't not watch.
1) You mentioned that you'd like to come to one of the featured countries on Bachelor, even though it's not tropical – come to New Zealand! We have things here that aren't phallic geysers and extreme sports – I promise. Maybe I will someday.
2) Further to this, I was wondering if Bachelor has certain countries they can/can't film in? I just thought this as they have been to many places twice, but then haven't been to others like Australia (at least I don't think they have) – is this producer choice or are their countries they can't go to? Well, if they can show up in South Korea and Vietnam this season, sh**, looks like any country is fair game now. What's next, Afghanistan?
3) Random question, but if you could plan an OTT 'amazing' Bachelor date – what would you do and where? I need more time to think of this. It's late on Wednesday night and I still have a gazillion questions to get to. Sorry.
Thanks, and not just the for the spoilers, but for what happens behind the scenes. Following your website reveals way more then what happens week-to-week, and I think last seasons spoilers were good because it weeded out all the people lying about their 'predictions' (KIMMEL) and people in those Bachelor betting pools cheating. You're just vigilanting. Like Batman.
Looking forward to next seasons airheads going through the loving motions. Lets watch them crash and burn at the helm of the lawyer who reads aloooooooooooooot.
Thank you again!
___________________________________________________________
Hey Steve!
No Bachelor questions for you….your recaps are the only thing keeping this season interesting.
Absolutely loved the Lost Bachelor game! Perfect elimination order. Totally want you to do that with other shows J
Also, your 24 recap was awesome. Makes me want to go re-watch the series now. So many great episodes! You think the movie will live up to the hype?
Comment: Well, there is no movie. It's a 12 episode season that starts May 5th. I'm anxiously awaiting it because I honestly don't know how it's gonna go. We've never seen "24" in this form, so the jury is still out.
___________________________________________________________
I don't pay attention too closely to details like this, but if I notice it then it must be pretty obvious?
Is her top dual purpose bathing suit and blouse? Weird. haha.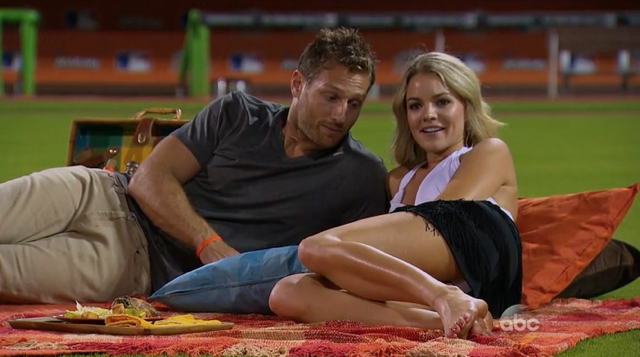 Comment: Yeah, I have no clue either.
___________________________________________________________
Hey Steve-
Been meaning to write this because a couple of people have asked about whether a girl has ever been offered a rose and not accepted. During Jesse Palmer's season two women declined roses. Both were African American (not that that matters). I believe it was the same rose ceremony. I tried to go back and find a clip or information but since it was 10 years ago (fuck I've been watching this show for more than 10 years) I couldn't find any clips.
Anyway, I remember because I was a college senior back in 2004 and I thought Jesse Palmer was the dreamiest bachelor ever and I couldn't believe anyone would not want to accept a rose from him. LMAO.
Anyway, keep up the good work.
Comment: People remember Jesse Palmer's season? I sure don't.
___________________________________________________________
Why are so many people complaining of a pop-up
ad that must be watched before reading your site?
I have never seen one. Why would it happen to
some readers but not to others? Keep it! You need
to pay your bills, so I'm all for it. Good for you.
Comment: Another reason why their complaint falls on deaf ears with me. Not everyone gets it. And even if you do, you don't get it every time you sign on to the page.
___________________________________________________________
Hey Steve,
thanks for all the spoilers, love them!
Question, and I am not trying to be a smart ass….I've read in your comments multiple times why Clare with no I or any other number two would not be cast as the next lead.
Did Ben not get announced on ATFR ? I am probably off on the timing since I had just started watching, but he was a number two….yes, I know, this is the Bachelorette. That's what I was talking about, the "Bachelorette." 10 "Bachelorettes" and only 1 finished 2nd and that was the first one, Trista. Diff show back then, and different schedule. With the way the show is shot now, which the "Bachelorette" filming beginning the week of the "Bachelor" finale airing, it's impossible to cast the final 2 girl on the next season without it coming across as completely insincere.
The last few weeks have been painful. I can't remember any conversation with any substance. Question number two: have you ever seen Chris Harrison so clearly disliking of a lead while the show is still airing???!!! No, but I'm enjoying it. Only backs up what I've been telling people for 4 months.
Question three: Has Juan Pablo and family just completely gone rogue on social media with no regard for his contract with his defensiveness and attempts to blame ABC on editing for not telling the real story? Maybe that's their way of getting back at him? By allowing practically every girl at the WTA next week talk about how much they disliked him.
___________________________________________________________
Hi Steve…
I was just going through the reader e-mails and so many people are complaining about the ads on your page and I have no idea what they are talking about. I have this program installed on my Safari called Ad-Block and it's free and I never see ads on facebook, youtube, google, your site, etc. It's great! I hope you're still making money though?
Also, while I'm writing, I've been wondering how long it takes to edit the show. There has been a lot of talk lately about how ABC changes the edit based on the spoilers, but how much changing could they do? Are they editing the episodes weeks before they air, or is it all pretty much set up when the first episode airs?
Comment: Yes, I'm still making money. It's my job. The ad does not appear for every single person who arrives on my site.
They edit the show throughout the season. There's really not much they can do.
___________________________________________________________
Just wanted to thank you!
After several seasons of watching and reading and loving your blog, I took your advice and gotten so hooked on Friday night lights. Just love it!!!!
Good luck with the blog!
Comment: I should've started keeping track of how many of these emails I've gotten over the years. I've been pimping FNL for at least the last 2 years and I'd say that I've received close to 25-30 emails of people that I turned them onto it. Good. I hope more start watching.
___________________________________________________________
Hello,
I always think it is so interesting when people send you emails saying "long time reader, first time emailing." I would like to be able to say that, however, I sent you so many Dr. Reality Steve emails in high school that one might think I actually had a love life to get advice on (in reality, my chances at dating in high school were slimmer than the chance that Kat and Juan Pablo will have a surprise wedding at Women Tell All). I don't think Kat will be marrying JP. Just a hunch.
I have participated in a Bachelor bracket type ordeal with the people I work with, and I put "Camilla's mom" in the winning spot. Let's see if I get any points for that one. You won't but you should.
Every time you call Juan Pablo "JP" I think of JP from Ashley's season. I definitely prefer him to this season's "JP." Oops. Already did it this email.
Is there a such thing as a "Bachelor Pad" edit? Who is getting that edit this season? Maybe Chelsie or Kat? Sharleen, is she would actually participate on that show? I don't think there's necessarily a "Bachelor Pad" edit. It's more "Bachelor" and "Bachelorette" edit. If you like to drink, have no problems having sex on camera, and are friends with people in the franchise, you're automatically a "Bachelor Pad" candidate.
I disagree with something someone put in a reader email. They mentioned that Nikki did not pronounce Camilla's name in English. Well of course not. The English version of "Camilla" is not her name (it also doesn't sound as good).
Why and when did the show start letting the contestants tweet while the show is airing/before they are eliminated? Also, why didn't anyone ask about the wet sidewalk this season? They let them tweet, they just don't let them tweet anything too revealing. It's not like they're gonna say, "I've only got one week left on the show!" They tweet mostly insignificant stuff, or pictures with the other contestants every time they see them. Never understood that one.
And thank god no one's asked about the wet driveway this season. That's a good thing.
To answer your rhetorical question, people want to know where you get your sources because it is intriguing. It gives people a chance to unleash their inner Nancy Drew/ Hardy Boys/ Boxcar Children. It's not so much that they ask, because I get that people are intrigued. I guess I'm more surprised that they think they're actually gonna get an answer. Does a magician reveal his secrets?
___________________________________________________________
If you didn't have to worry about time constraints managing your website, would you want to be on Survivor? What would be your one outfit you'd wear the entire season? Producers would cast you in a heartbeat, and Mike Fleiss would have a connipsh**. That alone would totally make it worth it.
Comment: No. Favorite reality show of all time and always will be. Zero interest in ever being on it. I'm too comfortable in my surroundings to ever try something like that. Could never deal with sleeping outside, could never deal with the bugs, and frankly, my social game would suffer because of it.
___________________________________________________________
I've been a loyal fan for yrs. Due to a tight work schedule, I no longer have time to catch the show during its regularly aired time. I'm actually a few seasons behind, so forgive me for asking a few "out of date" questions. We all know Emily never appeared on the bacholerette to find a husband, that's a fact, but her choice in the least likely husband ready choice surprised me. First question, was he really her first choice? Of the guys she was given? Yes. Was she ever going to marry someone from that show? No.
Second, Sean seemed her most likely "Christian match", so any thoughts on why she let him go? It didn't matter who she chose, it wasn't going to work out.
And since I stay up to date only via your site, I know how much you dodge any Jef or Arie questions, and like the rest of us you think they are skirt chasers. You mentioned last week that their so called "bromance" is over. I heard via an ABC asst that it had something to do with information regarding Emily. Can you confirm or enlighten your readers what actually took place? These 2, as weird as it would seem, had a " only for self promotion" type of relationship. As far as I know, it had nothing to do with Emily. Those two bash her privately any chance they can get, so I can't imagine how it could do with her. I don't know the details of what happened.
Lastly, I was in Charlotte, NC last week, and was surprised to hear that Emily is now speaking publicly (mainly in her church) about how she believes the show not only once but twice had her making decisions by manipulation of her emotions. REALLY? Not once but twice she went on this show and then suddenly had the light bulb moment that the show wasn't real…… Sounds a little like a story she has conjured up to make her poor choice of falling for a scripted reality show twice, knowing she would never end up with anyone, easier to swallow for her new fiancé. Also to state that she laid in the fetal position for 3 weeks, is also hog wash. When did this happen? After she banked all the cash she could by making all the public appearances? She was on the front page of most tabloids for months after the finale aired. With several months in between the finish of filming till the airing of the finale, If she truly regretted her making the choice to do the show and it was in her words "her lowest and loneliest point in her life" why the post finale " fake" public appearances? Why do these wannabe celebrities think that the common folk can't add 2 plus 2. None of what she is publicly saying now holds up. Is self preservation so much more important then the truth? This show changes people is the best answer I can give you.
Sorry to ramble on, but you are the guy in the know, and I find that it's getting harder to stomach the spin that the Bachelor program wants us to buy into.
Getting ready to start Sean's season, although hard not to know the outcome with the wedding just being televised. One season I won't waste the time on will be JP's……… 🙂
Keep up the good work…..
Did I read correctly on your site that Bachelor Pad is coming back? Yes.
___________________________________________________________
Hi Steve,
In response to your answer in this week's Thursday Reader Emails…
"Comment: Tim Riggins would be Charlie O'Connell. Matt Saracen would be, well, any "Bachelor" you found nice, but a little on the bland side. Yes, we know Smash wouldn't get it. Landry would be Bob Guiney. The unattractive but funny guy that all the ladies talk about they like so much, but really don't when it comes down to it. My vote? JD McCoy. Pompous ass former football player clinging on to fame."
What about Luke Cafferty? Cute, nice guy, "wholesome", but can be secretly funny and confident when he feels like it
Comment: Luke is probably the only guy who could make a legitimate "Bachelor" from FNL, but, he'd never do it. His super freaky over-the-top religious parents wouldn't allow it.
___________________________________________________________
Hello Steve,
Thank you for your spoiler info. It makes the show more interesting to watch.
What are the rules of the show regarding whether the Bachelor or the Bachelorette can go back and date one of the ones he/she eliminated? That is, if the Bachelor or the Bachelorette does not stay with the finalist that he/she picked.
Thank you.
Comment: There are no rules. It could happen. The only one I remember it happening with was Prince Lorenzo. After he broke up with Jennifer, he went back and started dating Sadie. There may have been others that hooked up after the fact, but no serious relationship ever came from a lead and the person they dumped at the altar. Well, except for Jason and Molly.
___________________________________________________________
Okay, you got me. What is/are Uncrustables? Is it just plain bread or does it have other yummy stuff like cheese on it? Is it in the frozen section? Yes. Frozen section. They are frozen peanut butter and jelly sandwiches.
I'm worried about myself. I cannot stand Juan Pablo, and yet I'm always wondering if it's Monday yet. Watching this show is the stupidest thing I have ever done. Ever. Well, almost….I couldn't not watch if I wanted to not watch. What's wrong with me? I'm choosing to blame it all on you because of your sarcasm and wit, which I totally enjoy. Thank you. You're welcome. Glad I could contribute to your addiction.
Do you think Sharleen was conflicted because, other than her concert date, she was just plain horny for JP and had some itchy, raw desire to get with him, but then her smarter side kept whispering "no"? If so, what do you think of the possibility of them hooking up a few months down the road late one night, just to get all that saved up frustration out of her system? Only after Nikki is a thing of the past, of course. They wouldn't need to have intelligent conversation, just raw animal sex, then thank you SIR, and go on with her life as an opera singer. What do you think? And by the way, do you like opera? Not me. I don't see it. Sharleen I think sees what he's all about. Hell, I think she saw it during the show and she probably did stay on just for a little action. And no, I wouldn't say I'm a fan of opera.
You are great. I don't care where you get your information. Doesn't matter. I don't even care if you are wrong occasionally. If that should happen, it's sort of like a great novel with an unexpected twist at the end. The network should be thanking you. I'm sure I'm not the only one that watches this stupid stupid show only because of YOU. Good job!
Comment: I agree. I only add to the viewership of the show, not detract from it.
___________________________________________________________
First off I wanted to say I understand the ad thing. Unfortunately people are going to complain no matter what. The internet is about instant gratification. Magazines cost money, newspapers cost money, but still, your content is free. You are able to do this because of ads. It's 15 seconds of your life people…. GET OVER IT.
Anyway here's my question…. Do you think Emily Maynard has gotten a bad rap for being high maintenance and shallow? In my opinion, her three failed engagements say nothing about her besides she can't pick men. Ricky, obviously, not her fault… And Brad & Jef clearly weren't ready to get married, no matter who it was. I see a lot of hate on the internet about her, but I wonder if it's just jealousy. Wondering what you think?
Comment: She's no different than anyone else who takes the lead role in this show. There will be plenty of people that hate her, and plenty of people that love her. The ones that hate her you aren't going to convince to like her, so whether it's unwarranted or not, it's doesn't matter. Nobody in this world is universally liked.
___________________________________________________________
Hi Steve,
Long-time reader here. Regretfully, I spend way more time thinking about this show than I'd ever admit to family/friends/or really out loud, to anyone, ever… But I'm going to continue to throw self-loathing to the wind and ask you a few questions:
· I may have my facts confused, but I remember you saying that the producers know which contestant will be eliminated well before the rose ceremony, which allows them to schedule the "loser's" plane ticket home in advance. This implies that it is impossible for a contestant to save him/herself at the cocktail party by changing the lead's mind – the plane ticket is already booked. Has there ever been a situation where someone was going to go home, but at the last moment the lead was convinced to give him/her a rose? Chris Bukowski during Emily's season comes to mind. Also, Jason mentioned during his most recent podcast that he was supposed to leave before hometowns – even Deanna had told him that. How does that work with the plane tickets? And in general, how "decided" do you think the leads are as they whittle down the final 3-4 contestants? I didn't say the plane ticket was booked before the rose ceremony starts. I just said the tickets are left open ended, and they fill them in when they know. Whenever that may be.
· Speaking of Jason, thank you for sharing Jason & Molly's show with your readers. Their most recent podcast is the first one I've listened to, and I'm hooked. What were your thoughts on guests Chris & Des? My opinion: they surprised me. Very down to earth, and Chris is funnier than I thought. I wished the group would be more critical of the editing though – I was surprised at how quick Molly & Des were to judge contestants (Nikki, Sharleen) when they KNOW how people are manipulated both on the show and in the editing room. I thought Chris and Des were very good. You can tell still a little guarded because they have a wedding they want paid for, but still gave solid information.
· I saw your tweet – love that America has to keep Bieber (go Team Canada!) Did you watch any of the women's Olympic hockey game? As a former athlete/sports writer, what is your opinion about the USA's big choke? I watched one event all winter Olympics and that was the semifinal game between Canada and the US in men's hockey. That was it. I just can't get into the Winter Olympics. Summer Olympics? Yes. I've never been a winter sport guy so it doesn't really interest me.
· Also – the ads don't bother me at all. I open your site, go to a new tab to read a quick news article, and after 30s am ready to read your blog . This is nothing compared to Hulu Plus – which makes you pay AND has 4 minute long commercials (don't get any ideas, Steve.) But really… Sack up people. I agree.